Tech Feature: 2013 Honda Accord's LaneWatch
Camera in the passenger-side mirror shows a wide-angle view of the driver's blind spot on an in-dash display.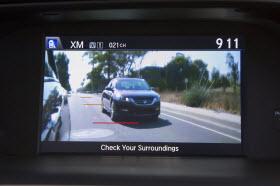 According to a recent survey commissioned by Ford, almost six in 10 respondents blame blind spots for accidents or near collisions. So it's easy to see why blind-spot warning systems have proliferated on vehicles in recent years. The LaneWatch feature on the all-new 2013 Honda Accord goes a step further by allowing drivers to better see what's in their passenger-side blind spot before switching lanes.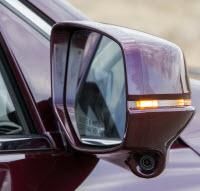 LaneWatch uses a camera embedded in the passenger-side mirror to show a wide-angle view of the adjacent road on an 8-inch display in the dash. The camera image automatically appears when the right-turn signal is activated; it can be activated manually by pressing a button on the end of the turn-signal stalk. Although LaneWatch provides a clear view of what's in your passenger-side blind spot and beyond, it has a few disadvantages compared with a typical blind-spot warning system.
It doesn't provide an audible warning or a visual alert when an object is detected. Instead it relies on the driver paying attention to the in-dash monitor, the side mirror or both. Of course, Honda notes, "Drivers are encouraged to visually confirm roadway conditions prior to changing lanes." And LaneWatch works only for the passenger side; there's no camera in the driver-side mirror, although it does have a convex strip on the outer edge that gives a wide-angle view.

Honda says that the typical field of view for a side mirror is approximately 18 to 22 degrees and that the field-of-view provided by LaneWatch is approximately 80 degrees, or about four times greater. LaneWatch also has three "reference lines" that approximate the length of the host car so that the driver can judge how much room he has to change lanes.
LaneWatch comes standard on the Accord EX, EX-L sedan and EX-L Coupe. For models equipped with navigation, when a maneuver prompt and LaneWatch are both in use, the image changes to a split-screen view so that LaneWatch and turn information can be displayed simultaneously. LaneWatch can be switched on or off by the driver, and the three on-screen reference lines can also be deactivated.
Check out the video of LaneWatch in action, below, to decide for yourself whether the feature is better than a traditional blind-sport warning system.

The real problem is that drivers no longer take the responsibility of operating their motor vehicles on public highways seriously. They are too busy messing with their texting, or nav systems, or I-pods, or eating or chatting to safely obey the laws. They know there is not enforcement and that even if they are caught the penalties are so lax and worthless that many just don't care even if they are ticketed.
In many countries you would lose your driving priveleges and your auto confiscated for doing the things that drivers do here every day. Remember that these are public roads and driving is a privelege not a right. Manufacturers shouldn't be forced to integrate safety devices to make up for careless driving -(which is still a ticketable offense).

I'm sorry but those 6 respondents that blamed blind spots for their near collisions are just too lazy to glance over their shoulder before changing lanes.
  They are also most likely ignorant to how your side view mirrors should be adjusted. I drive many different types of vehicles on a regular basis and very few actually have a blind spots if the mirrors are adjusted correctly. You should not be looking at the side of your vehicle in them, if you are, you do not have them angled out far enough. Side view mirrors are not for viewing what is behind you but for what is beside you.
  Maybe instead of adding all of this tech they should just print how to properly adjust the mirrors to use them the way they are intended to be used. A simple "Turn mirrors out until you can no longer see your own vehicle" would do the trick.



   Agreed, that current drivers are more distracted/negligent​ and under-trained than ever... if you ride a bike or drive a small car, you've got a daily bucketful of "oblivious driver" stories.
   But the subject here is car & device design.  Personally, I hate tiny controls and displays inside the cabin; they're usually badly lit or sun-shielded, and my fiftiesh eyes take too damned long too change focal depth (and my bifocals are rarely sharp - time for trifocals?).
   Newer cars and SUVs do have huge blind spots - just try to see the driver's head or mirror from either rear quarter; glassy look, but a lot of black masking and steel pillars inside.  Reflective "privacy" glass doesn't help connect the driver to the surroundings, either.
   Whatever happened to the clean, squared-up glassy greenhouse look?  Does "safety" need to block situational awareness? Even wagons/SUVs have the goofy upswept window beltline and drooping roofline now.  Minis are are about as close as you can get to the Mitsu Lancer and Volvo wagons that you could see out of.

There's a very simple method for setting your mirrors so that you have no blind spots.  I was taught this in a drivers' safety course that I had to take in order to drive state-owned vehicles.  That was some 15 years ago.  I sure wish I'd learned that when I started driving almost 50 years ago, although I've never had an accident because of blind spots.

The new technology is nice, I'll admit, but as I said there's a simple low-tech means to accomplish the same thing.



The display is ultra sharp, and located and placed so there is no glare. I wear trifocals and visually felt relaxed and comfortable. Neck injury prevents me from full motion of head and I now have the best visibility ever with the tools this car offers.My visual fields circumference now is more than the average driver allowing me to be more defensive. Touching the phone at all is no longer necessary.I speak to the car and it dials, changes music, or checks a map without my hands leaving the wheel or eyes leaving the road...
Are you sure you want to delete this comment?
EXPLORE NEW CARS
MORE ON MSN AUTOS
10 coolest cars of Fast & Furious
Our favorite Fast & Furious cars, from the ultra-obscure to the iconic.
ABOUT EXHAUST NOTES
Cars are cool, and here at MSN Autos we love everything about them, but we also know they're more than simply speed and style: a car is an essential tool, a much-needed accessory to help you get through your day-to-day life. What you drive is also one of the most important investments you can make, so we'll help you navigate your way through the car buying and ownership experiences. We strive to be your daily destination for news, notes, tips and tricks from across the automotive world. So whether it's through original content from our world-class journalists or the latest buzz from the far corners of the Web, Exhaust Notes helps you make sense of your automotive world.
Have a story idea? Tip us off at exhaustnotes@live.com.