Drivers on cellphones prone to other dangerous behaviors, AAA says
Survey finds that motorists who regularly make calls also reported speeding, driving while drowsy and texting.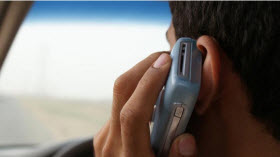 You probably already know to avoid drivers who pay more attention to their phone than the road. But according to a survey conducted by the AAA Foundation for Traffic Safety, there's more reason than ever to stay far away from device-addicted drivers.

A report titled "Distracted and Risk-Prone Drivers" that's part of the AAA Foundation's 2012 Traffic Safety Culture Index found that drivers who use mobile phones behind the wheel are more likely to practice other dangerous behaviors, including speeding and drowsy driving.

Drivers who said they "fairly often or regularly" used their phones within the past month also acknowledged that they engaged in additional hazardous activities. According to the AAA survey, 65 percent also reported speeding, 44 percent reported driving while drowsy, 53 percent reported sending a text or email, and 29 percent also drove without a seatbelt.
"Very few drivers can actually multitask, but many think they can," John Paul, manager of public affairs and traffic safety for AAA Southern New England, told MSN Autos. "Those who talk on a cellphone tend to believe they are better at multitasking than some other drivers."
But the motorists most likely to put others at risk think it's other people who are creating a problem. The survey discovered that 69 percent of licensed drivers reported talking on a phone while driving within the past month -- but that 89 percent thought other drivers on the phone were a threat to their safety.
"Ninety percent of respondents believe that distracted driving is a somewhat or much bigger problem today than it was three years ago, yet they themselves continue to engage in the same activities," Peter Kissinger, president and CEO of the AAA Foundation, said in a statement.

While 95 percent of those surveyed agreed that texting or emailing while driving is dangerous, 25 percent admitted to having sent a text or email at least once in the past 30 days. An additional third said they had read a text or email while behind the wheel.
The problem is more prevalent among young people. Sixty-one percent of drivers between 16 and 24 years old acknowledged having read a text or email while driving in the past month, and roughly 25 percent of young drivers confessed to checking or updating social media while driving.

"This risky behavior can be found in other driving habits as well," Paul said. "So it is not a surprise that drivers who talk on the phone would also engage in other risky behaviors, such as speeding or texting.  As motorists, our primary function is to just drive -- not talk on the phone, text, drive when tired or even be a good host with passengers in the car."

Unsurprisingly, drivers who said they never use a phone behind the wheel were much less likely to engage in other unsafe actions. Of those who said they abstain from regularly using a phone, 31 percent reported speeding, 14 percent reported driving drowsy, 3 percent reported sending a text or email and 16 percent drove without a seatbelt.

The AAA Foundation data were collected as part of a nationwide "probability-based" survey of 3,896 U.S. residents 16 and older. The foundation said that the sample is representative of all U.S. households reachable by telephone or regular mail and that the questionnaire was made available in English and Spanish.

One time I was driving next to some lady who had a bowl of salad in one hand, a fork in the other and none on the wheel, at 55 MPH. Those who ignore the safety of other road users "because they can multitask" are the worst drivers, period- whether they are sending texts or eating a three course meal in the driver's seat. They just don't care.

I think a significant contributor to this sort of behavior, is a belief in the whole concept of "MULTI-TASKING.
I knew from thie first time I heard the term (undoubtably coined by some incompetent fool during a job interview) that the concept is physiologically impossible.  Of course it's taken years of various studies at untold costs to prove I was right.
And yet the term and concept endure in spite of overwhelming evidence to the contrary.
I can't wait to see how many "thumbs down" I'll receive from all you "multi-taskers" out there!
I have  been commuting to my work for a long time (45 miles each way).  Some of the most notable things I have seen include a fellow reading a newspaper, a kid texting with both hands, an older fellow squatting in the left lane while talking on his phone and totally unaware of the line of cars behind him.  While riding my motorcycle I about got hit by some kid chatting away on his phone who casually tried to change lanes, without signalling (that hand was holding his phone), without checking his blind spot (he was too busy talking on the phone) all while in evening rush hour traffic.  Be careful out there folks.  Always drive defensively!

I wish I could drive while not asleep!  It has gotten much better, but for a couple of years I was being forced to work 6 days and almost 12 hours per day.  Throw that on top of a 3 hour round trip commute.  There were plenty of times I almost drove into a ditch and one time I almost had a head on collision with an on coming car!  These damn employers are what are causing a lot of "sleep driving"!  Most people would be thrilled to spend more time sleeping and less time at work/driving!!
And yes texting and driving is about as bad as drinking and driving.  And no I don't do either.

I can see this will bring out yet another flurry of those who claim expertise in the ability to multi-task.  Two points to note if you are one of those:

1)  Your belief that you can devote 100% of your attention to one task while at the same time devoting another 100% of your attention to another task only goes to prove that you are seriously challenged mathematically.

2)  Your ability to pick your nose while flipping burgers is NOT to be considered multi-tasking.


Are you sure you want to delete this comment?
EXPLORE NEW CARS
MORE ON MSN AUTOS
15 most boring cars money can buy
Suck the verve right out of your drive with these yawn-inducing rides.
ABOUT EXHAUST NOTES
Cars are cool, and here at MSN Autos we love everything about them, but we also know they're more than simply speed and style: a car is an essential tool, a much-needed accessory to help you get through your day-to-day life. What you drive is also one of the most important investments you can make, so we'll help you navigate your way through the car buying and ownership experiences. We strive to be your daily destination for news, notes, tips and tricks from across the automotive world. So whether it's through original content from our world-class journalists or the latest buzz from the far corners of the Web, Exhaust Notes helps you make sense of your automotive world.
Have a story idea? Tip us off at exhaustnotes@live.com.