Active Safety Reducing Insurance Claims, Not Premiums
A new study suggests certain safety features can reduce accidents, but insurance costs are unlikely to go down.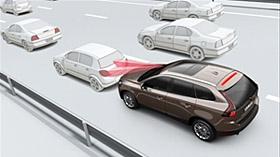 Active safety features such as collision alerts and auto-braking are reducing the number of auto insurance claims, according to a rather unsurprising
study released this week
by the Highway Loss Data Institute.
The HLDI is an affiliate of the Insurance Institute for Highway Safety, a crash-test and automotive safety-research organization funded by insurance companies. The group looked at 623,000 collision claims and 252,800 property damage claims from 2000-2011 model-year
Mercedes-Benz
,
Volvo
,
Acura
,
Buick
and
Mazda
vehicles fitted with certain optional safety features. The group compared the claims against the same cars that didn't have the features.
The results? Property damage claims for Acura and Mercedes vehicles fitted with collision alerts and auto-braking were 14 percent less frequent than for cars without the systems. Volvo models with auto-braking (standard on four models) recorded about 20 percent fewer claims for bodily injury than those models without it. For cars with adaptive headlamps -- which swivel to the curves of the road based on steering inputs and typically use brighter xenon or LED lamps -- there were 10 percent fewer claims for property damage (these pay for damages to another car or object, as opposed to collision, which does only the owner's car). On Mazdas, adaptive headlamps reduced medical payment claims by more than 20 percent.
In comparisons of lane-departure warning systems on Buick and Mercedes models, the trends, oddly enough, reversed. Property damage claims rose as high as 10 percent on Mercedes models with lane-departure warning than on those cars without it. The organization suggested that such systems may not read road markings correctly, or that drivers might be switching them off.
Overall, the IIHS says the study's data are still too new and too limited for the effects of these safety systems to be fully understood -- or to even know why certain features on certain cars came out with higher or lower claim rates. Last year, the group did a separate study for the Volvo XC60, the first such Volvo with the City Safety auto-braking feature, and
compared damage claims against other midsize luxury SUVs
. The study concluded that not only were property damage claims filed 27 percent less often with the
XC60
, but that insurance payouts to cover the damages were 20 percent lower than with other SUVs.
However, don't expect any safety discounts soon.
While radar, cameras and other computer sensors
are dropping in cost
, they're still quite pricey to replace, especially when hidden behind grilles, bumpers and other exterior parts of the car that are likely to get hit in an accident. Active safety features typically add several hundred to several thousand dollars to the price of a new car, and they're not any cheaper to replace.
"Even though the number of claims may decrease, the cost of the insurance claims goes up," said Russ Rader, IIHS spokesman. "From this initial study, it's clear that some crash-avoidance systems will be effective safety features, but they're unlikely to reduce insurance costs."
[Source:
IIHS
.]

Mr Light Mirror, you couldn't be more WRONG.
Incompetent morons are incompetent at ALL speeds.
Speed, in and of itself, does NOT cause more accidents, nor are drivers who never exceed the speed limit, SAFER.
You're probably one of those idiots who drives at 64mph in the car-pool lane while all other lanes are going 75!

Lightmirror,
Had it in LA is correct. Just because a person drives over an arbitrary number the DOT posted does not make the act unsafe. I find that more and more Subaru owners (who's company motto is 'Confidence in Motion')  who drive slower the $h1t and brake short of every frog they see hopping across the hwy, are in and cause more accidents than most. Forget about Hwy and freeway speed limits, go with the flow or get the hell over, the roads are more safe with you in the far right lane. And stay there.....you bastards do not know how to pass  because you have no idea what a gas pedal is when you pull out in front of someone GOING WITH THE FLOW.

Well they did a study and from the study determined that the data was too new and so another study was done but in the end they concluded this was a preliminary study and so they'll need to study this a bit more.
I bet if we did a study on how effective or reliable the data is from these studies...well, we might just send some of these folks back to school.
Wrong Light Mirror,

Skill prevents accidents, not a reduction in speed. It's also been proven by the NHSTA that driving far below the speed limit is dangerous as well, because of the speed differential with mainstream traffic. Also, gas and insurance prices will not go down as this article proves. They are based on supply and demand. All the rhetoric about new safety laws and technology lowering your insurance  payments is just that. Does anyone every recall a time when their auto insurance went down? Know your physics, know your economics and stop drinking the kool-aid.





I think we're looking at a technology boom in the auto industry. As new ideas gain popularity we'll soon see them as required equipment, as in rear view cameras, etc. Competition and m****duction of these items will eventually drive down prices.
I particularly like the concept of vehicles communicating with each other... Coordinating speed and following distances would greatly reduce accidents and improve traffic flow. But it will only work if every new car is equipped with the devices.
Along the same lines... Wouldn't it be nice to know the car beside you... That nearly rear-ended you... And is now tailgating the car in front of him... Would be sending everyone around him ****rt:
                                                                 WARNING!
                                              DANGEROUS DRIVER IN AREA!!!
                             "ANTI-LOCK BRAKES ACTIVATED 4 TIMES IN LAST HOUR!"
                        "CRASH AVOIDNCE SYSTEM ACTIVATED 2 TIMES IN LAST HOUR!"
                        "ENGINE OVER-REV SYSTEM ACTIVATED 8 TIMES IN LAST HOUR!"  
                                "VEHICLE INVOLVED IN 4 ACCIDENTS IN PAST YEAR!"
                                      "TAKE IMMEDIATE EVASIVE ACTION NOW!"
Just kidding, but maybe some day...
Actually, the best safety feature on any car is a safe driver.  Too many drivers now rely on new "safety features" to make them think they are invincible.  Do you speed?  Do you habitually drive 5 mph over the speed limit?  10 mph over?  You are an unsafe driver, especially at night when most accidents occur. 
Driving not 5 mph over, not 3 mph over, not even 1 mph over the speed limit means that you are driving safely and are also saving gas.  If everyone in America merely drove the speed limit, auto insurance would be cheaper and gas would be plentiful and significantly cheaper.  
Are you sure you want to delete this comment?
EXPLORE NEW CARS
MORE ON MSN AUTOS
'Eleanor' Mustang sells for $1M
'Gone in 60 Seconds' movie car driven by Nicolas Cage has a new home.
ABOUT EXHAUST NOTES
Cars are cool, and here at MSN Autos we love everything about them, but we also know they're more than simply speed and style: a car is an essential tool, a much-needed accessory to help you get through your day-to-day life. What you drive is also one of the most important investments you can make, so we'll help you navigate your way through the car buying and ownership experiences. We strive to be your daily destination for news, notes, tips and tricks from across the automotive world. So whether it's through original content from our world-class journalists or the latest buzz from the far corners of the Web, Exhaust Notes helps you make sense of your automotive world.
Have a story idea? Tip us off at exhaustnotes@live.com.