The Promise of Speed, and Evaporated Money
Track days, racing and horrible luck; or how to spend $330 and 25,000 airline miles on absolutely nothing and not mind a bit.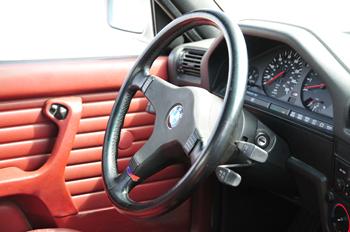 I'm writing this at 35,000 feet. As I type these words, United Flight 621 is gliding over the middle of the continent, snow-capped mountains below, California falling away in the rear-view mirror. I was in and around San Francisco for three days, and now I'm going home. 
On paper, I should not be happy. Tomorrow -- the day this piece will be published -- is March 21, my birthday. As an early present to myself, I just burned several hundred dollars, a continental vacation's worth of airline miles and almost three days of my time. In return, I got exactly nothing. I took those three days off from work in order to go have fun and relax, yet I barely had time for the latter and almost completely avoided the traditional definition of the former. I should not be happy. But I am.
This is the joy and simultaneous pain of the motorsports nerd. I don't mind, and there's a good chance I'm about to do it all over again. It's wonderful. Allow me to explain.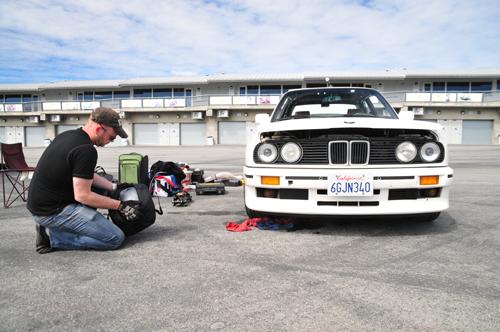 Here's what happened: One month ago, my friend Michael Chaffee called and asked if I wanted to run a track day with him. I've known Chaffee -- friends just call him "Chaf" -- for years. We both grew up around old BMWs and weird British cars; we both lived in Chicago for a bit; we both eventually moved to San Francisco, though I later left town and moved back to Chicago. He has a white 1988 BMW M3 (above) nearly identical to the one that lives in my garage. We have a lot in common.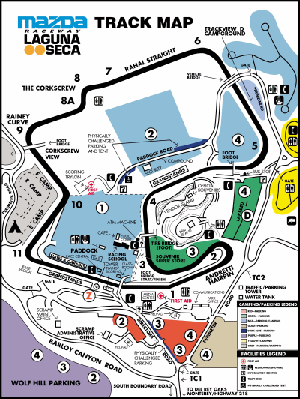 The track day was at Mazda Raceway Laguna Seca, one of the oldest and best-known race tracks in the country. I've written about this place before. In addition to being a few hours' drive from the San Francisco Bay Area, it's one of the more compelling, history-rich locations in modern motorsports. The only hitch is availability: Laguna isn't always available for affordable civilian lapping days -- i.e., private events where someone rents the track and a group or club laps street and racing cars for a fee, for fun. 
Chaf was going to one of Laguna's rare private and inexpensive lapping days. He was taking his M3 and offered to let me use it. Because I am not stupid, I took him up on it. I had airline miles to burn and a few hundred dollars of disposable income lying around from a recent garage sale, so I booked a plane ticket (25,000 miles, average for a round-trip domestic flight) and registered for the track day ($280, not counting gas and food). It sounded like fun. 
At the risk of making a long story short, it wasn't. And it was. And it wasn't. 
For reference, a 1988 M3 at Laguna should look something like this: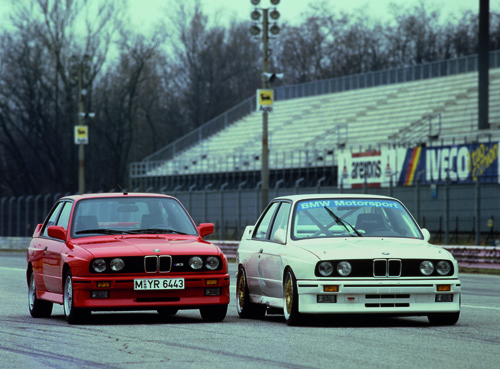 ... crossed with this: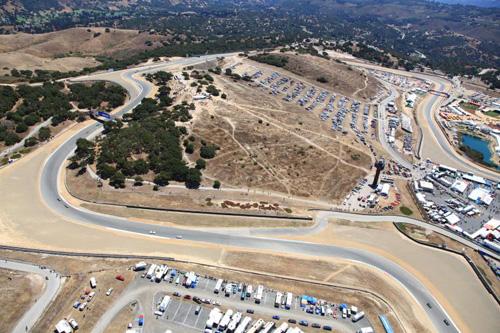 ... which sounds like fun. Instead, after arriving at the track and completing exactly six laps, our day looked like this: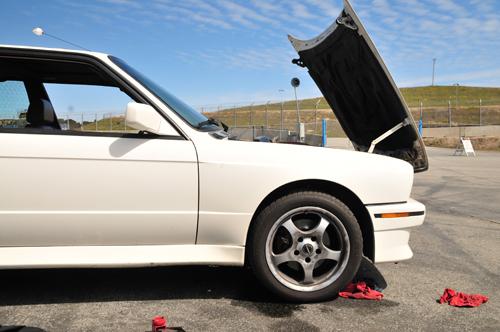 ... and this: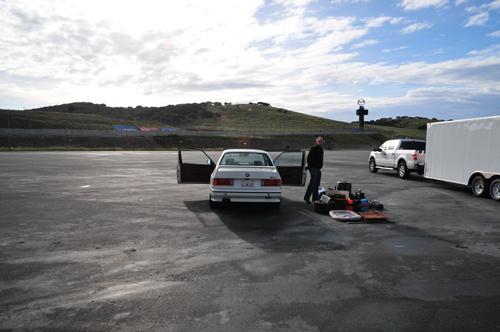 ... and, chiefly, this: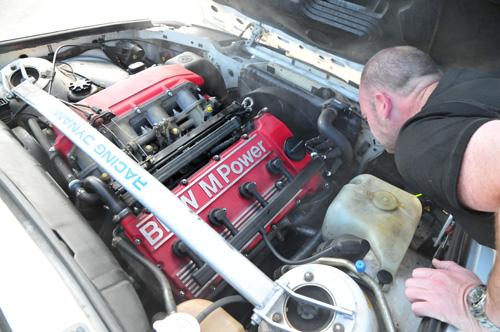 Note the confused man looking at the engine. And some stuff that looks an awful lot like smoke.
The smoke wasn't really smoke, but evaporated coolant. The radiator sprung a massive leak early in the morning, dumped a gallon or two of coolant all over the front of the car, and then proceeded to pee glycol on a small spot in Laguna's paddock while we stared at it and said unprintable four-letter words. Having done this sort of thing before, Chaf had brought a lot of spares -- everything from spark plugs to air-flow meters to radiator hoses -- but he did not bring a radiator. It was a freak failure, the kind of thing that doesn't happen that often.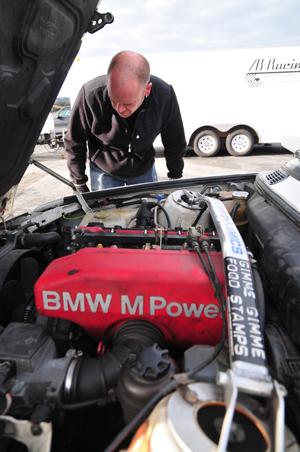 Our day was done, my miles burnt, my money poofed into nothingness. I didn't so much as drive the car 5 feet. We spent the rest of the day walking around the nearby town of Seaside, car immobile and stranded, waiting for a parts truck to deliver a new radiator. We got back to San Francisco later that night, and I boarded a plane for home the next morning. Strangely, I didn't feel unhappy.
To review: I flew from Chicago to San Francisco, spent around 24 hours on the ground, burned a bunch of money without actually doing anything, and then flew home. 
I've had better weekends, granted. I would rather have not spent the money, sure. But there's something about racetracks -- something about being surrounded by cars at speed -- that makes me not mind this sort of thing. 
The context is part of it. On a scale of one to costly catastrophe, this is small -- correction, microscopic -- potatoes. I know people who've spent hundreds of thousands of dollars to go to places like Le Mans or Daytona and come away with nothing -- broken cars, crashed airplanes, debilitating illness -- before an event or race has even started. I'm pretty sure an acquaintance once spent $1 million of his own money chasing an American Le Mans Series championship and came away with diddly-squat. For that matter, major corporations burn large multiples of that figure every year on racing sponsorship packages, and most of them return less than squat. This is not a sport kind to wallets.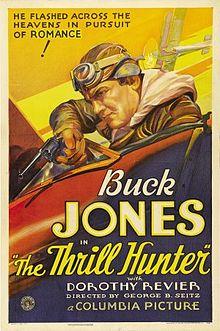 Correction: For me, it's less of a sport and more of a hobby. As I've mentioned before, I was once an amateur road-racer. I was never good enough or rich enough to turn pro, which was fine by me, as I enjoyed being an amateur. I did it for five years; after I quit, I continued to hit the odd lapping or test day on weekends, ostensibly to "keep my skills sharp" or some other nonsense. In reality, I did it because it was fun. It certainly wasn't cheap. 
And now I am sitting on a plane, hundreds of dollars poorer, having blown three days of vacation time to go fail in California. And I still can't be even the slightest bit upset.
What pulls people in here? What makes them do this, throwing away money like they hate it, just to chase a possibility of entertainment? I said something to Chaffee about this, and he concurred; he's raced a bit and has been doing track days for more than a decade, and this isn't the first time an event has fallen out from under him. For that matter, it's happened to me more times than I can count -- spend money, travel, break something, don't drive, go home. And while my wife would much rather I spent the cash on jewelry or vacations, she's mostly happy that I have no evil vices. As my dad used to say, at least it's not cocaine or hookers.
Above right: I don't know why I put that image there, but it felt right. 
No, there's a pull here, an invisible draw. I can't quite put my finger on it, but I spent a few hours last night reading about motorsports, and I came across a few great quotes on the matter. There is no great conclusion here, nor is there some grand epiphany about what all of this means. But maybe the following lines will help. At the very least, I was happy to know I'm not alone. 
"I was never good at sports, and I dance like an elephant. Racing was the first time I found grace." -- Paul Newman, AARP magazine, June 2005.
"The lesson from the weekend was just how delightful the most
unprepossessing-look​ing

cars can be. Today's car manufacturers try to convince you that more power and higher cornering forces are all you need to bring unsurpassable driving pleasure. How wrong. If you enjoy driving at the limit, it doesn't really matter where that limit is. What's important is what happens there." -- Rowan Atkinson, Octane magazine, November 2003. 
"Some people will tell you that slow is good – but I'm here to tell you that fast is better. I've always believed this, in spite of the trouble it's caused me. Being shot out of a cannon will always be better than being squeezed out of a tube. That is why God made fast motorcycles, Bubba …" -- Hunter S. Thompson
Also, I'm going to another track day next weekend. The weatherman says it's supposed to rain, I'm using tires that only work in the dry, I'm driving a borrowed, 638-horsepower Corvette, and everything may well fall apart. Wish me luck, because I can't stay away. 
"There is no use trying," said Alice; one can't believe impossible things."

"I dare say you haven't had much practice," said the Queen. "When I was your age, I always did it for half an hour a day. Why, sometimes I've believed as many as six impossible things before breakfast." -- Lewis Carroll, "Alice in Wonderland"
"If there's something you wanna do in this life, you better do it, 'cause you're a long time dead!"  -- Burt S. Levy, "The Last Open Road"
Sam Smith is a journalist, a southerner, and a reformed Alfa Romeo mechanic who spends most of his time mooning over ancient racing cars and small-batch bourbon. A multiple International Automotive Media award-winner, he has written for Automobile Magazine, Car and Driver, and Esquire, among other publications. He once drove 4,000 miles in a weekend for a hamburger and has only been threatened by the German police twice.

Thank you for the article, I have never come across that Rowan Atkinson quote and it is genius. Coupled with the Burt Levy quote you practiced what makes life enjoyable, that being the act of doing/trying. Getting up off the proverbial couch and attempting speaks to the idea that life is about the journey more so than it is the destination.
Better luck next time.
No man, you got burned. Tell yourself what you want to feel better, but you missed out on the whole reason for being at that track with what looks to be a nice little powerplant. Sorry to hear it, I hope your weekend is better this time around. I really believe we need more of this activity open to the public, people really need to let it out on a closed course and keep it off the streets. Have fun.
Are you sure you want to delete this comment?
EXPLORE NEW CARS
MORE ON MSN AUTOS
Mercedes Sprinter: Van love is back
Why the Mercedes-Benz Sprinter van is the coolest thing on four wheels.
ABOUT EXHAUST NOTES
Cars are cool, and here at MSN Autos we love everything about them, but we also know they're more than simply speed and style: a car is an essential tool, a much-needed accessory to help you get through your day-to-day life. What you drive is also one of the most important investments you can make, so we'll help you navigate your way through the car buying and ownership experiences. We strive to be your daily destination for news, notes, tips and tricks from across the automotive world. So whether it's through original content from our world-class journalists or the latest buzz from the far corners of the Web, Exhaust Notes helps you make sense of your automotive world.
Have a story idea? Tip us off at exhaustnotes@live.com.