2013 Ford GT500 Horsepower Confirmed: 662 and $54,995!
The numbers are stunning -- but how long will the one-upmanship go on? And does it matter?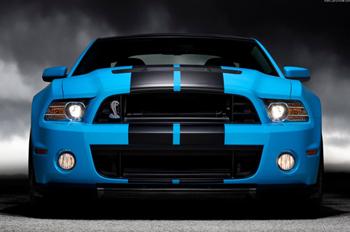 Ford recently confirmed engine specifications on the 2013 Mustang
Shelby GT500
. The car, which debuts later this year, is set to make an insane 662 horsepower and 631 lb-ft of torque. 
Yes, that's a breathless headline. I don't use exclamation points often, but this one is worth it: Never before has so much been available to so many for so little. Never before have you been able to buy 662 ponies, with a warranty and from a major manufacturer, for just under $55,000. 
Wow. Just -- wow.
There are a lot of things to think about here. Most are questions such as, "Where on earth would I use that much juice?" and, "What kind of person needs that much power?" For a certain type of person, the answers are obvious*; for another type of person, those questions don't have answers at all. But the Ford's numbers -- 662 and $54,995 -- prompt thought.
*"Anywhere with gravity and pavement," and, "What are you, a communist?" respectively.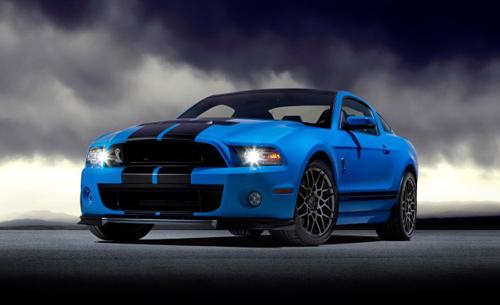 A friend of mine recently asked if the arrival of a 600-plus-horsepower Mustang meant the death of the so-called horsepower wars. He wanted to know if this car, the "green" movement and the rising price of gasoline marked the end of our recent run of high-horsepower, relatively low-cost performance cars. 
These questions don't have easy answers. For one, the term "horsepower war" was conjured up by car magazines; it doesn't mean much. The common interpretation is a power battle between two carmakers, a la BMW and Mercedes in the 1980s or GM and Ford in the 1960s. But the truth is that car companies rarely battle outright over performance-car outputs, and when they do, they don't make a big stink about it. It's usually circumstance, not actual competition. And it rarely has a well-defined beginning or end.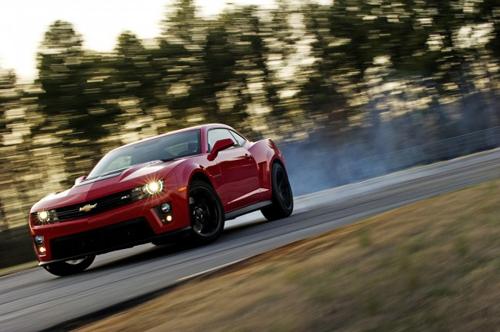 A brief side note for clarity: Power is relative. Ford says the GT500's supercharged 5.8-liter V8 engine is the most powerful production V8 in the world. This is a nice statement, but it lacks context. To wit, the following, from
Car and Driver's post on the subject
: 
But there's this: The GT500 tops the Mercedes-Benz S63 AMG by 99 hp. It beats the mighty Cadillac CTS-V by 106. For heaven's sake, the GT500 has 232 more horsepower than does the base Corvette. Even the gladiatorial Vette ZR1 falls shy, at 638 hp and 604 lb-ft.

Besides the ZR1, these cars aren't really the GT500′s intended competition, but the extent to which the GT500 tops these cars, rightly thought of as extremely powerful, is shocking. The most direct competitor to the GT500 is the Chevy Camaro ZL1, which has a supercharged V8 good for 580 hp and 556 lb-ft. 
Nuts, no? I'll let you draw your own conclusions there.
Suffice it to say that the ZL1 (above), released this year, is the GT500's
intended market foe
. It is the car that
GM has specifically called out in press releases
, the model that the two companies believe will compete directly with the Ford. Perhaps. (I've met a lot of people who buy cars like this, and very few were cross-shoppers. Everyone is a Mustang Person, a Camaro Person, and so on. You have to wonder how many people actually weigh the two versus simply being a loyalist and liking what they like.) 
The greater point is that cars like these aren't going to be around forever. Fuel economy has never been more important. (The GT500's EPA rating? 15 mpg city/24 mpg highway.) Turbocharging, shrinking displacements and exhaust emissions are the buzzwords of the day -- and the future -- and studies have shown that 
fewer teenagers care about cars
, fast or otherwise. Several manufacturers have green(ish) supercars in the works, and cars that prioritize gas-guzzling speed above all are thin on the ground. That the automotive landscape is changing is inarguable.
What do you think? If it's a given that this sort of thing will end, when will it happen? How? Are cars like the GT500 a step forward, backward, sideways? Would you rather have a
ZL1
or a GT500? And do commies even like horsepower? 
Inquiring minds (read: we) want to know. The comments are below. You know what to do.

I'm sure some commies love HP, they are just not allowed by the state to have it.
Will the HP "wars" end? Probably not, though they will likely mellow out a bit. The events that conspired to kill the muscle cars back in the day ( insurance rates, emissions, oil embargoes) are not present today in the same spirit or effect. Sure we have mandated MPG rising to crazy numbers in the next decade or so, but cars like the Shelby the ZL1 and the ZR1 are such a small part of the overall sales of the manufacturer that they do not ding the CAFE that much, so I suspect we will continue to see firebreathing models in the future.
ZL1 or Shelby ???  I would buy either one, but not for a penny over sticker.

Several manufacturers have green(ish) supercars in the works, and cars that prioritize gas-guzzling speed above all are thin on the ground. That the automotive landscape is changing is inarguable.
"Thin on the ground" or not, if it does not have a diesel engine, in this particular case a V8 diesel, it will not enter my garage, or even my driveway. If it has spark plugs, it does not enter my house, that is the law as set forth by myself. I simply will not compromise on that point. No amount of horsepower, handling, styling, pricing, branding, advertising, or availability will change that.


I have to agree WOW.  With the number of people not wanting big engines and all the things that get in the way of massive HP and speed, Ford has gone and out done the Vette in HP and torque.  It like something you'd see from some Italian car place. 
While I can't afford it, it's great that they can accomplish this.  And for all you out there that think this is just wrong, there are things that they have done with bringing this car to market that will help out with other and future cars. 
Yes you can't fully USE all that HP, but being able to get that much from a big engine can only help engineers with other engines as well!
But can they top this?

I know there are a lot of young people that are all about saving the environment, but as a 20 year old guy I'd love to roll around in the new GT500. Might as well enjoy these kinds of cars while you can! It's a shame people are shying away from these kinds of cars, and for younger people it's mostly because it's the cool kind of thing to do. Oh let's say we save the environment and be a bunch of hipsters and drive around in a Prius. Why are there so few younger people anymore that crave that feeling of a roaring engine? The most powerful thing I've driven in my life so far was a 5.0 2012 mustang that was sweet
****
! I couldn't imagine well over 600! :)

Im 22 and have a 7.3l 1000 ft/lb of torque Ford Excursion. Average 16 MPG and would not sell it for the world. However, I have maybe one in a hundred friends that actually care about ponies or cars in general. they are just as happy w/ a Honda Civic as a BMW 3 series. So looks like the fun cars i look for ( like the GT 500) are going out of style quick if my friends have anything to say about it.  
Are you sure you want to delete this comment?
EXPLORE NEW CARS
MORE ON MSN AUTOS
The future of alternative propulsion
A look at what could power your next car
ABOUT EXHAUST NOTES
Cars are cool, and here at MSN Autos we love everything about them, but we also know they're more than simply speed and style: a car is an essential tool, a much-needed accessory to help you get through your day-to-day life. What you drive is also one of the most important investments you can make, so we'll help you navigate your way through the car buying and ownership experiences. We strive to be your daily destination for news, notes, tips and tricks from across the automotive world. So whether it's through original content from our world-class journalists or the latest buzz from the far corners of the Web, Exhaust Notes helps you make sense of your automotive world.
Have a story idea? Tip us off at exhaustnotes@live.com.