Cadillac's 2-Year Goal: Follow the Germans
To get noticed for more than its Escalade, Cadillac is expanding its lineup to every size class.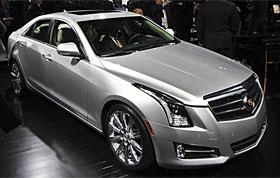 The Cadillac CTS is a competent, high-quality luxury car whether in sedan, wagon or razor-sharp coupe form. In V trim it can keep up with -- and occasionally surpass -- Mercedes' AMGs and M Series BMWs. But as fantastic as the CTS is, it's just one model. Since Cadillac killed the slow-selling STS and old-school DTS last year, the company now only offers three.
Not surprisingly, BMW, Mercedes and Lexussell more cars than Cadillac. Despite 152,389 Cadillacs sold in the U.S. last year, Lexus was ahead by 30 percent; sales by Mercedes and BMW were each more than 60 percent higher. To that end, Cadillac will introduce two new sedans later this year, the full-size XTS and compact ATS, both replete with touch-sensitive controls and iPad-like media interfaces. It won't be enough, however, until Cadillac can stare down the Germans in every size class, complete with a no-limit S-Class competitor and a revived XLR roadster.
We sat down with David Masch, chief engineer for the ATS, at the 2012 New York Auto Show last week and eked out some details from him on Cadillac's evolution. Read on and tell us if you're convinced.
MSN Autos: Is the ATS the replacement for the discontinued BLS in Europe?
David Masch: It's not just a replacement for that. It is the intention to right-size a startup portfolio where they need to be, to be competitive with the other entries in the entry-luxe, mid-luxe or high-end luxe. This was an all-new -- from the ground-up -- architecture.
MSNA: Would you see Cadillac offering a diesel engine in the U.S.?
DM: There are discussions of that, but we haven't announced anything yet. Our leadership would like us to pursue some diesels. We're also pursuing hybrid strategies and things like that -- electrification. I think the market still needs to sort out where we want to go. We're looking at all of those.
MSNA: For awhile, Cadillac has been talking about coming out with an S-Class competitor, V8 with rear-wheel drive, something more than the XTS. Is that project still alive?
DM: I'm not able to comment on that, other than to say there are a lot of other entries coming in the Cadillac portfolio, and it's intended to be a full lineup of vehicles. We're going to compete locally in North America, but we're also intending to grow the brand globally, too. To do that, you've got to have a full complement of vehicles.

MSNA: Will there be a replacement for the STS?
DM: There are some other entries after the ATS launch, possibly the following year or the year after that that we will be continuing to expand the Cadillac portfolio.
MSNA: How long is it going to take for Cadillac to regain brand perception as "the standard of the world"?
DM: I think it's a continuing challenge to earn the respect of the consumers to demonstrate that you are, in fact, building cars that are the "standard of the world." We believe we're there now. It now make take a little bit of time to [improve] some of the public perception, but there already are a lot of people that appreciate that. We're on a very good path.
MSN: Do you consider Lincoln to be a threat?
DM: Not right now. They're probably eight to 10 years behind where we were when we started the evolution and the change of Cadillac, and so, it takes time.

MSNA: The ATS is going after the 3 Series, but what's with the CTS? I thought that's what the CTS was after.

DM: The CTS is kind of in the middle ... [It] is a great product, but it has the concern, or the challenge, of wanting to compete on price of the entry-luxe cars and on performance of the mid-luxe cars.
Our final take: We'll really know Cadillac has scored when its flagship car stops getting hilarious, insulting sneers from Jeremy Clarkson. 
(Edited from a longer interview.)

Clifford Atiyeh has spent his entire life driving and riding in cars he doesn't own. He was raised in Volvos and has grown to love fast, irresponsible vehicles of all kinds. He lives in Boston, is a member of the New England Motor Press Association, and has reported for The Boston Globe, Car and Driver, Popular Mechanics and The Times of London.

TXMX, you seem to be forgetting about the 556 HP V8 offered in the CTS.  That's unique to that car.  Besides, I don't think using engines across more products as a bad thing.  For one it brings down the cost via economies of scale in manufacturing, for another, parts availability and pricing should also be better because more of them are on the road. 


DXZ has an excellent point.  The fact that the V6 in the CTS is largely the same V6 available in the Malibu and the Camaro is a problem.  Note that the engines used by BMW and Mercedes-Benz are absolutely unavailable in any other car.  At the end of the day, they have to fully distinguish themselves from the rank and file cars.  Cadillac used to have this with the wonderful Northstar engine, it's really a shame that they didn't continue to refine it.

However, Cadillac has made an excellent case to go after Lexus and Infiniti which also use engines from more sedate lower end cars.



The heart and soul of Cadillacs: engine and transmission, are still not up to par with the best of the Germans, and that's going to be Cadillac's Achille's Heel. The engines of Cadillacs offer neither performance nor fuel efficiency. The new 2013 fullsize XTS has only a V6, for instance, and this V6 gets an estimated 20mpg combined. That's pretty poor compared to the V6 in MB and Audis, and far inferior to the straight-6 engines offered by BMW. Cadillac transmissions are also rather antiquated. The manual gearbox on the CTS-V has been used on various GM models for the last 10 years, and the automatic is even worse. And there's no double-clutch gearbox option for any of the performance oriented Cadillacs.GM will need to do some serious R&D to catch up to the Germans.

It's going to take a long time for Cadillac to be able to convince people they're a worthy competitor to Mercedes and BMW
It's true, it'll take a while to match the snob appeal of the Germans, and to attract the boring people who buy Lexus's, but then again, they'll probably never do that as the styling is too adventurous for Lexus buyers. 
As far as the CTS, they've already won me over. And in reality, the CTS is more of a 5-series competitor, size wise, but the pricing more closely follows the 3-series. Look at it that way, and the car is a bargain.
As far as say an S-Class or 7 series competitor, I think that will be a tough road, getting people to fork over that kind of money for a Cadillac. The styling is terrific, but they need to focus on build quality, fit & finish, and quality material feel for the interiors to really compete with the German uber sedans.
Hopefully starting at the bottom works, and the ATS starts snagging potential 3-series customers.
Are you sure you want to delete this comment?
EXPLORE NEW CARS
MORE ON MSN AUTOS
10 coolest cars of Fast & Furious
Our favorite Fast & Furious cars, from the ultra-obscure to the iconic.
ABOUT EXHAUST NOTES
Cars are cool, and here at MSN Autos we love everything about them, but we also know they're more than simply speed and style: a car is an essential tool, a much-needed accessory to help you get through your day-to-day life. What you drive is also one of the most important investments you can make, so we'll help you navigate your way through the car buying and ownership experiences. We strive to be your daily destination for news, notes, tips and tricks from across the automotive world. So whether it's through original content from our world-class journalists or the latest buzz from the far corners of the Web, Exhaust Notes helps you make sense of your automotive world.
Have a story idea? Tip us off at exhaustnotes@live.com.