Is Dodge's Ram Runner What Chrysler Needs?
Dodge ponders a production version of its off-road Ram concept.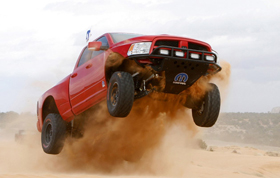 If you spend enough time watching the car industry, you start to notice patterns in the way companies behave. Brands imitate each other, one-off exercises become trends or fads, and public-relations teams spout a lot of the same calculated statements when you ask them interesting questions. 
Here's the thing, though: Just like businesses, people are predictable. And if you watch the car industry long enough, you start to notice patterns in people's reactions to the news. It's different for everyone, obviously, but most people have their hot buttons.
My own knee-jerk impulse happens to be immoderate excitement regarding impossibly impractical cars and trucks. Cars and trucks like, say, the
Dodge Ram
Runner. 
The Ram Runner is Chrysler's answer to
Ford's
F-150
SVT Raptor off-road/Baja truck. It's an impossibly awesome, 'roided-up version of an ordinary
Dodge Ram 1500
-- one geared toward desert racing and off-road goofiness. Dodge showed it as a concept at last year's
SEMA
show. It's intended to be sold as a box of parts; you buy the Ram, buy the parts, and then mate the two together on your own dime. And -- boom goes the desert racing dynamite. 
The Ram Runner was a hit at SEMA, and
Chrysler
got to work making the package street-legal. Now,
the company is considering making a production version of the truck
, a turn-key machine that you walk into a showroom and buy like any other car.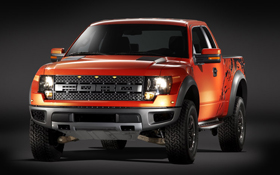 My reaction to this was twofold. First, I almost soiled my pants out of glee: Two production desert trucks, both from major manufacturers? I had dreams about this sort of thing when I was little, and while most of them also involved endless candy and bathtubs full of cheeseburgers (your childhood definitions of Utopia may vary), the trucks were a key part. It's
cool
. That's the
predictable/hot-butt​on
bit.
Second -- and more important -- I had a moment of doubt. 
Chrysler is in an odd place. It's owned by an Italian corporation that didn't spend very much to acquire it. It's in the middle of revamping its product lineup, and while it just launched impressive face lifts of almost everything it makes, those vehicles are still fundamentally old cars -- leftovers from the old Chrysler. The company's public image is so precarious that it had to buy Eminem's time and resort to emotional heart-stringing in a Super Bowl ad in order to seem relevant. And somewhere in there is the Fiat 500, which both is and is not a Chrysler. At least in the eyes of Joe America.
Where does the Ram Runner fit into this convoluted mess? Frankly, I have no idea. Like the Raptor, it's a wholly unnecessary vehicle, a halo machine meant to get people into showrooms and sex up everything else on the lot. The Raptor was fairly inexpensive to engineer, it oozed vitality, and it did a lot for Ford's image. All things considered, the truck has sold pretty well, and it's only reasonable to assume that Chrysler wants the same payout. Who wouldn't?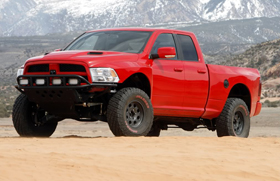 But that's where the logic stops. Ford was and is in a much different place than Chrysler; its brand is stronger, its public image more secure. Its product lineup isn't perfect, but it's a lot more cohesive -- and impressive -- than Chrysler's offerings. On top of that, when the Raptor was launched in 2009, the truck was blessedly different -- no one then offered a showroom desert truck, and the company had the resources to spare for its development. 
In other words, it made sense, in a weird way.

As cool as the Ram Runner is, it doesn't make that sort of sense. Chrysler may be able to make the project work financially -- i.e., build it without spending, or losing, a lot of money -- but that doesn't mean that it's a good idea. The Raptor's success aside, there isn't a lot of demand for desert trucks, and you don't define a struggling company's image by following in someone else's footsteps. You also don't create seemingly frivolous products, no matter how appealing or inexpensive the project, when the government and taxpayers just spent massive amounts of money rescuing you from bankruptcy. 
Ultimately, it comes down to this: I have no problem with a street-going Ram Runner, but the whole thing needs to be carefully managed -- and it doesn't need to be anything approaching a showroom truck. Consider the possibilities: A parts-kit Runner will likely go unnoticed by the public, but a complete, dealer-available vehicle won't. What does it say if the production Ram Runner happens, somehow becomes a hit, and the next
Chrysler 300
-- a far more important car -- is still just acceptably OK? What if the Runner happens and is a complete failure? Won't the public view both scenarios as a misappropriation of money and effort? How is that good for Chrysler, for Detroit's waning image or the country? Heck, at the end of the day, why not just devote the effort to something unique, something that will grab more positive attention? Is the Baja truck
really
the last untapped halo market? 
I'm not saying I have all the answers, or even some of them. But Chrysler is clawing back from the brink, and it can't spare any time for sins. In this case, predictability definitely qualifies as such.



I think what Chrysler needs right now is good brand exposure and an image boost.  Even if this isn't the "first desert truck," that doesn't really matter!  The big deal made in this article about being first doesn't hold much water.  If there is demand for it, they should make an effort.
I don't believe there will be enough demand to warrant a full factory production, but there might be more than the "kit" option.  I think a good solution might be a limited production run of 500 units or something.  People love limited editions, and it would give the brand good exposure and something "unique" to sell, an alternate to their normal offerings.

Sam, what I'd do, if I were you, is leave the heavy thinking for the guys at Chrysler and stop being a bed-wetting hand wringer about whether this is the right move for Chrysler or not.  Seems that aftermarket add-ons are an important factor these days in the auto industry as owners customize their rides to their liking.  Isn't that why the SEMA show keeps growing every year?
Here's the bottom line:  If the Ram Runner fattens Chrysler's bottom line, than it's  a success, either as an aftermarket Mopar kit or a Mopar factory option.  If the Ram Runner helps sell a bunch of regular Rams along the way by generating showroom traffic, it's a success.  If it was a hit at SEMA, chances are there is little downside potential for Chrysler.
Are you sure you want to delete this comment?
EXPLORE NEW CARS
MORE ON MSN AUTOS
'Eleanor' Mustang sells for $1M
'Gone in 60 Seconds' movie car driven by Nicolas Cage has a new home.
ABOUT EXHAUST NOTES
Cars are cool, and here at MSN Autos we love everything about them, but we also know they're more than simply speed and style: a car is an essential tool, a much-needed accessory to help you get through your day-to-day life. What you drive is also one of the most important investments you can make, so we'll help you navigate your way through the car buying and ownership experiences. We strive to be your daily destination for news, notes, tips and tricks from across the automotive world. So whether it's through original content from our world-class journalists or the latest buzz from the far corners of the Web, Exhaust Notes helps you make sense of your automotive world.
Have a story idea? Tip us off at exhaustnotes@live.com.