Families Now Spend More on Transportation Than Food
By Jim Travers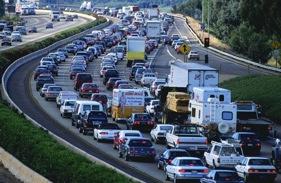 Note: Consumer Reports has no relationship with any advertiser on MSN.

The average American family now spends more than $7,600 annually on transportation, according to a recent government study. To put that amount in perspective, it's more than what's spent on food and more than twice what is spent on health care. The reason cited by the Treasury Department report is the increasing cost of gasoline and, consequently, traveling by car.

With fuel costs at near-record levels, commuters don't need more bad news, but the report goes on to say that traffic jams waste a whopping 1.9 billion gallons of gasoline every year, at a cost of more than $100 billion in fuel and lost/wasted time. (Report pdf.)
Moving closer to work could help, the study says, noting that commuters living in "location efficient" housing were able to save $200 per month over the past decade, partly by saving on fuel, as well as on maintenance and repairs.

But the real problem, the study concludes, is that there aren't enough public-transportatio​n alternatives to traveling by car, and that our road infrastructure is outdated, beyond capacity and in poor repair.

That our roads are in rough shape shouldn't come as news to anybody who has spent time on them lately (at least here in the Northeast), but it's likely to be a while before things get fixed up. More rail and other public transportation choices would be an attractive alternative, but such projects are even further off in some areas due to cost and infrastructure challenges.
In the meantime, motorists can reduce their costs by driving smoothly, watching speed and combining trips. Carpooling is another option, as is investing in a portable navigation device that can help route around traffic. Alternatively, you could move closer to work. But that's not a viable option for many of us. (Read our tips for saving money now on gasoline.)
To make a significant reduction in fuel costs over the long haul, consider buying a reliable, fuel-efficient vehicle. If you're driving a guzzler that's more than a few years old, the savings are clear. However, if you own a late-model car, look at the numbers closely, as it would take a dramatic improvement in fuel economy to offset losses in depreciation for trading in early. (See our small-car buying advice and ratings.)
Visit our guide to fuel economy.

Read more at Consumer Reports:

To make a significant reduction in fuel costs over the long haul, consider buying a reliable, fuel-efficient vehicle. If you're driving a guzzler that's more than a few years old, the savings are clear.
Not really..... In all these articles, and a lot of other media and marketing, I keep seeing mention of getting rid of low mpg vehicles for higher mpg ones. Except in extreme cases, this just doesn't make financial sense.  I did the math using my own low mpg vehicle. I average 16mpg with my Jeep, and drive about 330 miles per week. So using $4/gal pricing, 330/16 = 20.63gal x $4/gal=85.52/week x 4 = 330.08/month on fuel. Now I MAY be able to purchase a new 35mpg car for 330 a month. However, I now have to put fuel in it. Using the same numbers, except with 35mpg average, I spend 37.71/week, or 150.84 a month.  So I've saved $179.24 on my fuel bill by switching to a vehicle that gets 19mpg better than my current one.  Now for a 35mpg overall vehicle such as a Focus or Elantra, I'm looking at 18-20k for a decently equipped one. If I recall correctly from my last visit to the Ford site, a decent Focus hatch works out to about $320 a month.  So now with my fuel savings subtracted from my monthly payment, I'm now $140 in the hole as compared to driving my Jeep. Also, I've had to shell out $1,300 or so for sales tax on the new car, and my insurance would have gone up quite a bit as well – the premium for a  new car will be significantly more than on a 15 year old one. Also, my Jeep is old enough I don't pay town excise tax on it, which I would with a new car.
So really, except in extreme cases, the math does not add up yet. Gas would have to go up another dollar, actually closer to two, before it made sound financial sense. However, it IS a good way to rationalize a new car purchase when you just want a new car.
As far as moving closer to work - not gonna happen. I love where I live, and I chose to live there. The area I work in, not so much. It's bad enough I have to go to a job I don't like, but to move to an area I don't like to go to a job I don't like is just too much. 

I feel bad for people that have long commutes, someone needs to get the word out to them that it doesn't always have to be that way.
   We are fortunate enough to have enough income to afford long commutes but considered it a waste of money that could be used better in another area so moved closer to work and got rid of a vehicle. The difference in what we are saving is a lot more than two hundred a month, as the article states, it's closer to $700 a month for the changes we made, and I love seeing my car sitting in the driveway day after day, retaining more value, having less wear on everything and I am not wasting my time commuting. I am not a "Greenie" but also like knowing that I am creating less pollution as well.
  Gas prices are not going to start going backwards and with salaries no longer jumping by 5-10% each year, people are going to have to start making changes and lessening your commute is one of the biggest ways to save money.

Are you sure you want to delete this comment?
EXPLORE NEW CARS
MORE ON MSN AUTOS
10 coolest cars of Fast & Furious
Our favorite Fast & Furious cars, from the ultra-obscure to the iconic.
ABOUT EXHAUST NOTES
Cars are cool, and here at MSN Autos we love everything about them, but we also know they're more than simply speed and style: a car is an essential tool, a much-needed accessory to help you get through your day-to-day life. What you drive is also one of the most important investments you can make, so we'll help you navigate your way through the car buying and ownership experiences. We strive to be your daily destination for news, notes, tips and tricks from across the automotive world. So whether it's through original content from our world-class journalists or the latest buzz from the far corners of the Web, Exhaust Notes helps you make sense of your automotive world.
Have a story idea? Tip us off at exhaustnotes@live.com.