Give Alan Mulally the Credit for Turning Ford Into a Tech Powerhouse
Recent articles cite Ford's scion for turning the company around, but an outsider made the biggest impact.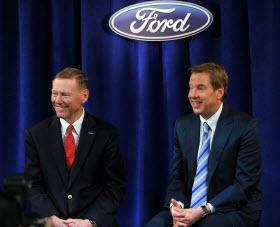 "How Bill Ford Turned an Automaker Into a Tech Company" was the gist of several headlines in recent days. But a subhead to that should read: "With the help of CEO Alan Mulally." Or better yet, we might suggest replacing Mulally's name with Ford's in the original.
The official company line is that both men saw the need to steer the Blue Oval brand away from the cliff that the entire domestic auto industry was hurtling toward during the middle of the last decade. As Bill Ford Jr. said during an event this week to celebrate the induction of Ford's Sync system into the Computer History Museum in Mountain View, Calif. -- and to coincide with the opening of the automaker's Silicon Valley lab in nearby Palo Alto -- the vision to turn the company around was a mutual one.
Henry Ford's great-grandson also noted that the turning point came while he sat with Mulally in his living room and both men decided that fuel economy and technology would be the two main pillars on which the future of Ford would be built. While no one man can take credit for such a drastic reversal of fortunes, Mulally's seizing the reins at the Blue Oval -- along with his outsider's perspective and matter-of-fact style leadership style -- shouldn't be overshadowed by the Ford scion's pedigree.
Many doubted whether Mulally, who had performed a similar turnaround at Boeing, would make headway in the insular world of Detroit's auto industry. But we submit that it's exactly Mulally's interloper perspective and easygoing personality that made him so effective. Both Ford executives and rank-and-file have told stories of the CEO's blunt accountability and results-oriented approach to the automaker's survival strategy, but also of his amiable and details-oriented demeanor. (Contrast that with larger-then-life, ego-driven automotive executives of the Bob Lutz variety.)
We've also been privy to conversations among the team that helped launch the Sync system, and have heard stories of how hands-on Mulally was during the development of the game-changing infotainment technology. While a whole group of talented Ford folks were behind Sync's success -- and the co-mingling of an old Detroit company with a newer tech industry entity in the form of Microsoft* played a significant role -- many credit Mulally as a cheerleading taskmaster who helped get the system pushed through and into cars quickly. Mulally has said several times, and backed it up with action, that he wants Ford to act more like a technology company than an automaker.
Nothing against Bill Ford Jr., but let's give credit where it's due – that being from outside of Detroit in this case – and hand Alan Mulally the lion's share of the recognition for turning Ford into a technology innovator. And the extra thanks for making Ford the only American automaker to not take taxpayer dollars in order to stay afloat.
*Note: Exhaust Notes is part of Microsoft Corp.


I believe Ford just bought back their name and branding. So they have made progress. I admire Ford for mortgaging their assets instead of taking taxpayer dollars - that's what most companies have to do - they don't have the second option. so Mulally has put Ford back on track. The new vehicles are good looking and good performing, in fact some are even lust-worthy.
Finally, I believe the downgrade from JD Power came from, ironically, the infosystems being complex, which has also been addressed in their upcoming versions. Chalk that up to teething pains.
Are they perfect? Nope. Did they do a better job than the other American car companies of weathering the last few years? In my opinion, yes! Their stock will come back. The bottom line here to me is that they didn't dig into my pocket to save themselves FROM themselves. They did it like any "normal" company, they took their own assets, went to the bank, got loans and turned themselves around. Not bad, all things considered.

Troy S.
You're right in that Ford does have a bit more to go, before they are officially in the clear again, but you're discounting too much of the good that Ford has done since 2005. The current generation Focus is a solid vehicle and we in the States are now enjoying the euro feel of it. The Mustang went from being a mediocre vehicle that offered pretty solid drag racing potentials, with modifications naturally, but offering little else to a potential world class contender. The 5.0 can now go toe to toe with a BMW M3 and that does say a lot about the maturity of the car.
The biggest eyesore in the Ford lineup is the Flex, which I don't see much of thankfully and the true biggest disapointment from them is their decision to not bring Diesel engines to USA. If the Chevy Cruze Diesel sells well in USA, Ford will be forced to change their position to be able to compete with Chevy. So here is hoping that has a change.
The largest issue that is currently knocking down Fords rating is their Sync/touch system. Most individuals complaining that it is "too complex" but I've used them before and they aren't really that difficult to use. Facts are though, they should of designed the system to be far simpler as the common individual is not tech savy, or really care to learn how to use things properly, and should of planned for this.
If the largest issue your company has is the infotainment systems being too complex, I'd say you're doing a pretty good job, especially after the issues that plagued Ford earlier.

Agreed Zerlak.  I drove new Ford trucks  (one every two to three years) from 2000-20008 and to be quite honest, they were of very poor quality. When I have written on these blogs that I got to know the service manager  very well, I meant it. I was in there for repairs two to four times in the first year's life of each new truck and then it escalated from there. We even had to make them buy back an F-250 that had a very dangerous front end shimmy that they could not correct.
  Ford appears to have made some substantial gains since then, let's hope that somehow they rub off on GM and Chrysler because they are both still "at the cliffs edge".



I would not give the new Mustang too much praise,  exploding V6 driveshafts (check it out on u tube)  and # 8   5.0 cylinder issues have plagued the Mustang.  Ford never fixed the China made 6-speed manual trans in my local friend's car, it is still grinding.  For a $35,000  car,  that is just unacceptable.

Mulally can also add two JD Power quality downgrades to his list of "achievements".  It seems Ford, is still struggling with making quality job one. Their stock prices have seen better days, they're currently 10.27,  and Ford still owes alot of money from the 23 Billion that they borrowed in 2006 to "mortgage their assests" coincidentally  just prior to the other automakers delcaring bankruptcy. Ford is still currently rated "below investment grade" 6 years later in 2012. To make matters better Mulally found it suitable to accept $35 Million compensation packages all the while Ford employees were losing their jobs. Oh yeah, the ford name and brand symbol are still at risk if the borrowed money isn't paid back.
If you had poor values, a lack of employee wellbeing and irresponsibility towards your investors, would you still have a job?
Are you sure you want to delete this comment?
EXPLORE NEW CARS
MORE ON MSN AUTOS
10 coolest cars of Fast & Furious
Our favorite Fast & Furious cars, from the ultra-obscure to the iconic.
ABOUT EXHAUST NOTES
Cars are cool, and here at MSN Autos we love everything about them, but we also know they're more than simply speed and style: a car is an essential tool, a much-needed accessory to help you get through your day-to-day life. What you drive is also one of the most important investments you can make, so we'll help you navigate your way through the car buying and ownership experiences. We strive to be your daily destination for news, notes, tips and tricks from across the automotive world. So whether it's through original content from our world-class journalists or the latest buzz from the far corners of the Web, Exhaust Notes helps you make sense of your automotive world.
Have a story idea? Tip us off at exhaustnotes@live.com.