A First-Timer at Le Mans, Part 1: All Downhill From Here
It's nearly a week later and I still haven't fully recovered. If that's not a ringing endorsement, I don't know what is.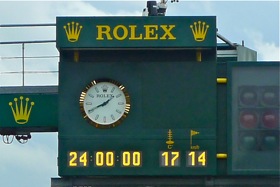 When I finally sit down to write this it's not until I'm on a plane from Paris back to the U.S., and my brain feels like it's been soaked in some industrial-strength paint thinner and then kicked uphill by a big horse. It's not just the sleep deprivation or the jet lag -- though there is plenty of both -- as much as I've just pushed through 24 straight hours one of the most exhilarating spectacles in motorsport, a nonstop assault on the senses that one minute boggles the mind with scope and scale (four race classes, dozens of cars, 250,000 spectators, a Ferris wheel) and the next focuses you on the most minute of details like, say, noticing the difference in angle at which each car tackles a series of chicanes -- for 20 minutes straight.
Yes, my first experience of the 24 Hours of Le Mans melted my face off, and I mean that in the best possible way. I'd like to try to pass on, if even just a glimpse, what being at the race was like -- and why you need to make the trip at least once in your life.
The beginning of the trip was far more relaxed. Bentley Motors, nearly 10 years out from its one-two finish at Le Mans in 2003, had invited a few writers to experience the race (and maybe even cheer for race favorite and corporate cousin Audi) from its hospitality box on pit lane. After the bulk of the group drove down from Bentley's factory in Crewe, England, I joined the caravan in London and hopped in a 567-horsepower W12-powered Continental GT. Our base of operations: a 17th-century chateau in just outside the track area.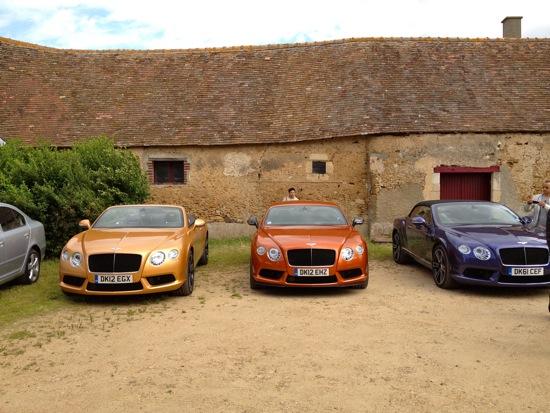 One thing about a caravan of shiny new Bentleys: They draw attention. Lots of attention. We had several W12- and V8-powered Continental GT and convertible GTCs racing from London down through the French countryside, and the reaction was surprisingly bonkers. Don't get me wrong; the cars are substantial and impressive vehicles, without question. But they don't thump their bare chests like Lamborghinis or court the eardrums like a Ferrari. The ultraluxe machines are designed to have presence, not to be showy, and there's a difference. And yet when a multicolored array of six Continentals rolled through a town – even in a car-obsessed spot such as Le Mans – grown men tripped over each other jumping to the curb to mime whipping a starting flag, and children screamed and jumped up and down. I'm not making that up. Like I said: bonkers.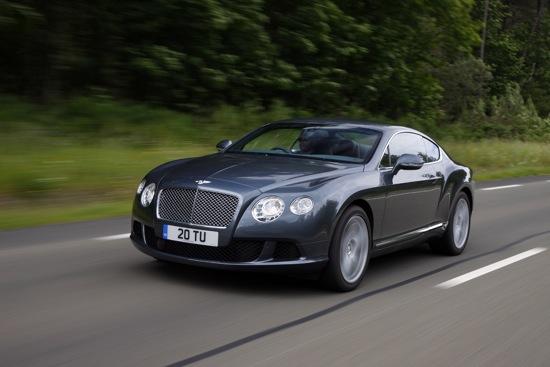 Also bonkers: the tent cities that covered every square inch of real estate around the track. (Also: I'll stop referring to things as "bonkers" from here on out, as pretty much everything associated with the weekend could be described as such.) We began the race watching from the Bentley hospitality suite, across from the grandstands and directly above pit row -- specifically at the spot where the far-out Nissan DeltaWing came in for work. But before that we had to park the cars, gather the gear, catch shuttles in the light drizzle, etc., and what you notice -- what you have to notice -- is that people are camping out on every square inch of the grounds not marked off for eating or racing. In any conceivable spot where you could fit a tent -- and many spots surely considered inconceivable -- a tent had been fitted. Same with campers, RVs, treehouses, what have you; the whole vibe was Coachella mixed with an Ibiza rave (more on the Ibiza part later).
Things in the Bentley suite were a bit more relaxed.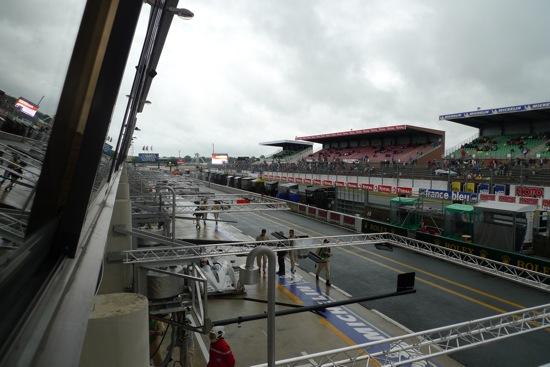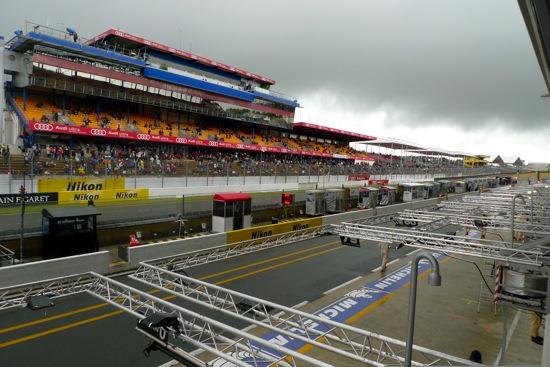 Two views from the suite during the temperamental morning weather. Not a bad vantage point.
As the drizzle turned to a downpour, we watched Derek Bell, a five-time Le Mans winner and current Bentley brand ambassador, run a classic Porsche 962 in the muck. Most of the race was run under the yellow caution flag, as cars starting spinning off the track almost immediately. In the suite later, Bell told me that his wiper had stopped working during the race and that water had started flowing from under the windshield, rendering him nearly sightless.

"At one point I know a turn is coming up, but I can't see anything. I'm going along and I think, 'Well, it's around about here,' so I turned in. Missed it by about 6 feet, and that's when I went off," he said, relating this in the nonchalant tone of someone explaining how they lost, then found, their glasses.
Just to recap: If you or I can't see in front of us while driving, we turn off the road and wait it out. If you've raced Le Mans 26 times and won it five, you hurtle around the track practically blind, turn by memory in the pouring rain and nearly make the corner anyway. Unbelievable.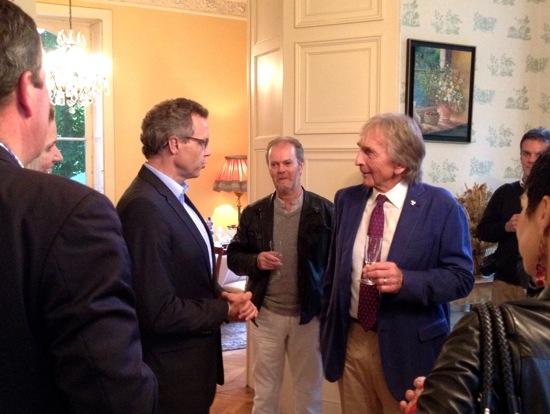 This is outgoing Bentley CEO / soon-to-be head of Audi development Wolfgang Durheimer, left, talking with five-time Le Mans winner and Bentley ambassador Derek Bell at a dinner the night before the race. Durheimer told amazing stories of racing motorcycles at the Paris-Dakar rally, and Bell told amazing stories of, well, winning Le Mans five times. And also of working with Steve McQueen on the set of the movie "Le Mans." It sounds no more surreal in the retelling than it seemed while happening. Also, this assures every other Le Mans race will pale in comparison for me. It was worth it.

We had access to the pit walk before the race. It looked like this: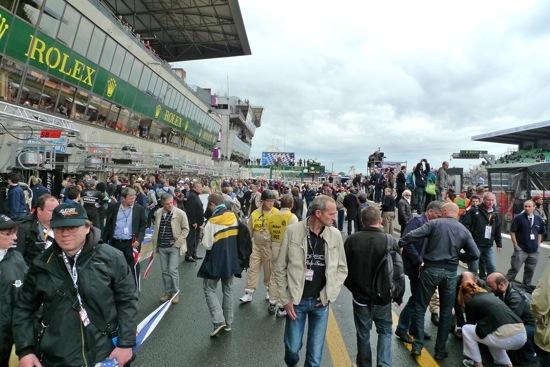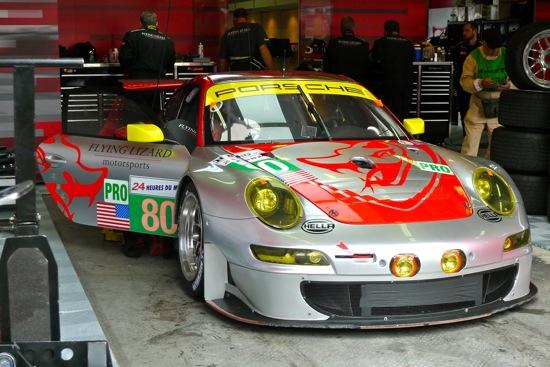 The Flying Lizard team from the U.S., racing in the GT class.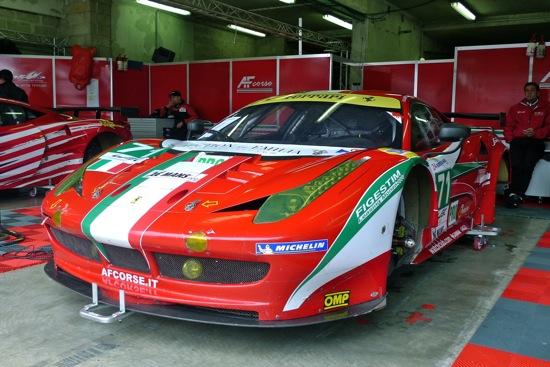 These Ferraris were louder than loud and sounded like Satan sneeze-coughing. But they weren't as sonically assaulting as ...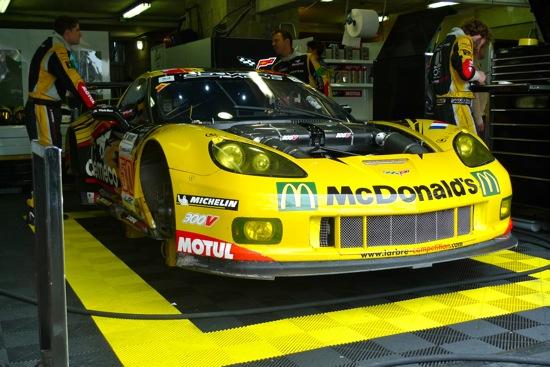 ... the good ol' American Corvette muscle. You felt these cars as much as heard them, and they felt like they were trying to kick in your chest. God bless America.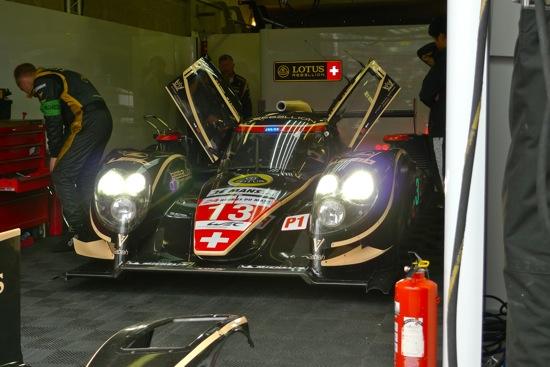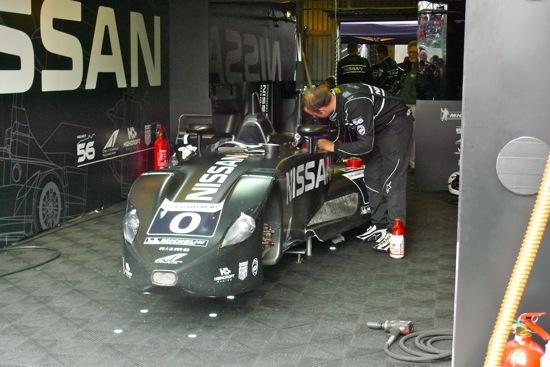 The Nissan DeltaWing looks normal from exactly zero angles.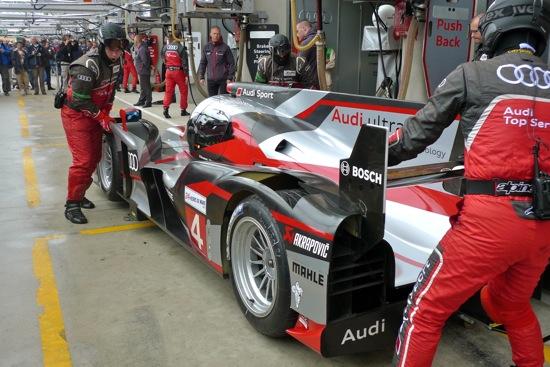 Audi readies its favored-to-win cars.
Then, the gates opened and the teams wheeled their cars onto the track and the masses followed. It was extremely cool to see the fans casually snapping pictures while the focused race teams wheeled these earth-bound rocket ships with determination toward their spots. Only when everything was set did some of the team members relax for a minute, which made for some good pictures.
(Speaking of fans casually snapping pics -- the track was mobbed with them. As one might expect, sometimes a crew would be gliding a car straight toward an oblivious fan, facing the wrong direction and casually trying to line up a perfect shot, and who doesn't even realize all the yelling and whistling is directed at him to get out of the way. And that definitely didn't happen to me. At all. No matter what anyone tells you.)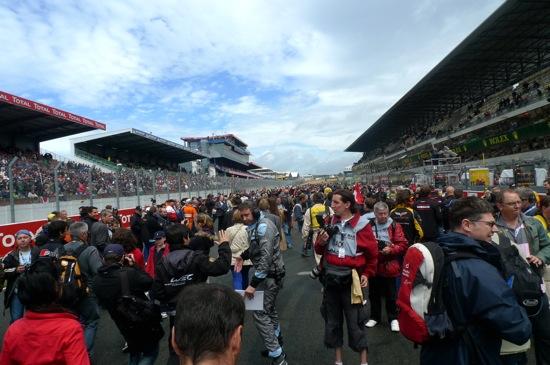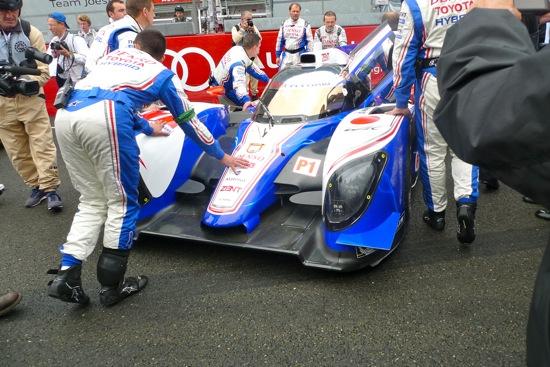 Team Toyota -- Audi's only real competition. You could feel the pressure on these guys.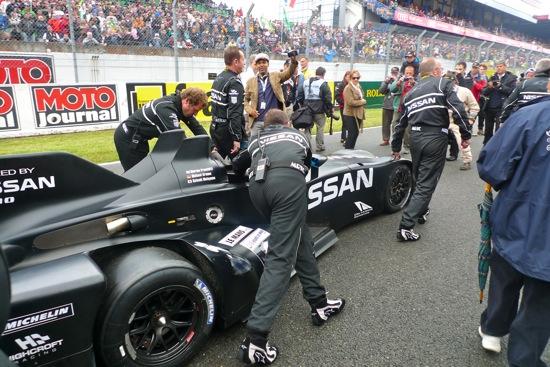 See what I mean about the DeltaWing? Cool-looking, but weird from every angle.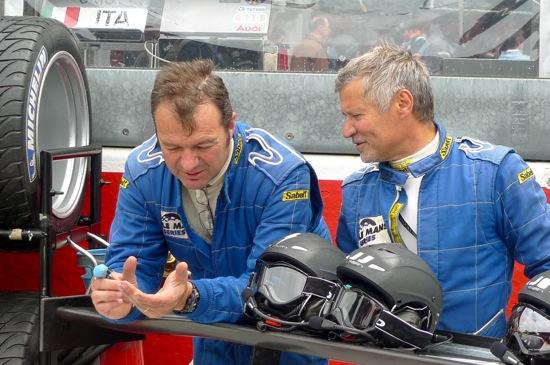 Then it was back to the hospitality suite as the teams assembled for the various national anthems, interviews took place over the loudspeaker, and the Michelin Man hammed it up for the crowd. Right before the race started, the speakers boomed out the opening music from "2001: A Space Odyssey." Flags were waved furiously as the engines screamed, and the crowd roared along with them. Then, the green -- the race was on. And on, for the next 24 hours.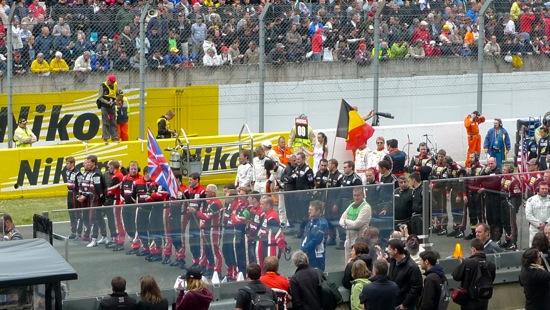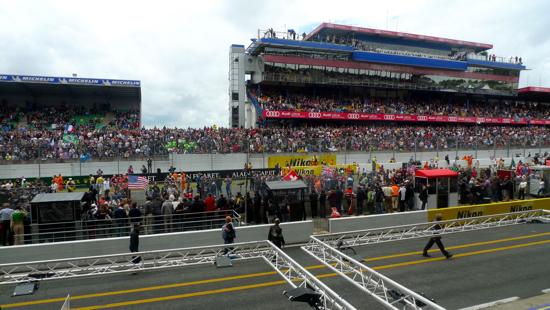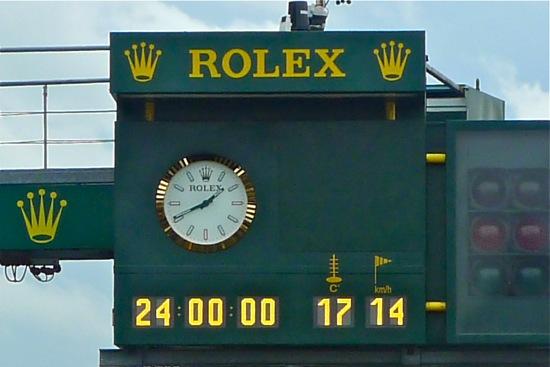 Next: part two, in which I decide to ride out the 24-hour race in its entirety; I chat with the at-the-time-soon-to-​be-named Audi of America President Scott Keogh as the race pushes toward midnight (but we mostly talk about college rugby), Audi's insane marketing spend on hospitality, and the binary aspect of fandom at Le Mans. Also, much more of this, from various parts of the track:
Josh Condon
is the editor of Exhaust Notes. He is based in Los Angeles, and his work has appeared in publications including The New York Times, Esquire, Popular Science, Men's Journal and Ralph Lauren RL Magazine.
EXPLORE NEW CARS
MORE ON MSN AUTOS
The future of alternative propulsion
A look at what could power your next car
ABOUT EXHAUST NOTES
Cars are cool, and here at MSN Autos we love everything about them, but we also know they're more than simply speed and style: a car is an essential tool, a much-needed accessory to help you get through your day-to-day life. What you drive is also one of the most important investments you can make, so we'll help you navigate your way through the car buying and ownership experiences. We strive to be your daily destination for news, notes, tips and tricks from across the automotive world. So whether it's through original content from our world-class journalists or the latest buzz from the far corners of the Web, Exhaust Notes helps you make sense of your automotive world.
Have a story idea? Tip us off at exhaustnotes@live.com.