Fuel Prices Rise, but the Nation's Song Remains the Same
It's time to change how we talk about fuel consumption.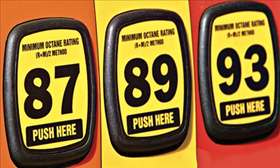 As everyone knows, fuel prices are on the rise. The national average is now somewhere around $3.50 a gallon for regular. The state-average high -- in California, natch -- is roughly a dollar more than that. 
One station in Florida is charging $5.39 a gallon for regular, the highest price ever posted during March. The Energy Department predicts that the national average will reach $3.70 by spring. 
People are freaking out. 
In times like these, I fall back on a line my Sunday-school teacher used whenever the class got rowdy: "Enough with the crazy already." 
Aren't we tired of this? We are a mature nation, an evolved place that manages to get through the day without setting fire, a la Genghis Khan's Mongol hordes, to large chunks of the populace. We have a government that mostly works. And yet we deal with changing fuel prices about as well as a coked-out day trader deals with a wavering stock market: We panic. 
Prices go up, we panic and buy small cars. They go down, we relax and buy big ones. We wonder why our driving habits don't change, why we keep buying big, inefficient cars when smaller ones ultimately make more sense. Either way, the media go nuts, which doesn't help anyone. 
Because of who we are as a nation -- a group of people joined by the idea that if we want it, we can and should have it -- we don't deal well with loss. This encompasses everything from lost income via increased cost of living to any possible solution to our multitude of problems that requires someone, somewhere, to sacrifice. Similarly, there are a host of topics that people don't want to discuss whenever fuel prices rise, largely because all of them mean giving something up. When premium is suddenly $4 and change, no one wants to talk about a gas tax, or an engine-displacement tax, or how much more other First World countries pay for their fuel. All of these things are relevant, and all of them might lead us changing our fuel consumption -- the only thing we can really do about rising oil prices.  But we like how we live and we don't want to change, so instead we whine and moan.  
Case in point: The Economist recently posited that raising the gas tax might help us avoid an oil-driven recession. The piece in question used elegant rhetoric and a very simple chart -- which compares, rather shockingly, American fuel prices to those abroad -- to make the point that increased fuel costs would benefit the nation in more ways than one. And yet it got -- and will continue to get -- very little attention in the automotive press, and even less in mainstream media. 
As Car and Driver's Aaron Robinson so eloquently put it, Americans can't even discuss a gas tax without someone calling someone else an America-hating socialist. Increased fuel taxation may not be the end-all answer, but it's disgusting that it's continually shoved off the table and removed from discussion. We're all adults, yet we can't even talk about it. 
The irony is that, for most of the country, the cost of driving is academic: Whether it's expensive or cheap, many of us don't have a choice. If we're painting in broad strokes, there are two types of fuel consumers in this country: the people who can afford to not care about gas prices and don't change their driving habits when costs rise, and the people who can't afford the increase but have to drive anyway. Which means they -- yes -- don't change their driving habits. Pundits suggest that the answer to rising gas prices is simply to drive less, but America is a big country, one laid out with the automobile in mind. For a great many people, fewer miles aren't an option. Either way, for most of us, the cost of fuel is arguably irrelevant. 
All the while, the media won't shut up about oil prices and how small cars aren't selling. It's maddening. 
A word of advice to those complaining about fuel prices: Please be quiet. Come up with a better answer; drive less, or drive more, but for heaven's sake, do something. Something other than complain. 

You truly have some amazing vehicles there. I'm thinking with that kind of fuel economy, Volkswagen might want to do some research on your particular specimens. Wow, a Touareg TDI is rated at 14/20mpg stock but yours is almost 4x that with 22 inch wheels on it. Amazing. Your A3 is rated for 30/42mpg and gets 87.6? Again, amazing...
Are you sure you want to delete this comment?
EXPLORE NEW CARS
MORE ON MSN AUTOS
High-performance pedal power
11 cutting-edge bicycles from the world's top automakers.
ABOUT EXHAUST NOTES
Cars are cool, and here at MSN Autos we love everything about them, but we also know they're more than simply speed and style: a car is an essential tool, a much-needed accessory to help you get through your day-to-day life. What you drive is also one of the most important investments you can make, so we'll help you navigate your way through the car buying and ownership experiences. We strive to be your daily destination for news, notes, tips and tricks from across the automotive world. So whether it's through original content from our world-class journalists or the latest buzz from the far corners of the Web, Exhaust Notes helps you make sense of your automotive world.
Have a story idea? Tip us off at exhaustnotes@live.com.