The Automotive Bucket List: What's on Yours?
Mine held a real Shelby Cobra. Yes, held: past tense. You ever have one of those days that just changes your life?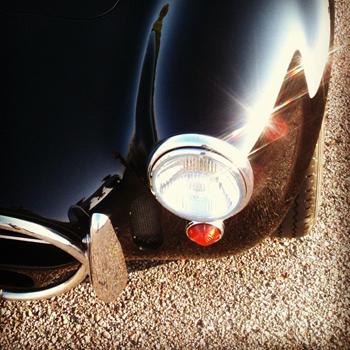 I don't really know how to handle this. I could try to put the moment into words, but on a certain level, it just feels wrong. I'm getting emotional just thinking about it, which is a tad embarrassing. Maybe I should just come out and say it.
Last week,
I drove a 1965 Shelby Cobra
. It was a 427, a big-block car, one of just 260 such street Cobras produced. This was the real thing -- no small matter with a Cobra -- not one of the countless replicas, kit cars or continuation models. It oozed history and engineering purity and hot-rod soul. You can see it in the picture at left, as well as
the one below the jump
.
The Cobra I drove is what Shelby guys call a "narrow-hip" car, one of just 32 built without flared rear fenders. It is owned by
one of the most generous people I know
, and I am still shocked that he was nice enough to let me drive it. It has never been restored, only repainted once. It is damn near the most perfect thing on God's green earth. 
The car is not the focus of this post. I am not going to tell you how driving a real 427 Cobra changed my life, though it most certainly did. I'm here to talk about you.
Weird transition, right? OK, fine. There's a good chance you're interested in this, so I'll say it anyway. You want to know what driving a real 427 Cobra is like? It's amazing. It's mind-blowing. It is one of a mere handful of legendary cars I've driven -- and I've been behind the wheel of thousands of machines, more than I can count -- that has lived up to the hype.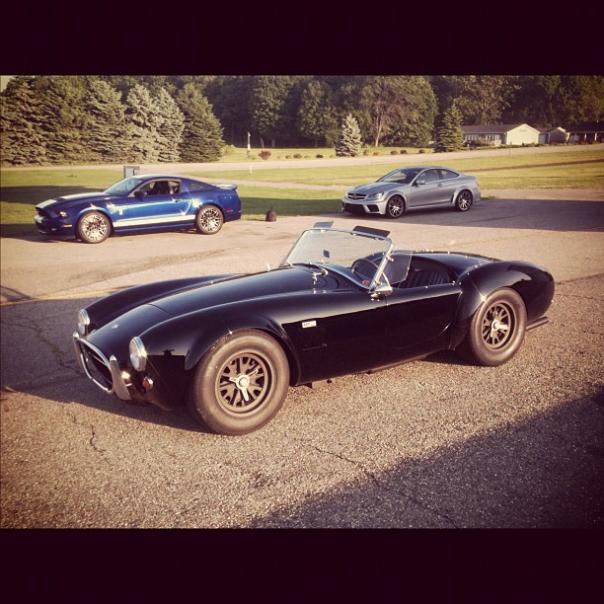 Above: The Cobra in question. Note the hips. Note them again. When you're done noting them, clean the drool off your keyboard and continue reading. (The cars in the background, for posterity: 2013 Ford Shelby Mustang GT500, 2012 Mercedes-Benz C63 Black Series Coupe. Neither was as amusing or as raw as the Shelby. But you knew that.)
Have you ever sat in an unrestored 1960s muscle car? There's an honesty there, an undiluted, working-class middle finger to law-abiding society. The feeling is found only in those cars that haven't been taken apart, the ones that haven't seen a modern paint booth or some overenthusiastic detailer's hands. Combine that with the staggering purity of purpose you get in a continental sports car of the '50s or '60s -- anything with a hand-built body and an interior that reeks of Old Pub -- and you've got a Cobra. To make a 427, add equal parts
Ford
top-loader 4-speed (a dump-truck heavy shift lever, a short clutch) and the KA-POCKA-KA-POCKA
oil-drum-beaten-with​-a-lead-mallet
noise of a Detroit big-block engine. Season with impossibly light manual steering (I've driven
Mazda Miatas
with heavier helms) and a heaping dose of
Texas-chicken-farmer​
attitude. It felt modern and 50 years old and fast as hell all at once.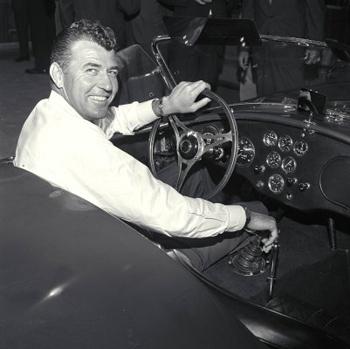 I drove the car in question at a
Michigan road course
 on a gorgeous day. If you're curious, it sounded
exactly like this
, only louder. (That last link is to a video of the actual car.) I pootled around, off-line and at times painfully slow on purpose, paranoid about hurting the car and going bankrupt paying for it. I saw triple-digit speeds in a few places, but I took no risks. 
Regardless, it was insane. I will remember it until the day I die. 
But back to what I was saying about you.
The car I drove is worth lotto-winnings money, and there is no way -- none, zip, 
zero -- that
I am ever going to make enough cash to buy one. A replica isn't the same, and driving a real Cobra is like groping Scarlett Johansson: Only a lucky few get to do it legally. But the lasting impact here was more than just the opportunity to drive a legend. Until last week, a 427 Cobra was one of my
bucket-list cars
-- a machine I would have swapped a kidney for in order to drive.
Above: Carroll Shelby, 1923–2012. The man behind the Cobra.
What is it about
those lists
? Why do we make them, keep them, nurture them beyond all logic and reason? Mine contains roughly 50 cars, and it's undergone countless revisions since its creation two decades ago. (I'm 31 years old.) Experiencing some of the entries, like the Cobra, may be possible with the help of a generous benefactor. Others -- say, the million-dollar 1950s
Ferrari
250 TR I'd give my left stone to drive -- probably won't. But these things are immaterial. The list exists because it exists. It helps me, gives me something to dream on. (At the moment, for example, I'm thinking of throwing the entire list away and just replacing it with a wide variety of Cobras. Told you I was dreaming.) If I somehow managed to experience everything on it, I'd probably have to create a whole new list, simply because that's how this stuff works.
Everyone with an interest in cars has a car bucket list, even if they don't want to admit it. This is the "you" bit: What's on your list? What gets you worked up? Selfishly, what have I missed? Is there anything I need to add to mine?

Did I mention that I could
listen to this
until the end of time?
Sam Smith is a journalist, a Southerner and a reformed Alfa Romeo mechanic who spends most of his time mooning over ancient racing cars and small-batch bourbon. A multiple International Automotive Media award-winner, he has written for Automobile Magazine, Car and Driver, and Esquire, among other publications. He once drove 4,000 miles in a weekend for a hamburger and has been threatened by the German police only twice.

Porsche 959, 917, 550 Spyder and Carrera GT

RUF CTR and CTR3

Radical SR8 
Lamborghini Miura
Ferrari 250LM & 330 P3/4
McLaren F1
Duesenberg Model J
Shelby Daytona
Toyota 2000GT
4 1/2 Liter Blower Bentley (or is it "Litre" as it is a British car)
There are others... but those would be tops on my list.

awww SAM. Two weeks ago the GT 500 now this.....bask in that glow. 
My LIST, constantly revised yet there is a core of originals that have been too slippery as yet.
Significantly unaltered originals are definitely worth the added bonus, yet even the mere model counts as a drive if for no other reason to experience the physical "being in it" such as the sightlines/driving position. 

"Mine contains roughly 50 cars, and it's undergone countless revisions since its creation two decades ago. (I'm 31 years old.)"

I am older than you, and I only have two cars on that list. Just two. One has a prototype, the other is currently produced, but not with the kind of engine I want. Can you guess which ones they are?

Are you sure you want to delete this comment?
EXPLORE NEW CARS
MORE ON MSN AUTOS
2014 Lexus IS: First drive review
The all-new IS is handsome yet odd-looking, great on the road yet lacking.
ABOUT EXHAUST NOTES
Cars are cool, and here at MSN Autos we love everything about them, but we also know they're more than simply speed and style: a car is an essential tool, a much-needed accessory to help you get through your day-to-day life. What you drive is also one of the most important investments you can make, so we'll help you navigate your way through the car buying and ownership experiences. We strive to be your daily destination for news, notes, tips and tricks from across the automotive world. So whether it's through original content from our world-class journalists or the latest buzz from the far corners of the Web, Exhaust Notes helps you make sense of your automotive world.
Have a story idea? Tip us off at exhaustnotes@live.com.