Fed Up with Distracted Driving
DOT proposes new technology guidelines for automakers – and gets real.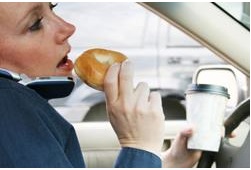 Last week the federal government proposed its first-ever guidelines "to encourage automobile manufacturers to limit the distraction risk for in-vehicle electronic devices." These voluntary guidelines apply to "communications, entertainment, information gathering and navigation devices or functions that are not required to safely operate the vehicle."
The National Highway Traffic Safety Administration issued the guidelines to "establish specific recommended criteria for electronic devices installed in vehicles at the time they are manufactured that require visual or manual operation by drivers." President Barack Obama even promised to fund distracted-driving programs "that increase awareness of the issue and encourage stakeholders to take action" to the tune of $330 million over six years.
Distracted driving has become a hot-button issue for bureaucrats and safety advocates. And with a simultaneous report last week detailing a rise in death rates for teen drivers, the topic deserves serious debate and study. Some thought the guidelines didn't go far enough, while other government officials want the portable devices that are the focus of the distracted driving debate to be banned from the car.
Yeah, well, good luck with that. Tell that to the people who thought radios would be too distracting to drivers when they were introduced 80 years ago. And good luck trying to ban all distracted-driving behavior -- eating, reading, shaving, talking to passengers, applying makeup -- or even trying to enforce laws against it.
At least Transportation Secretary Ray LaHood, despite his earlier finger pointing at car makers and call for cell-phone-free cars, now realizes that there has to be a sensible balance rather than a blanket ban. "The choice between ensuring drivers are safe and including cutting-edge features in cars is false. We can and we must do both," he remarked.
Maybe he has come to the sensible conclusion that the tech genie is out of the bottle and there's no going back. The fact is many of us have become addicted to 24/7 connectivity, courtesy of the devices we carry in our pockets or purse. When faced with the choice to stay connected behind the wheel or to go completely dark during a long drive or daily commute, it's little surprise that many people choose the former.
While the government should be involved in overseeing and setting standards for in-car connectivity, just as it does for other aspects involving auto safety, the brave new world of in-car connectivity needs a fresh, collaborative approach. That's why it's good to see that LaHood is now on board with the auto industry in figuring out this complex issue, instead of simply fighting them.
Plus, carmakers, technology providers and wireless carriers are beginning to collaborate like never before to come up with safe and practical solutions. And, of course, profit from it, because technology sells. Just ask Apple. Or Ford, which became the envy of automakers and moved a lot of metal with its successful Sync system.
While I'm not advocating that the dashboard should be turned into a giant smartphone with Facebook and Twitter feeds for all, I also believe that technology is the answer, not the problem. The sensational headlines focus on the distracting byproducts of the shotgun wedding between automobile and smartphone. But the potential benefits -- such as using it for car-to-car communication and safety solutions -- are also beginning to emerge.
And while automakers struggle to figure out how to best incorporate technology that consumers can't live without, I believe we're in the 1.0 phase; it will only get better. After all, the alternative -- and we've all seen it -- is for people to drive while looking down at the small screen on their portable devices.
Doug Newcomb has been covering car technology for more than 20 years for outlets ranging from Rolling Stone to Edmunds.com. In 2008, he published his first book, "Car Audio for Dummies" (Wiley). He lives and drives in Hood River, Ore., with his wife and two kids, who share his passion for cars and car technology, especially driving and listening to music.
Driving is the #1 cause of death besides diseases. TOTAL concentration is required.
Mercedes didn't even want cup holders, but their US dealers insisted on them. The Germans were flabbergasted. 4k of metal is a weapon. As a Motorcyclist I HATE distracted drivers. Do you have to set up the DVD player for the 4 minute ride to get your kids to school? I'd rather ride past a bar at closing time than pass a soccer game that just let out. My Sequoia won't let me work the Nav system w/o it being in park. I was annoyed at 1st, but now I think it's a great idea. As a Verizon employee, hands free doesn't cut it for me either. When they 1st came out I recall talking during 1 commute, not remembering 1/2 of it when I got to work. Anybody else pass an intersection and wonder if they just ran a red light? Miss your exit, engrossed in conversation? I have, and decided to stop talking while driving. NO cell while driving. You can't concentrate on both. I'm a small Gov, Libertarian...but I've lost 2 friends and seen a few maimed by inattentive drivers. The US has too little drivers ED to begin with, why add useless junk to confuse these clods. Nobodies life is worth it. Do you want that on your conscience?

Doug, get a grip. You can live without your phone for the hour it takes to drive home. I know you don't notice, because you are one of them, but when driving behind someone on the freeway who is using there phone, they are all over the road, can't keep up with traffic, are speeding up then slowing down and in general, not paying attention to the road. You and your clueless buddies on the phone need to hang up and drive. Your car is not an extension of your office or living room !

You can't concentrate on both.
So, are you going to stop talking to your carpool passengers as well, since you cannot concentrate on a hands free call and driving at the same time? The plethera of accidents from distracted driving is attributed to texting while driving or not using hands free devices. There is no difference in using a hands free device and having a converation with individuals riding in your vehicle. If you wish to ban one, you must ban the other.
Are you sure you want to delete this comment?
EXPLORE NEW CARS
MORE ON MSN AUTOS
Audi first to get autonomous permit
Google, Mercedes also can now test self-driving tech in California.
ABOUT EXHAUST NOTES
Cars are cool, and here at MSN Autos we love everything about them, but we also know they're more than simply speed and style: a car is an essential tool, a much-needed accessory to help you get through your day-to-day life. What you drive is also one of the most important investments you can make, so we'll help you navigate your way through the car buying and ownership experiences. We strive to be your daily destination for news, notes, tips and tricks from across the automotive world. So whether it's through original content from our world-class journalists or the latest buzz from the far corners of the Web, Exhaust Notes helps you make sense of your automotive world.
Have a story idea? Tip us off at exhaustnotes@live.com.