Does Low-Grade Gas Save You Money?
Scrimping at the pump may not pay off in the long run.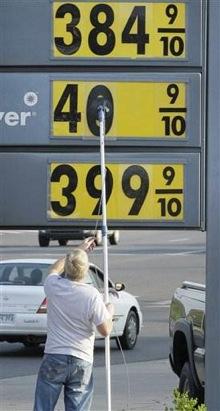 The question of whether to switch from premium to regular gasoline is a bit of a high-class problem, in that octane makes a difference only in high-performance vehicles. But as gas prices continue to rise -- they've jumped by 20 cents per gallon in the past month, according to
Gasbuddy.com
 -- those with more expensive cars are joining the masses looking for ways to cut costs at the pump. Saving money by buying lower-grade fuel, however, might not provide the short-term -- or, for that matter, long-term -- savings that drivers are looking for.
Switching from premium to regular gas saves drivers about 5 percent, judging from national gas-price averages, according to the
Los Angeles Times
. But cars whose manufacturers either recommend or require premium gasoline get worse mileage with regular gas sloshing around in their tanks. "A 4 percent decline in fuel economy would not be surprising," Harold Schock, director of the Engines and Automotive Research Labs at 
Michigan State University
, told the Times. 
It's unlikely many drivers would consider the 1 percent financial savings worthwhile, especially considering there could be long-term effects on these vehicles' engines. It used to be that cars requiring premium fuel overtly suffered on cheaper gas. "A generation ago, premium fuel had a lot more cleaners and detergents than regular, especially the discount brands," said Mike Allen, publisher of the car blog 
Saturday Mechanic
 and a consultant for automotive research firm
CarMD.com
. "A high-performance car often would carbon up on less-expensive gas." But that's no longer the case: "The car manufacturers have gotten a better grip on the issue, and the EPA requires all gasoline to have detergents onboard."
Moreover, all modern cars have sensors that prevent misfires in the engine. A lower-octane fuel won't cause a high-performance engine to misfire these days; instead, the sensor compensates by ushering in more fuel. However, it's possible that the repeated triggering of these sensors could hurt the engine down the line, after the vehicle's warranty has run out. Because of this, some experts recommend playing it safe and sticking with high-octane gas if that's what the manufacturer calls for. "What appears in the owner's manual is the best set of practices for operating a car if you want to get the longest life and the best performance out of it," Schock said.
In the end, changing your driving habits is the surest, least risky way to save on gas. "It's probably better to follow the gas recommendation in the owner's manual and then learn to drive less aggressively and to slow down a bit," John Swanton, an air-pollution specialist with the California Air Resources Board, told the Times. Or, as Allen put it: "If you can give up that last couple of tenths of a second tearing up the on-ramp on the way to work, you can save 20-30 cents per gallon."

Claire,
I think you got it wrong about the sensors "ushering in more fuel" upon detection of low-octane.  First off, cars do not have sensors that directly measure the octane in the fuel system.  Secondly, low octane fuel has no less energy than high octane fuel, just less ability to resist pre-detonation (commonly known as "ping" or "knock"). 
Pre-detonation occurs when the fuel-air mixture in the cylinder ignites prematurely (while the piston is still too far from top-dead-center) and usually occurs under a heavy load such as climbing a hill or accelerating briskly.  Ushering in more fuel would be akin to simply pressing further on the accelerator, which is unnecessary and useless given that the two fuels (high and low octane) have the same energy content.  The problem isn't insufficient fuel, it's a combination of low octane and high compression. 
The sensors that do get triggered due to low octane fuel are pre-detonation sensors.  These sensors retard engine timing to reduce the pinging, but in doing so they reduce engine performance.  With less engine performance, the car's mileage suffers and that's why high-performance cars tend to be more economical with high-octane gas.  And yes, I can see where constant actuation of these sensors and constant timing retardation could lead to problems in the long run.

It's true. I tried this once in my Firebird, for which premium (91, minimum) is recommended.
The car ran fine on 89, but lost about 3mpg as compared to the 93 octane I normally run in it. Considering that 89 was only .15/gal cheaper than 93, it made no economic sense not to run 93.
This was 2 years ago, and I haven't used anything other than 93 since.
Are you sure you want to delete this comment?
EXPLORE NEW CARS
MORE ON MSN AUTOS
10 coolest cars of Fast & Furious
Our favorite Fast & Furious cars, from the ultra-obscure to the iconic.
ABOUT EXHAUST NOTES
Cars are cool, and here at MSN Autos we love everything about them, but we also know they're more than simply speed and style: a car is an essential tool, a much-needed accessory to help you get through your day-to-day life. What you drive is also one of the most important investments you can make, so we'll help you navigate your way through the car buying and ownership experiences. We strive to be your daily destination for news, notes, tips and tricks from across the automotive world. So whether it's through original content from our world-class journalists or the latest buzz from the far corners of the Web, Exhaust Notes helps you make sense of your automotive world.
Have a story idea? Tip us off at exhaustnotes@live.com.