How YouTube Is Revolutionizing Car Television
Thanks to YouTube's partner grant program, some of the best car TV shows aren't on TV. Hallelujah.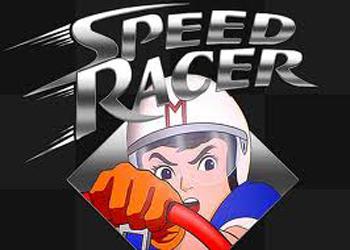 If you live in America, car television is almost universally horrible. If you disagree, you are likely thinking of a program produced elsewhere and shown here (e.g., the BBC UK's "Top Gear"). If that's not the case and you still don't agree, you probably don't watch enough car TV -- to which I say, congratulations, you have a brain. I suggest you keep it, which means never watching
this
or
this
. Bad car TV makes a frontal lobotomy look like painless entertainment.
Think about it: When was the last time you saw a car-focused American TV show that wasn't either painfully dated or borderline unwatchable? When was the last time you sat in front of a screen for 30 or 60 minutes and thought, "This is pretty great! It needs nothing! And look -- cool cars!" 
Like the music industry, the TV world isn't what it used to be. Streaming high-definition video, Netflix, Roku's DVP, Apple TV, Hulu and a host of other factors have changed the way we watch and think about filmed entertainment. With television, cars have always been on the fringe -- set dressing, paid advertisements and so on. The few serious attempts to offer something new -- Speed's recently canceled "
The Car Show
," "
Top Gear USA
," the early days of Speedvision, some of
Discovery's HD Theater/Velocity programming
-- are mostly of the Close But No Cigar variety. 
But things are changing. YouTube, unsurprisingly, is at the fore. I'm excited. Here's why. 
Before we go any further, a note on the top image: Yes, I know "Speed Racer" isn't exactly the kind of TV I'm talking about. I don't care. Trixie was great. Chim-Chim was great. Even that brain-melting Wachowski movie was kind of entertaining. The show just reminds me of good things. I want more car TV that makes me feel like "Speed Racer" made me feel when I was 8 years old.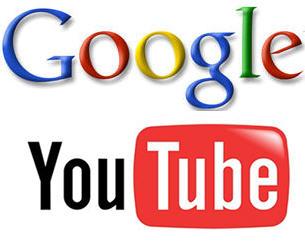 As The New York Times
recently reminded us
, television has a lot of car offerings. The entertainment industry specializes in chasing untapped markets, and few audiences are as untapped (Quick: What was the last network-TV program that focused on cars?) and universally appealing (almost everyone drives, or has ridden in, a car) as this one. 
But
the end of the article
touches on something far more interesting than network-show proliferation: YouTube's content-creator grant program. To wit:
And YouTube has begun a rollout of new and updated channels. One of them comes from Motor Trend magazine. The Motor Trend channel went live this year with a schedule of eight segments, most running around five minutes and covering test drives, comparison tests, driving destinations and news.

Another of these YouTube channels is Drive, which focuses more on the interests of enthusiasts; in a recent video, one of the hosts, Chris Harris, drove and discussed two vintage Group B rally cars.
What the Grey Lady doesn't mention is that these channels are part of YouTube's multimillion-dollar effort to change the way people watch Internet video. Everyone got really excited in 2010 when the video site announced
its "partner grant" program
, which was said would distribute $5 million to promising "content creators" in the coming years. YouTube planned to subsidize its brighter amateur stars, paying them to produce watchable stuff.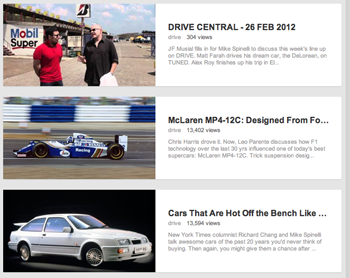 But over the past two years, this program has quietly evolved into something different. You won't find much mention of it in the media -- the only reputable story I came across during a recent search was
this Wall Street Journal piece
, which barely scratches the surface -- but the grant program now has much deeper pockets. It's going after bigger fish. 
YouTube, like its parent company Google, wants to evolve into a media powerhouse. Picture a cross between the world's most flexible movie and TV studio, Hulu, and, well, Google and you've got a pretty good idea of the desired result. Last year, after much evaluation, the site handed out a series of content grants
much like those described initially
. Only instead of thousands of dollars, these grants were much larger -- official numbers haven't been released, but most insiders put the average grant at around $1 million.
Above left: Shows featured on a YouTube channel.
The money is to be used to produce low-cost professional content designed exclusively for the Web. These videos -- a series of recurring shows anywhere from a few minutes to a half-hour in length -- will be used to bolster
YouTube's current channel system
, which offers a curated approach to the site's otherwise impenetrable library of videos. 

The program's grants are broken down by subject matter. With cars, just three outlets received backing: magazine powerhouses
Car and Driver
and
Motor Trend
, and a little-known but hugely respected production company called
TangentVector
, which branded its channel as
Drive
.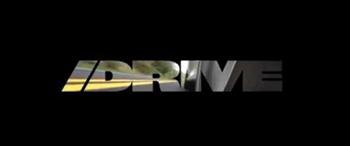 Each group reportedly received a seven-figure grant in exchange for minimum content demands (a set number of recurring "shows" per week, etc.) and a few other conditions. Drive began airing shows in January; Motor Trend revamped its channel and started uploading wildly improved videos shortly after. Car and Driver has yet to produce content different from what it offered pre-grant, though it's reasonable to assume that new offerings aren't far off.

The possibility here is the cool part. It's hinted at by the creative freedom and disparity evident the videos that have already aired. Each channel is a work in progress, but the better bits actually get you excited. Production quality varies, but the general standard is pretty high. I recently watched both Trend and Drive's channels streaming on a 46-inch LCD TV through an Apple TV. In terms of resolution and lighting, much of it was indistinguishable from anything produced by an actual studio.

In terms of entertainment value, the finished videos are all over the map. They run the gamut from cool and simple: 
... or cool and complicated (Hot Rod is owned by Motor Trend's publishing house): 
... to well-meaning but off the mark: 
... to a nice try that nevertheless lacks heart:
Obviously, more are available on YouTube; this is a random selection and by no means the best on offer. But chiefly, the medium and program are very much in flux. No one channel does everything right or wrong, and YouTube obviously has provided a lot of creative freedom. Given how overmanaged most car television is, this is a nice change of pace.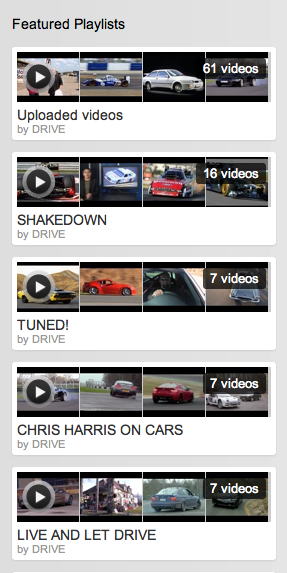 It's also a landmark. At the moment, the most interesting professionally created car content isn't coming through magazines or Web text or even iPad applications. It's coming from YouTube. Two ancient brands are up against a relatively young production company, one helmed by talented producers and presenters with no corporate bosses to answer to. 
The point here isn't whether the shows on these channels fail or succeed -- I suspect YouTube doesn't really care -- but whether people can be trained to see YouTube as a place to go for long-form, recurring, episodic content. (Most of the shows are between five and 20 minutes long, so "long-form" may seem like a misnomer, but in a world where the average streaming video is a 15-second clip of someone farting on a LOLcat, I think it works.)

These channels may not succeed, and YouTube's money may have been wasted. No matter. With the YouTube grants, we get to watch people actively try to redefine part of our world. Some might even pull it off. How cool is that?
Disclosure: I occasionally do freelance work for Car and Driver but receive no payment or fancy treatment for mentioning the brand in this post. Which is kind of sad, because mom always told me I was special. I deserve fancy treatment too, you know. Someone mail me a briefcase full of Krugerrands. 

TO SAM SMITH DIRECTLY::::
Stop working for MSN Autos. In stead, make your own blog or something. I say this not out of distaste but love; you're too good, too thoughtful, etc. for a corporate-owned blog that mostly regurgitates reports from other outlets without as much detail. 
I'd read Sam Smith Blog daily. Get on it.
Are you sure you want to delete this comment?
EXPLORE NEW CARS
MORE ON MSN AUTOS
US cars rank high in total quality
Strategic Vision releases its annual list of the highest-quality vehicles.
ABOUT EXHAUST NOTES
Cars are cool, and here at MSN Autos we love everything about them, but we also know they're more than simply speed and style: a car is an essential tool, a much-needed accessory to help you get through your day-to-day life. What you drive is also one of the most important investments you can make, so we'll help you navigate your way through the car buying and ownership experiences. We strive to be your daily destination for news, notes, tips and tricks from across the automotive world. So whether it's through original content from our world-class journalists or the latest buzz from the far corners of the Web, Exhaust Notes helps you make sense of your automotive world.
Have a story idea? Tip us off at exhaustnotes@live.com.