Why I'm Not Yet Thrilled About the Autonomous Car
Volvo and Cadillac, not Google, are beginning to show why avid drivers like me may want to turn on the robots.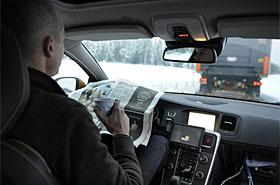 I'm not excited about the autonomous car.
I'm excited to be writing about its emerging technology and the complex engineering, software and legal challenges raised by a such a feat. But my drab demeanor stems from a fear I developed as a little boy: In the future, I'll never be able to drive.
I used to worry that by the time I received a license and had enough money, I'd be forced onto a road of pods and Jetsons-style bubble cars instead of hopping into a Mustang. That hasn't happened. Today, we have more fun and lustworthy cars than ever, in all segments -- a true Golden Age of motoring not seen since the 1960s.

All ages come and go, though, and while we're not shifting to flying "Fifth Element" taxicabs overnight, I still worry the industry is effectively on track to put itself out of business. When every car can be self-parked, self-aware and self-driven, what's the point of a physical test drive? What's the point of the "ultimate driving machine"? Why keep publishing magazines like Car and Driver? The differences between BMW and Toyota may become as trivial as comparing Amtrak to Metro North.
I'm impressed that the Google car is able to navigate intersections and pull up to a Taco Bell drive-thru without a single human touch. It's a Prius, after all -- a car already so numb and electronically cold that it insults me as if I'm some useless, 165-pound mass plopped in the driver's seat. But for maximum, computer-controlled efficiency, the kind my automatic dishwasher is set for each week, Google's self-driving technology should become standard on the Prius. It could easily be the world's most comfortable subway car.

Google, as a data-driven company that wants to photograph every street in the world, is trying to prove that every possible road situation can be attacked with another fail-safe string of code. That's a laudatory, if overly far-reaching, goal. Volvo and Cadillac, as actual automakers, understand what Google doesn't: Autonomous technology is best used in ideal, specific situations when driving is simply annoying. It's not important that a car can drive itself all day long -- only when driving isn't worth it.

"Driving is not fun all the time. The customer in the end wants to have a choice. The car should be able to do both," said Erik Coelingh, Volvo's lead engineer for the "road train" project that will be tested on Spanish highways this May. "Just making a car that's only dedicated to automatic driving? That sounds too much like a bus to me."

Safe Road Trains for the Environment, a project funded by the European Union since 2009, involves a bunch of tailgating Volvos following a truck (a passenger's view of which is pictured above). Each car is "connected" to the one ahead and paced -- both in speed and direction -- by the truck. It's an idea that General Motors pioneered in 1997 with a train of autonomous Buick LeSabres, a concept that could manage congestion and fit more cars on the roads while saving fuel and eliminating the chance of accidents. (That would be useful, as more than 24,000 people died on U.S. roads last year.)

Cadillac is taking the convenience angle with its Super Cruise technology, which could be ready as soon as 2015. It's a luxury autopilot that will be available only in the proper conditions, such as visible lane markings and good weather, and will likely be limited to specific highway situations. Thanks to Volvo and Cadillac, autonomous driving is starting to make sense beyond Google's driverless tests in Nevada. Rather than sensational, it's proving to be situational -- and, most importantly, it involves the driver making a choice.
Active safety technology, which makes all of this possible, is the best thing that's happening to the car industry right now. But full-on automation at all times doesn't necessarily lead to progress. My local CVS Pharmacy has four self-checkout machines and one cashier. My local video store is closing, to be replaced by faceless cable boxes and automated Netflix queues. Are we truly better off without individual control and attention?
I don't think we are. I pride myself on my parallel-parking skills. My heart races and my palms sweat when I nail the throttle on a desolate stretch of road. I'm a part of the car experience. If, as a nation, we are going to stop driving, we should also be investing in mass transit outside our major cities. Do that. Bring more computer technology into our cars. Just don't make me feel like I'm 9 years old again.

Self parking, self driving, etc vehicles will only lead to generations of "drivers" who have no business behind the wheel of a vehicle.  What happens when they go somewhere and rent a car without all these features?
Oh well, eventually my manual tranmission will be classified as a theft deterrent system and my insurance premiums will go down.

I think human customer service is important in many areas but I prefer the self checkout because nine times out of ten, I can get out faster without having to chat with the cashier.
  I like the idea of vehicles offering both automated drive and manual and know that while on a long drive I would use the auto function often. Everyone gets annoyed by ignorant and/or inconsiderate drivers, if you let the car drive you can relax more and forget about the idiots on the road, especially if it gets proven that the auto function can drive more safely than a human. THAT is the key of course, it HAS to be proven to be safer and be reliable. If that is proven then I have to disagree with you Clifford, saving lives is always better than not.
 


Are you sure you want to delete this comment?
EXPLORE NEW CARS
MORE ON MSN AUTOS
The future of alternative propulsion
A look at what could power your next car
ABOUT EXHAUST NOTES
Cars are cool, and here at MSN Autos we love everything about them, but we also know they're more than simply speed and style: a car is an essential tool, a much-needed accessory to help you get through your day-to-day life. What you drive is also one of the most important investments you can make, so we'll help you navigate your way through the car buying and ownership experiences. We strive to be your daily destination for news, notes, tips and tricks from across the automotive world. So whether it's through original content from our world-class journalists or the latest buzz from the far corners of the Web, Exhaust Notes helps you make sense of your automotive world.
Have a story idea? Tip us off at exhaustnotes@live.com.