Self-Service Garage: Automotive Oasis for Do-It-Yourselfers
Sometimes you just need a warm, dry place to change your fluids.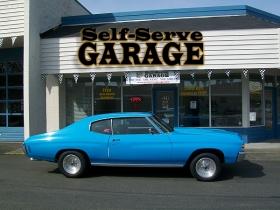 For many wide-eyed enthusiasts, the only thing preventing them from assembling an automotive collection of Leno-esque proportions is space. Not just the space to store vehicles, but a clean, well-organized and properly equipped area to repair and maintain them. As many a naive soul can attest, the purchase price of any older or collector vehicle can be easily eclipsed by maintenance costs if your only options for service are a dealer or independent repair shop. I speak from experience: My small fleet of vehicles requires almost constant attention; if I lost my work space, I'd be forced to thin the herd immediately.
Even with the luxury of my own workshop, I'm constantly running into procedures that require a specialized tool (or seven) to perform the job at hand. Nothing like lying on a cold, greasy floor, staring up at the nether regions of a car you've spent the entire day repairing, only to realize you have to extract yourself and make another run to the store for a special tool to properly complete the repair. I'm not too proud to admit that I once used a common basin wrench to tighten the inner tie-rod jamb nuts on my wife's 1987 Golf, simply to avoid making another time- and cash-sucking parts run. Resourceful? Yes. Recommended? No.
Those lucky enough to live in Kent, Wash., can sidestep the backyard MacGyver session altogether and simply pull into a bay at the Self-Service Garage. The facility not only rents service bays -- with or without posture-saving lifts -- but also maintains a full complement of tools and diagnostic hardware on site to assist do-it-yourselfers in their quest for savings and automotive self-sufficiency. You can bet that if I resided in Kent I'd be all over this place in the colder months -- not to mention anytime I need the aid of a lift.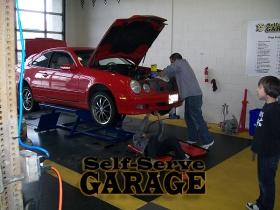 The DIY garage concept not new, and its main draw -- aside from providing a warm and dry place to work -- is saving money. But Self-Service Garage is the most sophisticated version of the "rent-a-bay" concept I've seen yet. What it has going for it is people -- namely, skilled technicians who will assist you in your repair or simply inspect your completed work. The service isn't free, but with many shops charging $100 per hour or more for labor these days, it's an idea whose time has come. Whatever the cost -- pricing for mechanical assistance is determined on a quote-by-quote basis -- if you enjoy working with your hands and take pride in a job done right, there is value to be had.
For instance, given enough time, I'm pretty sure I could teach my pair of golden retrievers to perform basic front brake pad replacements on most of the vehicles on the road today. But like most DIYers, I bet they'd overlook and/or damage the notoriously sensitive anti-lock brake sensors, triggering the ABS warning light on the dash and annoying the driver, possibly to the point of calling the ASPCA. Pony up once for the prompt, professional mechanical advice, and brake jobs will be a cinch for as long as you own the car. I'd call that a value.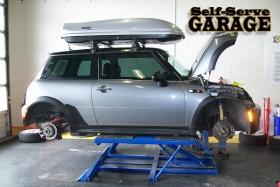 Service bays rent for as little as $20 an hour, up to $200 a day, depending on options and configuration, and a $10 "oil change special" gives users 30 minutes to get the job done. Half-day and longer rentals have free tool and equipment rentals included. All are on a first-come basis. In addition to the bay, tool and mechanic rental, the company's website also offers repair seminars -- though at the time of writing none was scheduled. In addition to cars, Self-Service Garage says it has room and equipment to service boats and semis, too.

As the new economy nudges more and more Americans out of traditional housing and into condos, town houses and apartments, this type of business appears poised to fill a genuine need, and franchising seems inevitable. Self-Service Garage opened its first location here in Kent earlier this year.
Considering our litigious society, users are required to sign a pretty comprehensive waiver before turning the first wrench, and Self-Service Garage maintains a crystal-clear right-of-refusal policy. Still, I'd hate to see such such an accommodating and in-demand service crash due to simple operator error.

Andrew, your opening two paragraphs captured the joy and pain of the DIY gearhead. As for the rest of the article, what an FANTASTIC idea. The lift is the holy grail for the DIY crowd. Ever try putting a set of headers on car without one....
If there there is one of these operations in my area I need to find it, if not, perhaps a new business venture........

Andrew, excellent article!  Been there, done that.....in the rain and snow sometimes.  Oh, the joy!  I grew up with a father that loved to tinker with cars, trucks and tractors, but had a garage so full of other crap and woodworking tools that you couldn't get a car in there without spending half a day moving stuff first. Hence, a lot of time laying on the ground outside looking up while dirt, rust and fluids fell into your eyes, nose, and mouth. 

Unfortunately, I don't expect a facility like this to open up near me soon.  I plan on building one more house before I die, and it's going to include at least a 6-bay carriage house with a proper lift, plenty of lighting, and a pressurized air system for tools......and HVAC for all-season comfort.  Every auto enthusiast deserves it!  The good news is my wife is behind me 100%....as long as I buy her a '69 Camaro or '71 'Cuda....in yellow.  I can make that sacrifice.

P.S., I also have two Golden Retrievers... and a Black Lab... and they are USELESS in the garage.  All they offer is a big wet lick or a tennis ball while you're laying on the floor trying to reach for a tool.  They don't seem to grasp what "I need a 5/8" socket" means yet they fully comprehend "Do you want to go for a ride, a walk, play ball, eat dinner, or have a cookie?" mean.  I think it's selective hearing.  Let us know if you have any luck training yours to be useful for anything more than taking up space and shedding like mine.



I remember in my younger days, when I still lived in an apartment, working on my car outside laying down in the parking lot.  It was cold and it wasn't much fun.  Plus, I had to do it on the days when the landlord wasn't working because he didn't want people working on cars in the parking lot. 
Now that I have my own garage with a full set of automotive tools, I would have little use for the rental.  However, it is still a great idea as I can fully understand how this could benefit many people.  The on-site techs would be very beneficial for beginners.
I can just imagine how long the legal statement that you sign must be.....
Are you sure you want to delete this comment?
EXPLORE NEW CARS
MORE ON MSN AUTOS
10 ways to slash driving costs
Tips to put more dollars in your wallet, not in your car.
ABOUT EXHAUST NOTES
Cars are cool, and here at MSN Autos we love everything about them, but we also know they're more than simply speed and style: a car is an essential tool, a much-needed accessory to help you get through your day-to-day life. What you drive is also one of the most important investments you can make, so we'll help you navigate your way through the car buying and ownership experiences. We strive to be your daily destination for news, notes, tips and tricks from across the automotive world. So whether it's through original content from our world-class journalists or the latest buzz from the far corners of the Web, Exhaust Notes helps you make sense of your automotive world.
Have a story idea? Tip us off at exhaustnotes@live.com.