An Interview With Wolfgang Dürheimer
The outgoing Bentley/Bugatti boss and incoming head of Audi product development talks about motorsports, SUV development and Ducati.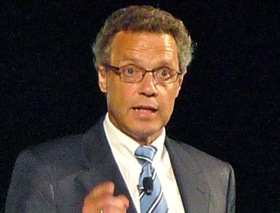 The
Pebble Beach Concours d'Elegance
weekend was a busy one for
Bentley
. The company was in the lead-up to releasing specifics about its new speedometer-topping
Continental GT Speed
; was showing select media and customers a first-build concept of a
Mulsanne
convertible (more on that next week); and was continuing to promote its announcement that it will enter the SUV market by showing off the EXP-9F concept. After a day of watching the historic races at Mazda Raceway Laguna Seca, I was able to sit down with Wolfgang Dürheimer -- incoming head of product development at
Audi
and a man who in the past helmed
BMW's
motorcycle division and
Porsche's
research and development, and who ran Bugatti and Bentley simultaneously -- to talk about using Ducati technology in Audi products, abolishing the class system within Bentley, and what motorsports competition means to a manufacturer.
Exhaust Notes
: There seems to be an assumption that there are strategies you can apply from a volume brand to a smaller, premium brand to improve sales, but you're moving the opposite way, from ultrapremium brands to a larger-volume brand. Are there any advantages inherent in a move in that direction?
Wolfgang Dürheimer
: I don't know -- I'm not on duty yet. But with this new assignment, a lot of things come together. I started my career years ago with BMW and its motorcycling business, and I'm probably one of the few top executives in the group that has active motorcycle experience, which can obviously be of benefit to Ducati. And with Audi, you're talking about very sporty cars, like the
R8
and the
TT
and some cars to come in the future, so my sports-car experience with Porsche will be beneficial to what I'm doing. This is also true of
Lamborghini
.
What's going to be new for me is the mass-market-type products, but if you're a good engineer, you don't distinguish whether your product will be delivered 7,000 times per year or 70,000 times per year or 700,000 times per year; the work is the same. Customers in the top-end segment are no more forgiving than the ones in the mass market. So I think what's new is the economy-of-scale effects and also consistency in the timing of the schedule because a new
Golf
or a new
A3
needs to be there when the old one needs to be replaced -- you can't push it for a month or two. 
What also can benefit Audi is the experience I have with Bentley and Bugatti in terms of craftsmanship, materials, interior styles and exclusivity.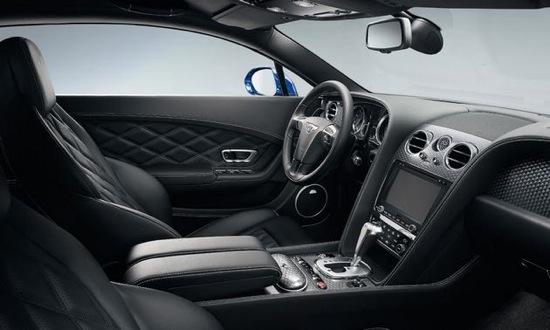 EN
: You've spent your career around performance models. In going into a company like Audi, which is obviously very tied into sportiness but has such a wide gulf between its top and entry-level offerings, do you think the top-of-the-line performance models are more important for a volume brand today than when you started?
WD
: I think it's always important. The performance edge of motoring is and will be important at all times. There is a certain desire to find out who is fastest ... we just had the Olympics again and everybody was trying to win a gold medal and do the 100 meters faster than last year, or four years ago, and this [mentality] won't change. An image is always made at the top end, always made on the sports-car side -- usually 2-seaters. I think it will help Audi to pay into this account in the future; the R8 and the TT I think are two brilliant examples of how [that image] helped the brand to be recognized and be very well-positioned.
EN
: Before being fully installed in the Audi position, do you see anything in either the U.S. or global product lineup that needs to be filled, tweaked or otherwise addressed immediately?
WD
: I can't tell you today -- it's too early. Of course, I did my own analysis, but I will listen to all the people I meet with in the next three months. I need to conduct a lot of interviews, get the Audi internal perspective and then counterbalance it with my own impression. But I have some good ideas, and I like to make outstanding vehicles.
EN
: Does the E-Tron stable count as "outstanding vehicles"? What are your feelings on that program -- will you continue developing that?
WD: Yes. I test-drove several Audi vehicles during my vacation, which just ended, and one of the the most impressive cars I drove was the A1 E-Tron. I really liked it.

EN: Let's go back to Bentley for a bit. The EXP-9F SUV concept has been polarizing in terms of its exterior styling, at least in the media. Are you hearing the same feedback from customers? 

WD: (emphatically): No.
EN: So this doesn't at all reflect on the business case you made for the vehicle? Is this mostly a media pile-on issue?
WD: I think it would be too easy to say it's a media issue. It's a habit of mine to listen very carefully to what people tell me, and what I can read and hear. And it would be arrogant to say, no, we're not interested in these comments. But honestly I do think the design issue was overheated by the media, and it was also a little bit [propagated] by people that didn't see the real car [for themselves]. When we started with the project, the pictures obviously weren't good enough.

Of course there are findings, on the customer side as well as the media, of what people didn't like. But on a scale of zero, for very bad, to 10, our lowest scores were a 7. So it was pretty good. But the intention of this SUV concept -- and this is something that probably not too many people know -- the intention of the car show [launch], of the EXP-9F was to let the world know: "Bentley is planning an SUV. What do you think about that?" And it was to provoke a little bit, what it could look like.

EN: So this is truly a concept, in that it's not necessarily what the finished vehicle will look like?
WD: It would be foolish to produce the final vehicle in 2011 when it comes to market in 2015, which is the target date. Of course it will change. But the basic dimensions, the basic appearance, the "we are Bentley" grille section will be unchanged. But we listen to what came up [during research] and we will change the sevens into nines by the time we bring the product to market.

EN: Do you still believe with the same conviction that Bentley should return to racing?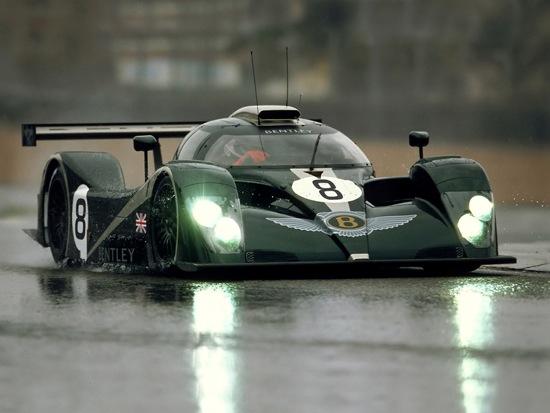 WD: It's not the top-priority subject, but Bentley's heritage is very closely related to racing, our customers appreciate powerful cars, and racing serves different purposes in a company like Bentley. With racing, you need to prove yourself, that you are really good. I like this idea, and it's one of my passionate attitudes. Secondly, racing puts a lot of discipline on your daily schedule, because you need to be finished by noon Saturday when the green flag drops. Third, it releases tremendous energy, internally, in a company. The company that races ... people see and can witness the development program, and when you bring the car to the grid it sets free a lot of energy and dedication, to fight for the brand and be a part of it. I wasn't with Bentley when they raced Le Mans [Editor's note: The last time Bentley competed in the 24 hours of Le Mans, in 2003, it won the race] but the guys involved told me the company was different before and after the race.

When I took over Bentley, my mission was: make money, make the company bulletproof, and if we achieve this, then you can start racing again. Now, we're positive again, we have a bright financial future right now, and it's about time to think about racing.

EN: You come from motorcycling experience with BMW, and obviously you're so personally passionate about it, how do you view Audi's new Ducati relationship? How closely do you see the companies working together?
WD: Very closely. Ducati will remain independent, will retain its brand spirit, its brand philosophy; Ducati will be racing and have very sportive motorcycles. But in terms of technical intelligence, computer simulation, laboratories, development strategies, gateway planning and quality processes, there are a lot of areas where we can join forces and learn from each other. And Ducati is well-known for very unique valve-train technology called Desmodromics -- do you know it? You see this in racing engines around the world in just a few applications, and I think this could be an interesting subject for high-performance Audi engines in the future. So there are similarities, and I think we'll have a lot of fun working together.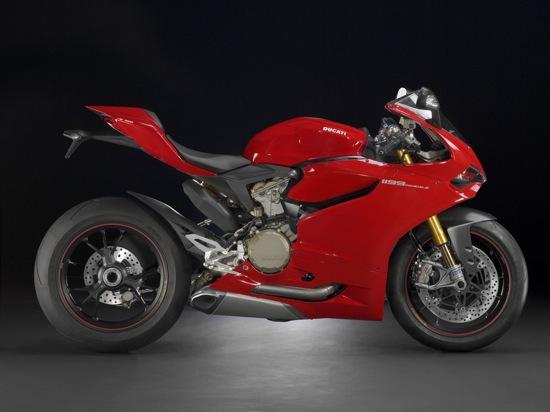 The Ducati 1199 Panigale
EN: How would you like your legacy at Bentley to be remembered?
WD: At least for the months to come, my time at Bentley will probably be remembered as fostering in the Bentley team a feeling of, "We are all the same, we are fighting for the same objective." In the U.K., there is still an existing three-class system. I didn't believe that it was so rigid, but I experienced it in Bentley. I'm not the guy that wants to make a revolution in the U.K., of course, but at Bentley I told them, "I don't care whether you are a chief engineer or whether you are sweeping the floor in the factory, we are all the same, we all talk to each other, everyone has a name badge with a Bentley logo on it, and I want you to be proud of what you do because I count on your ability. This was a pretty tough statement for a lot of Bentley people.


Of course, if the SUV finally sees the light in the market in 2015 ... it might not exactly look like the show car in Geneva, but I am absolutely sure we will all recognize it as the Bentley SUV, and I will be proud to see that car in the market or on the roads, remembering that I was one of the founders of the idea. And if a Bentley race car approaches one of the tracks within the upcoming years, I think that under the carbon-fiber body panels will be some of the strategies that trace themselves back to my time with Bentley.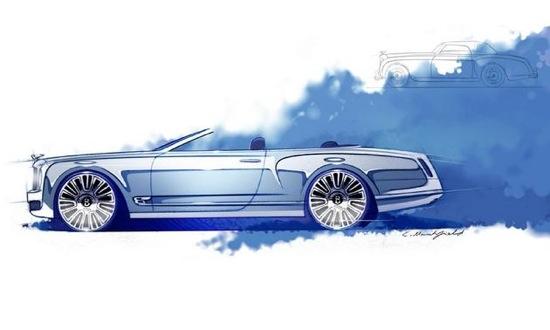 A rendering of the convertible Bentley Mulsanne Convertible concept.

EXPLORE NEW CARS
MORE ON MSN AUTOS
10 coolest cars of Fast & Furious
Our favorite Fast & Furious cars, from the ultra-obscure to the iconic.
ABOUT EXHAUST NOTES
Cars are cool, and here at MSN Autos we love everything about them, but we also know they're more than simply speed and style: a car is an essential tool, a much-needed accessory to help you get through your day-to-day life. What you drive is also one of the most important investments you can make, so we'll help you navigate your way through the car buying and ownership experiences. We strive to be your daily destination for news, notes, tips and tricks from across the automotive world. So whether it's through original content from our world-class journalists or the latest buzz from the far corners of the Web, Exhaust Notes helps you make sense of your automotive world.
Have a story idea? Tip us off at exhaustnotes@live.com.