Car companies fight California mandate on zero-emission vehicles
Lobbying groups petition the EPA to reconsider a program that would require automakers to sell a certain number of ZEVs in the state.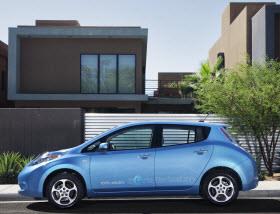 California usually leads the way in car trends -- and that has automakers worried.
Three months ago, the Obama administration gave California the green light to begin mandating the sale of zero-emission vehicles. But automakers want to block the state's ZEV program because of issues they say are beyond their control, such as a lack of charging infrastructure and the reluctance of consumers to accept electric vehicles, plug-in hybrids and hydrogen fuel-cell vehicles.

The two lobbying groups for automakers, the Alliance of Automobile Manufacturers and the Association of Global Automakers, filed a petition last week asking the Environmental Protection Agency to reassess California's ZEV requirements, which would largely take effect beginning with 2018 model-year vehicles.

The petition says that while most automakers support the new corporate average fuel-economy (CAFE) standard, which requires a fleet average of 54.5 mpg by the 2025 model year, the auto industry wants the EPA to draw the line on what is viewed as California's draconian drive to spur ZEV sales.
Under the California program, automakers would need to sell an estimated 1.4 million ZEVs in the state by 2025, regulators say. And because nine other states are expected to follow California's lead, automakers would need to sell about 600,000 ZEVs nationwide in 2025, assuming 14.5 million in U.S. light-vehicle sales.

After leading a cleanup of smog-ridden Los Angeles, the California Air Resources Board enacted ZEV credits in 1990, which mandated that all major automakers selling cars in California had to offer low-emission models graded under a state-approved scale. The ruling created a limited market of electric vehicles, such as the GM EV-1 and the first Toyota RAV4 EV -- and it was the reason many automakers, including Toyota and Fiat, continue to sell limited numbers of EVs only in California. Automakers that sell low- and zero-emissions vehicles could trade and sell ZEV credits to other automakers without such vehicles, thereby keeping each company in compliance.
But the latest rules would require every automaker to offer plug-in hybrids and electric cars so that the models make up 15.4 percent of total sales by 2025, despite the prediction that less than 2 percent of all auto sales that year would be electric, the petition said. The result: Offering a few ZEVs for sale or trading credits would no longer suffice.

Supporters of the California's ZEV rules, primarily in the environmental community, say the program would prompt automakers to develop and offer vehicles needed to lower U.S. oil consumption as well as reduce emissions. The automotive lobbying groups contend that while automakers may be able to build enough cars to comply with California's rules, the state's plan isn't feasible because there's no guarantee consumers will buy them. And even if they do sell enough ZEVs, the infrastructure required to fuel them may be inadequate.
According to the petition, "the ability of the industry to meet the increasingly stringent ZEV mandate in California" and other areas "depends on individual states and local jurisdictions developing the infrastructure necessary to fuel the vehicles sold by automakers, and also on whether the motoring public will accept transformative vehicle technologies and purchase them in significant quantities. These eventualities are largely beyond the control of automakers, yet they are prerequisites to the industry being able to achieve the sales volumes required."
Michael J. Stanton, president and CEO of Association of Global Automakers, said in an email to MSN Autos: "Never before has the ability of the industry to meet an emission standard in California and the nine … states that have adopted the ZEV program been dependent on individual states and local jurisdictions developing the infrastructure and market conditions necessary to fuel and support the advanced-technology vehicles sold by automakers. Nor has compliance with an emission standard depended almost entirely on consumers not only accepting but purchasing such high-technology vehicles in substantial numbers."
The lobbying groups are asking the EPA to "reconsider its decision to grant a waiver" under the Clean Air Act for California's ZEV standards for model years 2018 through 2025.

"By asking EPA to reconsider its decision to grant California's waiver request, we are not questioning California's authority to adopt its own motor-vehicle emissions program," Stanton said. "Rather, we are requesting that EPA recognize that the ZEV mandate for model year 2018-2025 raises new issues that are profoundly different from past waiver determinations. "
Meanwhile, the Obama administration last week called on Congress to approve $2 billion in funding for advanced-vehicle technologies such as EVs, batteries, compressed natural gas and biofuels. The president introduced the idea in his recent State of the Union address and proposes paying for it by taking revenue from oil and gas leases on federal lands and placing it in an "Energy Security Trust" fund.
The trust "is designed to invest in breakthrough research that will make the technologies of the future cheaper and better -- technologies that will protect American families from spikes in gas prices and allow us to run our cars and trucks on electricity or homegrown fuels," the White House said.
[Sources: Automotive News, The Detroit News]

People will buy them when there is infrastructure in place, not only in Ca but across the country.  There will be infrastruture when people start buying them.  See the problem?  I can go ANYWHERE in the US and get gas.  Where the hell am I going to go when my little pull-start electric car needs a charge?
I don't understand why we're dicking around with evs in the first place. It's one step forward and 2 steps back. Why aren't they focusing on improved ways of storing compressed hydrogen or ng??  Secondly, they would have to pay me to buy a hybrid, there such awful vehicles. Better buy your new toys in the next 10 years, the days of fun are numbered. 
Are you sure you want to delete this comment?
EXPLORE NEW CARS
MORE ON MSN AUTOS
Best garage finds ever
Rare and expensive vehicles and the stories behind their discovery.
ABOUT EXHAUST NOTES
Cars are cool, and here at MSN Autos we love everything about them, but we also know they're more than simply speed and style: a car is an essential tool, a much-needed accessory to help you get through your day-to-day life. What you drive is also one of the most important investments you can make, so we'll help you navigate your way through the car buying and ownership experiences. We strive to be your daily destination for news, notes, tips and tricks from across the automotive world. So whether it's through original content from our world-class journalists or the latest buzz from the far corners of the Web, Exhaust Notes helps you make sense of your automotive world.
Have a story idea? Tip us off at exhaustnotes@live.com.