Government loss on auto bailout drops by 16 percent to $20B
Rebound by GM and Chrysler allows government to recoup its investment faster, although losses still total more than $20 billion.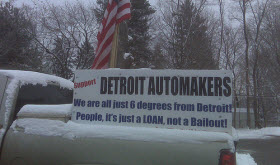 Despite initial skepticism and calls to let Detroit go bankrupt, the government bailout of GM and Chrysler has largely been deemed a success. This is due in large part to the two domestic automakers' own sales successes since the dark days of the recession.

But the federal government isn't quite out of the car business just yet -- nor has it recouped all the taxpayer money pumped into GM and Chrysler to prop up the U.S. automakers. But government losses are shrinking.

According to The Detroit News, the Treasury Department said Monday that its estimate of losses on the $85 billion auto industry bailout in the fourth quarter of 2012 fell by 16 percent -- or $4 billion -- thanks to improvements in GM's stock price. In a report to Congress, the Obama administration said that projected auto losses dropped to $20.3 billion from a prior quarterly estimate of $24.3 billion.
The Treasury sold 200 million shares of its 500-million share stake in GM for $5.5 billion in December, which reduced its stake in the Detroit automaker to 19 percent. But The Detroit News reports that the sale was far below the break-even price, and that the Treasury now needs to average about $70 a share on its remaining stake to break even.
On Monday GM's stock closed at $28.53 a share, down 4 cents. At the time that the new statistics were compiled, GM's stock price was $28.83, which means that, on paper, the government's projected losses have slightly grown.
The Treasury plans to gradually selling off its remaining stake on the open market and completely exit GM by March 2014. In 2009 the Treasury originally forecast it would lose $44 billion on its bailout of GM, Chrysler and their financing arms. That forecast dropped to $30 billion by the end of 2009, and to as low as $14.3 billion in 2011.
The Treasury has conceded that it may never recover the full $49.5 billion from GM. It has already lost $1.3 billion from the Chrysler bailout, despite the automaker's early full loan repayments.
[Source: The Detroit News]


True as your numbers may be Troy.  The costs and loss of letting GM/Chrysler fail would have been much, much greater.  Think about all the unemployment checks, welfare checks, food stamps, losses to business, other business failing.. I can go on and on.  The bailout was needed as much as some Americans may not like it.   It was best for the WHOLE country.


Sarduci1,
You have some valid points and I can see your point of view but I see some things that aren't visible here and could stand on their own as seperate post topics.  For example, the countless numbers of lost jobs due to GM and Chrysler factory shutdowns, the dealerships that were closed and the astronomical amount of outsourced resources that were available in GM and Chrysler's very own back yard yet they chose to ignore their own countrymen by sending it overseas. The 20 Billion dollar loss combined with these numbers would be more shocking if someone would be able to tally them.
Follow these numbers up with the Cash for Clunkers program, green energy loan money, grants and other loans and you could see some even more staggering facts. I personally would like to see those numbers if anyone has access to them.  

To put these numbers into context, there are currently just over 315 Million Americans. A loss of 20 Billion dollars equates to just over $63.00 out of every single American's pocket....aged from 0-115 years. 
The Chrysler loss so far is a little over 4.00. 
Please feel free to correct my poor math skills.

Since when is a $20 Billion loss called a "success"? This is a perfect example of how screwed up the Obama administration is when it comes to debt, expenses and smart decisions for this country. If a $20 Billion loss is a "success" then what is a Trillion dollar loss? Brilliant? Ingenious? God, please help us get through these next four years without becoming owned by China!
  Letting GM go under would not have been a huge loss, sorry. The slack to fill the demand for vehicles would have been picked up by all of the other auto manufacturers (who would have to hire....hello!!) and the suppliers for GM would simply be supplying more to other manufacturers. The fat, lazy union workers would have to go to work at those other plants, for a reasonable salary and benefit package, or be forced to work elsewhere, or join Obama's herd of  fat, lazy, dependent sheep that those of us that have worked hard are supplying for.
   I say we round up Obama, his administration and his flock and put them on an island to live in their perfect little world of being supported by those that work harder and make better decisions than themselves. Oh, that's right, there wouldn't be anyone on the island to take care of them!
  This is just another example of the twisted media trying to tell us how good of a job Obama is doing. I can't believe how many are buying into it. Baaaaaaaaaaa!!


Are you sure you want to delete this comment?
EXPLORE NEW CARS
MORE ON MSN AUTOS
Audi first to get autonomous permit
Google, Mercedes also can now test self-driving tech in California.
ABOUT EXHAUST NOTES
Cars are cool, and here at MSN Autos we love everything about them, but we also know they're more than simply speed and style: a car is an essential tool, a much-needed accessory to help you get through your day-to-day life. What you drive is also one of the most important investments you can make, so we'll help you navigate your way through the car buying and ownership experiences. We strive to be your daily destination for news, notes, tips and tricks from across the automotive world. So whether it's through original content from our world-class journalists or the latest buzz from the far corners of the Web, Exhaust Notes helps you make sense of your automotive world.
Have a story idea? Tip us off at exhaustnotes@live.com.