Be Patient for the Better Electric Car
Whatever the benefits of early adoption, a problem-free car isn't one of them.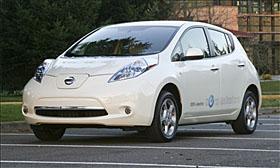 The computer and software industries love their gadget-freak customers. These are the people who, on command, shell out big money for the latest, most expensive and unprecedented technology available. They're lovingly called "early adopters," as if they're onto a life-changing secret the rest of us can't imagine.
In reality, they're just as impatient and nearly as foolish as the lady who cut in front of me at the movie ticket counter.
Was it really worth paying $20,000 for one of the first plasma TVs when a few years later, these screens would litter sports bars and the most banal place on earth, the Transportation Security Administration security checkpoint? Can anyone who bought a 7.1-channel receiver and Super Audio CD player stomach the fact that hardly any new media is made for them? Why do Apple fans who have no idea how to light a campfire pitch tents outside stores to hand over $500 for a device that's already being replaced?
For some people, it's all about being first and wallowing in what's new. And although I don't understand why anyone wants to be a company's guinea pig -- most new products have limited features and come with a fair share of bugs -- I do get what it's like to drive the only Chevrolet Volt in Massachusetts. Yes, it is freaking cool.
Today's most advanced cars are rolling out like Apple software updates. They receive significant new features every year as opposed to mild changes such as chrome accents and new radio knobs every two to three. But cars are a lot more complex than something that comes in a box on a store shelf: Every new model is a serious liability where thousands, if not millions, of lives are at stake. It has to work.
That doesn't seem to apply to today's electric cars. Despite more than a century from the very earliest electric cars, the drawbacks -- weight, range, charging, infrastructure, price -- are still with us. This isn't a manifesto against the electric car, or some Rush Limbaugh-style rhetoric. It's just reality.
On Monday, A123 Systems, which supplies batteries for the Fisker Karma and other electric cars, recalled battery packs that could fail prematurely, perhaps related to the trouble that Consumer Reports experienced last week with its own broken-down Karma.
Tesla owners have complained of several instances of "bricking," in which the electric sports cars are left with useless $40,000 batteries, dead from lying around too long. Then there's the Volt battery that leaked in a National Highway Traffic Safety Administration crash test, caught on fire weeks later and led to General Motors strengthening the battery cage. (Now it's replacing all the charging cables.) The Nissan Leaf doesn't seem to have any serious issues yet, but the car's optional fast-charging port could become unsupported later this year when the Society of Automotive Engineers is expected to decide on a plug standard. And remember, these are cars that cost about double that of a similarly sized, well-equipped, fuel-efficient gasoline or diesel car.
Granted, no one can expect these cars to be perfect. But why would anyone buy an electric car now, when in five years we'll see better-built cars with more battery capacity and quicker charging times?  (Obviously, not that many people have. The new gasoline Toyota Prius c outsold monthly sales of the Leaf and Volt in a matter of days.)
I've driven the Leaf, the Volt and three Teslas, and like them all. They're fun, future-forward and almost alien to our known automotive world. But just as my iPad 2 has dropped in value overnight, the Leaf and every other EV will start seeing resale values plummet. It's a serious consideration that the early adopters don't seem to care about. It's first or nothing.

To get the best electric car possible, I'd save my money and take advice from the old phrase "better late than never." Let's wait like sensible consumers while the gadget freaks stand in line and take the hits. They're weird, but, hey, they also love being treated that way.
 I don't think  I would buy the electric cars that are out right now. They are just too expensive and have too limited of a range. The only practical e car right now is the tesla. And for a luxary car the pricing isn't that bad and the range is decent. once they get that tech into cars that are 15 to 20 grande with no gov help i think i might buy one.

The difference between the Volt and electric cars is that most eletric cars are useless.  The Volt is not. You can drive the Volt like a regular car and take it to California.  You cannot drive the Leaf outside of your county unless you live on the border.  So you pay $35,000 fora vehicle to drive back and forth to work only to save on buying gas.  A Hummer H1 would never use $35,000 worth of gas driving back and forth to work 60 to 90 miles a day for your life so that vehicle is a waste of money.  Why in the world people dont think of everything before they buy blows my mind.  And dont give me this people want the zero emissions BS they buy em because they are saving money on gas, but they are wasting it in another way.  A high payment on 1 car needing a second to go on trips which means 2 car insurances.  So where are the savings?

How much longer am I going to have to endure the lack of some simple googling from MSN writers?

The FACT and TRUTH that the mainstream doesn't want you to know is that the technology has existed for over 15 years to give you a range of 250 miles in an affordable car. Just search the 100% recyclable Nickel Metal Hydrid batteries and you will get an eye opener as opposed to the Lithium garbage they are trying to push.  The Oil company"s patent on the battery expires December 31st 2013 FYI.

Personally I drive alot in my car at work but never more than 150 miles in a day.  Charging an electric car overnight during the off peak hours so you are not putting an extra strain on power plants is what the writers keep failing to mention.



Only if nobody else has access to the same product, and only if one either has a private store of spare parts, or the means to obtain them. Otherwise, the whole exclusivity of it is worthless. Nowhere in recent history has that been more true than in Chevrolet Volt / Opel Ampera, as General Motors struggles to unload them onto customers who do not want them.
On top of that, as if things are not bad enough, these managers really are not capable of understanding that people are sick and tired of amortizing their research & development costs. Sorry guys, but you will have to use your profit margins to amortize your research & development costs over several years! The computer industry learned that lesson the hard way, it would behoove the car industry not to repeat the same mistake.
Customers really hate it when you pass along your own expenses, on top of your profit margins, onto them. Nothing kills a business faster.
The Volt is an answer to a question nobody asked, not beacause nobody thought of it (TOYOTA did), but because one TOYOTA is enough; no more are wanted. What is needed instead are better vehicles. Clean diesel.
Are you sure you want to delete this comment?
EXPLORE NEW CARS
MORE ON MSN AUTOS
The future of alternative propulsion
A look at what could power your next car
ABOUT EXHAUST NOTES
Cars are cool, and here at MSN Autos we love everything about them, but we also know they're more than simply speed and style: a car is an essential tool, a much-needed accessory to help you get through your day-to-day life. What you drive is also one of the most important investments you can make, so we'll help you navigate your way through the car buying and ownership experiences. We strive to be your daily destination for news, notes, tips and tricks from across the automotive world. So whether it's through original content from our world-class journalists or the latest buzz from the far corners of the Web, Exhaust Notes helps you make sense of your automotive world.
Have a story idea? Tip us off at exhaustnotes@live.com.