Carbon Motors Petitions for Federal Loan
Potential cop-car manufacturer asks Obama's Cabinet for funding.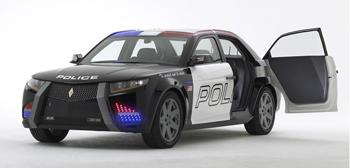 Carbon Motors, the manufacturing hopeful behind the
E7 law-enforcement vehicle,
has petitioned the government to approve its Energy Department Advanced Technology Vehicle Manufacturing (AVTM) loan. The petition came in the form of an open letter to President Barack Obama's Cabinet. The company applied for a $300 million AVTM loan two years ago but has yet to secure funding. The letter outlines why Carbon believes it deserves the loan, addressing each Cabinet member in turn. 
The E7, Carbon's police-car prototype, was designed from the ground up as a law-enforcement vehicle. It features things such as rear-hinged doors for easier passenger ingress and a 3.0-liter BMW turbodiesel engine for torque and fuel economy. The vehicle was designed to be a suitable replacement for the aging, body-on-frame Ford Panther chassis (Ford Crown Victoria, Mercury Grand Marquis) that currently forms the basis of most American police fleets. 
We're not in the habit of including press releases in "Exhaust Notes" posts, but the letter is relevant and an interesting read. Its text, along with a larger picture of the E7, is below the jump.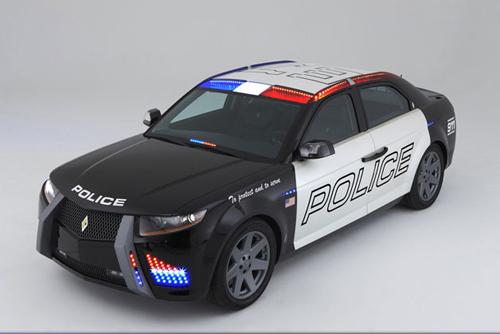 Whether or not Carbon deserves a federal loan is up for debate, but there's no denying the relevance of the E7 idea. A lot of major-city police departments aren't too keen on the
Panther's replacements
 and have instead opted to replace their Panthers with
larger, body-on-frame vehicles
like the Chevrolet Tahoe. Durability and cabin space are the main draws there, with poor fuel economy an acceptable negative. 
Ask yourself this: If a major American city has decided that a 5000-pound truck is the most suitable option for its police fleet -- and that over a handful of purpose-built sedans, all of which get better mileage and are easier to maneuver -- what's wrong with this picture? And will a federal loan for an out-of-the-blue, unproven brand solve the situation or make it worse?


Carbon Motors Chairman Issues Open Letter to U.S. President's Cabinet

Carbon Motors in Support of U.S. Law Enforcement and the Role of Government
CONNERSVILLE, Ind., Dec. 15, 2011-- The following is an open letter from William Santana Li, chairman and chief executive officer, Carbon Motors Corporation, to select members of the President's Cabinet:

To:
The Honorable Eric H. Holder, Jr., Attorney General, U.S. Department of Justice
The Honorable John E. Bryson, Secretary, U.S. Department of Commerce
The Honorable Hilda L. Solis, Secretary, U.S. Department of Labor
The Honorable Ray LaHood, Secretary, U.S. Department of Transportation
The Honorable Steven Chu, Secretary, U.S. Department of Energy
The Honorable Janet A. Napolitano, Secretary, U.S. Department of Homeland Security
The Honorable Lisa P. Jackson, Administrator, Environmental Protection Agency
The Honorable Jacob J. Lew, Director, Office of Management & Budget

cc:
The Honorable Joseph R. Biden, Jr., Vice President of the United States

Dear Members of the President's Cabinet,
I am writing to you about a matter of national significance and of great importance to our country's law enforcement first responders generally, and specifically each of the departments for which you have responsibility. We share concerns expressed by countless law enforcement professionals to us over the last nine years: our brave first responders are asked to secure our country, patrol our streets, and protect our communities without the appropriate equipment to empower them to do so in a manner that is safe for the officer and the public at large; the vehicles being used today are highly inefficient – both economically and environmentally; and the vast majority of the vehicles in the existing law enforcement fleet use passenger cars intended for retail consumer use and which were not manufactured on U.S. soil by American workers.

Carbon Motors Corporation is a homeland security technology company that is developing the world's first and only purpose-built law enforcement patrol vehicle. Over two years ago, Carbon Motors filed an application for a loan of over $300 million with the Department of Energy's Advanced Technology Vehicle Manufacturing (ATVM) program. The ATVM direct loan program was established in a bi-partisan manner by the Bush Administration and has been carried on by the Obama Administration.

We have secured a mothballed automotive facility located in a town with unemployment at rates significantly higher than the national average – Connersville, Indiana – a victim of the fallout of automotive industry at the end of the last decade. With the ongoing criticisms aired concerning the U.S. Department of Energy's loan guarantee programs and the ATVM direct loan program, our country faces a critical decision now that will have significant impact on our first responders, taxpayers, environment, highways, our manufacturing employment base and the security of our homeland.

There are 840,000+ law enforcement first responders – sons and daughters, mothers and fathers, brothers and sisters – who get up every morning and put themselves in harm's way to protect and serve each and every one of us, over 18,000 of them have already made the ultimate sacrifice. They patrol our streets and neighborhoods using gas-guzzling retail passenger cars that were not designed for this relentless mission and which, after the necessary aftermarket retrofitting process, do not meet federal safety standards applicable to all other passenger vehicles on the road.

While we know each of you join in our nation's unwavering support for its first responders, we wanted to highlight certain significant issues facing each of your respective critical missions and Carbon Motors' contribution to a comprehensive solution:


U.S. DEPARTMENT OF ENERGY; Secretary Steven Chu ENVIRONMENTAL PROTECTION AGENCY; Administrator Lisa P. Jackson

ISSUE: The largest and most visible combined fleet of vehicles deployed by our federal, state and local governments is among the most inefficient consuming over 1.5 billion gallons of fuel every year and emitting over 14 million tons of CO2. This at a time when our country is desperately trying to reduce its dangerous dependence on foreign oil and reduce its greenhouse gas footprint.
SOLUTION: Approve the Carbon Motors ATVM loan and our country can begin to reduce these figures by 40%.


U.S. DEPARTMENT OF JUSTICE; Attorney General Eric H. Holder, Jr.
U.S. DEPARTMENT OF HOMELAND SECURITY; Secretary Janet A. Napolitano

ISSUE: Presently, our over 19,000 law enforcement agencies fend for themselves in an uncoordinated manner as they cobble together passenger vehicles meant for retail consumers with the vast array of aftermarket equipment necessary to successfully carry out their mission, while our country provides purpose-built vehicles for nearly every other unique public function – fire trucks, ambulances, postal services, trash collection, and a massive fleet of purpose-built vehicles of all types and sizes for the military.
SOLUTION: Approve the Carbon Motors ATVM loan and our country will finally have the world's first truly purpose-built homeland security technology platform to better secure our country – inclusive of roving WMD threat detection capability. Let's focus our law enforcement resources on protecting our citizens, and put an end to the inefficient practice of operating 19,000+ uncoordinated automotive assembly operations by law enforcement agencies nationwide.


U.S. DEPARTMENT OF LABOR; Secretary Hilda L. Solis
ENVIRONMENTAL PROTECTION AGENCY; Administrator Lisa P. Jackson

ISSUE: With the nation hovering near double-digit unemployment rates and virtually everyone in our country rightly focused on American jobs, our state, local and federal law enforcement agencies imported the over 500,000 patrol vehicles used by our law enforcement personnel from foreign soil. This is an unacceptable use of U.S. taxpayer dollars.
SOLUTION: Approve the Carbon Motors ATVM loan and we will bring these jobs home to America, where they rightfully belong. It is estimated that our project will create 10,000+ new American jobs of national importance by building a technological breakthrough on U.S. soil in a region decimated by the automotive downturn – and we will do so in a mothballed brownfield facility we have already begun restoring.


U.S. DEPARTMENT OF TRANSPORTATION; Secretary Ray LaHood
ISSUE: The over 500,000 law enforcement vehicles patrolling our neighborhoods today do not meet the Federal Motor Vehicle Safety Standards, putting both our first responders and citizens on the road at risk. We, as a country, would never stand for the placement of a U.S. soldier in a similarly
haphazardly-equipped​

vehicle and it is unacceptable to do this with our nation's brave first responders.
SOLUTION: Approve the Carbon Motors ATVM loan and our first responders will be driving a vehicle that will meet or exceed all Federal Motor Vehicle Safety Standards inclusive of all the law enforcement and homeland security equipment integrated into the vehicle platform.


OFFICE OF MANAGEMENT & BUDGET; Director Jacob J. Lew
ISSUE: Today's practice of allowing over 19,000 law enforcement agencies across the country to individually retrofit consumer-oriented vehicles is extremely costly and inefficient, with expenditures at the local, state, and federal level expected to be on the order of $100 billion over the next decade.
SOLUTION: Approve the Carbon Motors ATVM loan and we will provide the nation with the only product presently in the ATVM loan program that will save the government a significant amount of money. The purpose-built, turn-key distribution of the Carbon E7 will reduce maintenance costs, improve durability, and, combined with the fuel savings and the extensive capabilities of the vehicle, result in dramatic savings for U.S. taxpayers nationwide. If the entire fleet were to be converted to Carbon E7 vehicles, the country could save over $10 billion taxpayer dollars over a period of ten years.


U.S. DEPARTMENT OF COMMERCE; Secretary John E. Bryson
ISSUE: Our nation continues to run unacceptably high trade imbalances, as American manufacturing has eroded and the nation has continued to devolve into an importer of foreign goods rather than an exporter of American innovation.
SOLUTION: Approve the Carbon Motors ATVM loan allowing our company to complete our project and respond to the nearly three-dozen requests by countries around the world for export of our breakthrough American product helping to put even more Americans to work.

As one of our Senior Advisors, The Honorable Lee H. Hamilton (vice-chair of the 9/11 Commission), has often remarked: the first role of government is to protect its citizens. There are lives at stake and we stand ready to do our part to better enable our first responders to meet their critical mission and, in the process, improve officer and highway safety, reduce harmful emissions and dependence on foreign oil, and put Americans back to work.

We need your help in making this happen, especially as the matter we have raised is a cross-cabinet or interagency concern. The first step to take is the timely approval of our ATVM loan as it is in the national security and socioeconomic interests of the United States of America.

On behalf of the 840,000+ first responders across our great country we thank you in advance for your timely support of this critical national initiative.

Relentless,

/s/

William Santana Li
Chairman and CEO
Carbon Motors Corporation



EXPLORE NEW CARS
MORE ON MSN AUTOS
September's Best Financing Deals
Automakers are promoting some great incentives through September.
ABOUT EXHAUST NOTES
Cars are cool, and here at MSN Autos we love everything about them, but we also know they're more than simply speed and style: a car is an essential tool, a much-needed accessory to help you get through your day-to-day life. What you drive is also one of the most important investments you can make, so we'll help you navigate your way through the car buying and ownership experiences. We strive to be your daily destination for news, notes, tips and tricks from across the automotive world. So whether it's through original content from our world-class journalists or the latest buzz from the far corners of the Web, Exhaust Notes helps you make sense of your automotive world.
Have a story idea? Tip us off at exhaustnotes@live.com.