Blink Twice: New Car Look-Alikes
All cars in a given period look similar to each other. But some car design trends, for better or worse, border on plagiarism.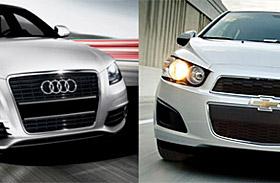 Sometimes, I'll hear older people complain that all new cars look the same. These are the folks who grew up when Cadillacs were Cadillacs, Lincoln Continentals featured suicide doors and "four-on-the-floor" wasn't a techno beat. I'm slightly jealous I didn't exist 40 or 50 years ago -- if only to hear Robert Plant live in his prime -- but let's face it: Cars from every era look similar to each other. Whenever I've walked into a muscle-car swap meet or stared at rows of pre-World War II European makes, I've felt the same way. They all look the same, don't they?
Just as in the eras of chromed bumpers, tail fins, wire-spoke wheels and exterior radiators, today's cars share common design elements. Tall, blunted hoods, high beltlines, Hoffmeister kinks, LED running lamps -- I could keep listing elements that automotive designers recycle from model to model each year. And, yes, for those less sharp-eyed (obsessed?) than myself, I'd have to agree that in bumper-to-bumper traffic, it's tough picking a Nissan Rogue from a Honda CR-V.
Yesterday, however, when we posted the first photos of the 2013 Honda Accord, all I kept thinking was, "Are those taillamps from the Hyundai Genesis?" Here, look again:


When I first saw the Genesis, I thought it was the mutt child of a Mercedes E-Class and Infiniti M. In this vein, let's call out a few more design cues being used on several mainstream cars.
Trapezoidal grills and sleek profiles: Aston Martin Rapide and Ford Fusion

This isn't a bad thing, really. A $20,000 midsize family sedan that resembles the front of a $200,000 Aston Martin sedan is a feat that few car designers can pull off, but Ford's Chris Hamilton did just that on the 2013 Fusion. The Fusion's thin, horizontal lines spread across the trapezoidal grill, plus its creased hood, play homage to Aston, which once was part of Ford's Premier Auto Group. While no one would actually mistake this Ford for a 12-cylinder Rapide hyper-luxury sedan, the fact that critics made the connection (including the Aston-like grill on the Ford Focus Electric) is proof that this look is simply hot.
Portholes: Buick Enclave and Infiniti QX56
The Buick Enclave is the best-selling 3-row luxury crossover in the U.S., with more than 58,000 sold last year. The pricier, V8-powered Infiniti QX56, redesigned two years ago, sold less than a quarter of the Enclave's numbers in 2011. Yet during that redesign, something weird happened: Three portholes appeared by the front wheel arches. Until then, portholes had been a retro gimmick on modern Buicks. The company still sticks on them on the hoods of all its models, where they are visible from the side.  The rest of the big Infiniti's design is on another planet entirely, but those portholes don't look good on any vehicle. 
Big-mouth grills: Audi A3 and Chevrolet Sonic

For 2005, Audi gave its midsize A6 sedan a gaping maw of a grill that essentially became part of the bumper. Soon, the huge grill -- split only by a thin strip for the license plate -- showed up across the Audi line. It was an inventive and refreshing element for Audi, which had long been churning out conservative designs that differed little from their Volkswagen cousins.

Soon, everything had to have a bigger, taller grill. The Cadillac CTS is one early example. Now, there are floor-to-ceiling grills on the 2013 Hyundai Veloster Turbo and Santa Fe. Among small cars, no two grills look quite like the Chevrolet Sonic and the Audi A3. The Sonic's is a little exaggerated in its size, while the Audi's actually looks conservative all over again. Where does it end? Are we going back to the 1969 Mercury Cougar, with its retractable headlamps hidden in the grill itself?

I hope not. No car, especially not a tiny subcompact, could ever be as cool as the old Cougar.

Clifford Atiyeh has spent his entire life driving and riding in cars he doesn't own. He was raised in Volvos and has grown to love fast, irresponsible vehicles of all kinds. He lives in Boston, is a member of the New England Motor Press Association, and has reported for The Boston Globe, Car and Driver, Popular Mechanics and The Times of London.
They DO all look the same, GM, Chrysler, Ford, the imports. You can't tell one form the other, and they're ALL ugly.  Back in the day you could tell what kind of car and year it was by just looking at it, without going up and reading the name plate. Cars today are all upside down, butt ugly, bath tubs.  Bring back the style, class, and sex appeal of the American car!!!


If you think that cars from every era look the same as you stated above > "but let's face it: Cars from every era look similar to each other" < or > " Whenever I've walked into a muscle-car swap meet, They all look the same, don't they? " < you don't know your cars or muscle cars because the cars of the 50's, 60's and 70's, may of all, as you stated > " Just as in the eras of chromed bumpers, tail fins, wire-spoke wheels and exterior radiators " < they may of all had some type of Fins but each was unique, you could drive down the road and know what was in front of you or what was coming at you by the shape of the tail lights and the design of the rear end ( just because it had fins didn't mean anything) or look at the front grill and placement of the headlights and the hood and the hood ornament, ( oh yea you probably don';t know what a hood ornament is because they are a thing of the past also) and you knew not only what was coming towards you but also what year it was. If you were driving behind a Cadillac you definitely knew it was a Cadillac and not a Chevy or Oldsmobile even though they were manufactured by the same Parent Company and all had fins but each was distinct even in the shape placement and style of the fins. That is what makes those cars worth the money that they bring at auctions. Cars in those days had class, they stood out, you could tell the type of person by the car they drove. The cars of today are nice, and much more advanced from the cars of days gone by, but they will NEVER stand out as those cars did and still do today. In the future Classic car auctions will be a thing of the past, unless somehow they are able to keep these cars of the Older age around for many years to come.
Are you sure you want to delete this comment?
EXPLORE NEW CARS
MORE ON MSN AUTOS
Audi first to get autonomous permit
Google, Mercedes also can now test self-driving tech in California.
ABOUT EXHAUST NOTES
Cars are cool, and here at MSN Autos we love everything about them, but we also know they're more than simply speed and style: a car is an essential tool, a much-needed accessory to help you get through your day-to-day life. What you drive is also one of the most important investments you can make, so we'll help you navigate your way through the car buying and ownership experiences. We strive to be your daily destination for news, notes, tips and tricks from across the automotive world. So whether it's through original content from our world-class journalists or the latest buzz from the far corners of the Web, Exhaust Notes helps you make sense of your automotive world.
Have a story idea? Tip us off at exhaustnotes@live.com.