BMW 1-Series M Coupe: A Worthy Addition to the Line
BMW's latest hot rod is exactly what it needs to be: Small, fast and entertaining.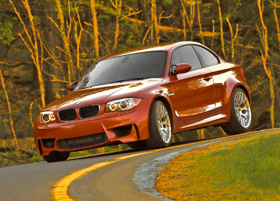 I've made no secret of my attachment to BMWs. I grew up around them, have raced them and fixed them. I currently own several, most of which are old and tired. I'd call it a disease, but that's a cliche. Let's just say it's an issue.
It's been said that writing about cars is little more than embracing your biases, and this is mine. My attachment to the marque can be traced to its sport sedans, legendary cars like the 1968–1976 2002 and 1988–1991 M3. Fun stuff, yes, but also important machines, cars that work on a number of different levels. 
Oy -- read that again. That was an attempt at objectivity. It was boring. ("A number of different levels"?!? What is this, a college thesis?) I'll go back to being biased: When I was in high school, a tuned 2002 ripped my face off. An '88 M3 once convinced me I was Joachim "Smokin' Jo" Winkelhock's illegitimate son. And I think I'm common-law married to a '65 1800TI in at least three states.
This background can be a problem. A few weeks ago, I drove a 2012 1-Series M Coupe. This is the car BMW says is heir to the early-M3 crown, the limited-production model intended to satisfy purists and compromise little. Because I've spent so much time immersed in BMW's past, I tend to be overly wary of the brand's current products. Not skeptical, mind, just cautious. 
Believe me, then, when I say this: The 1M Coupe is good. 
This is not the time or the place to go into the 1M's technical details or dissect its chassis behavior; other outlets have already done a fine job of that. What I offer here is a brain-dump look at what makes this car special.
The cockpit is randomly covered in synthetic suede. Some places, like the top of the instrument cluster, make sense (reduced windshield glare); others, like the trim panel stretching across the center of the dash, don't. It's affected but still kind of charming. It reminds me of the cars I drew as a kid, just with less crayon. 
In person, away from auto-show lights and the harsh glare of TV cameras, those flared fenders look ridiculous. They're big and bulbous and appear tacked-on. They are also awesome. They were developed specifically for the car -- no small feat when you consider the 1M's limited production (800–1200 cars, BMW says).
Most of the 1M's suspension is borrowed from the current M3. Not inspired by, not copied from, but borrowed. This is possible, remember, because the 1-series is effectively a 3-series writ small; the two cars are built from the same parts bin. The 1M's differential is identical to that found in the M3, as is its braking system. The wheels and tires -- 19-inch alloys and monster 245/265-section Michelin PS2s -- come from the Competition Package M3. The engine is the turbocharged 335-horsepower N54 6-cylinder found in the Z4 sDrive35is. It gains a lightweight flywheel here, a part that's unique to the M Coupe.
About that tiny production number: The 1M is built at BMW's plant in Leipzig, Germany, alongside the regular 1-series and X1. The limited production is due mostly to capacity and timing; the current 1-series is in the twilight of its run, and there isn't enough room in the factory's timetable to produce a substantial number of 1Ms. Making matters worse, the X1 is selling like crazy, and it obviously takes production precedence over a short-lived special. (Positive note: BMW has vowed to build as many 1Ms as it can given the circumstances. You get the impression the company didn't expect the car to be as well-received as it was.)


It's fast -- zero to 60 mph in 4.7 seconds, 332 lb-ft of torque from 1500 to 4500 rpm. But you likely already knew that. What you may not have known: It sounds great. The exhaust note is a whooshy, gurgly, hollow, growly, grumbling snarl, and it never gets old.


The old-school-BMW ties come hot and heavy. Engineers who worked on the 1M project were asked to take an E30-chassis ('88-'91) M3 Sport Evolution (right) home for a night, in order to make sure they had the right perspective. Nice.


The 3,362-pound 1M's spring and damper tuning is similar, though not identical, to what's found on the M3. That said, the car rides and handles very differently. The M3's longer wheelbase and greater weight make it more composed and docile over lumpy and undulating pavement; it also helps produce a comfortable but controlled ride. The 1M, by contrast, is a hyperactive, pitchy, feisty little meanie -- it bobs and jars and rattles heads inside the cabin over anything approaching rough pavement. This isn't a knock, by the way. Each car is tuned well, just differently. 


Upside: The 1-series is substantially nimbler than the M3, if a bit of a handful at the limit. Turn the stability control off and the car bolts sideways at the drop of a hat. It's forgiving, but the combination of big torque, a short wheelbase and a stiff suspension tune means you have to have quick hands. An M3 eases into a drift, takes its time, asks you to get off your rear and fix things, never really gets worked up. A 1M moves around more, darting its tail out and shoving you and yelling in your face when you make a mistake. It's entertaining as heck.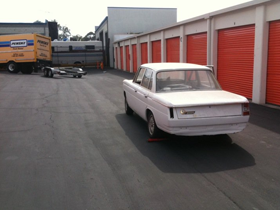 Above all, the 1M is a neat diversion. It's an interesting car, one that BMW didn't have to build. Enthusiasts will rail on it for being too porky (the first-generation M3 weighed just over 2,800 pounds), too weird-looking, and not enough of a soup-to-nuts M car. But to focus on that stuff is to miss the point. Single-minded, compromise-free hot rods don't come along that often. We should enjoy this one while it lasts. 
Left: The author's 1965 BMW 1800 Ti project, a car that has nothing to do with the 1-series M Coupe. He included this picture because he didn't have a good reason not to. 
EXPLORE NEW CARS
MORE ON MSN AUTOS
The future of alternative propulsion
A look at what could power your next car
ABOUT EXHAUST NOTES
Cars are cool, and here at MSN Autos we love everything about them, but we also know they're more than simply speed and style: a car is an essential tool, a much-needed accessory to help you get through your day-to-day life. What you drive is also one of the most important investments you can make, so we'll help you navigate your way through the car buying and ownership experiences. We strive to be your daily destination for news, notes, tips and tricks from across the automotive world. So whether it's through original content from our world-class journalists or the latest buzz from the far corners of the Web, Exhaust Notes helps you make sense of your automotive world.
Have a story idea? Tip us off at exhaustnotes@live.com.