A Holiday for Four-Wheeled Orphans
This weekend marks the end of Drive Your British Car Week. Yes, that's a thing. And yes, my British car is still broken.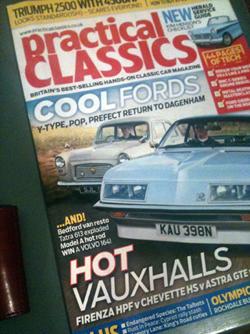 I have in front of me a copy of the British car magazine
Practical Classics.
It's a monthly magazine, usually available in places like Borders or Barnes and Noble. Like a lot of British classic mags, it focuses on attainable vintage wheels. Most of the current issue -- May 2012, with a Vauxhall Firenza on the cover -- is given over to hands-on, how-to pictorials. You know the type: "Change your vintage
Jaguar's
flibbergusket valve for pennies!" "Repair your MGB sills like a pro!" Etc.
I mention this not because I have a thing for British magazines (though I do), but because this particular one shaped my image of British cars. I started reading Practical Classics when I was 11. This was years after I became interested in cars but before I actually ponied up and bought an American book like Road & Track or Car and Driver. 
It was eye-opening. Flipping through the pages of PC was like hanging around a greasy restoration shop, one where everything was properly lit and repairs only happened when Friendly Mechanic X had time to explain them. It taught me that most old-car problems are pretty simple, but it also made me perennially wary of British cars. "Wow," I thought. "Those things must be horrible. Look how much these guys work on them! They have enough to fill a whole issue every month!"
I know, I know. I was 11. Of course it makes no sense. Cut me some slack. 
Still, that moment came to mind this week when this issue of
PC
crossed my desk. A few minutes of Googling later, I stumbled onto
this website
. Did you know that it's National Drive Your British Car Week? (Yes, that's a real thing.) I didn't, either. And guess what? I own a British car! And it's currently broken!
There's a joke in there somewhere. I wish I was smart enough to make it.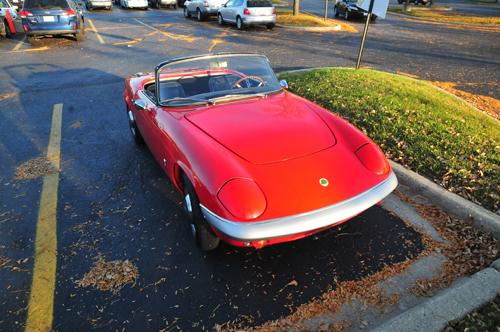 The car I own is a 1965 Lotus Elan. I've written about it before, usually in
moments of deep reflection
. You spend a lot of time like that when you own a car like this -- and by "deep reflection," I mean "a time when I have to sit around and think because I can't go drive the @$*%ing thing because it's broken again and I'm still trying to fix it."
Correction: Broken is a bad word. Let's just say ... infirmed. Down. Otherwise preoccupied in a nonoperational state. (Also, I recently dismantled the suspension to rebuild it, and nothing was wrong with that before it came apart, so it technically doesn't count.)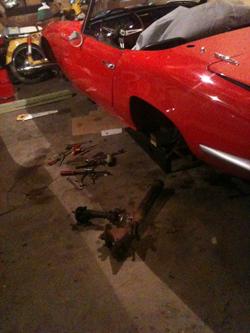 Drive Your British Car Week goes by a lot of names. Some call it British Car Awareness Week, others, British Car Week. If the
Lotus
were running, I'd probably just call it The Last Week in May; I have a habit of driving the things I own without excuse. Just another week.
America's British-car culture is an odd beast. Of the major Brit manufacturers to hold sway here -- MG, Triumph, Jaguar, Lotus,
Land Rover
/Rover, Austin-Healey -- only three are still solvent, and none are sold in America in any significant number. Jaguar and Land Rover and Lotus maintain a presence here, but their sales are low enough as to not be a threat to larger carmakers. Yet the majority of British cars registered here are likely older sports cars -- the MGs and Triumphs and such of yore, cars without parent companies. Maybe it's better to simply call it Orphan Car Week and leave it at that. 
Did I mention that my car is currently off the road? I've owned it since September. I've driven it 350 miles since. It's been apart since... well, September.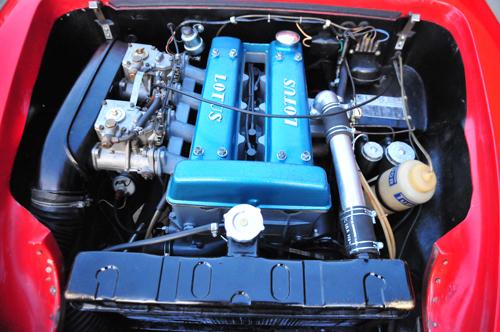 This is not my first British car. I restored and drove a 1957 MGA in high school. It spent a large amount of time in the garage, on jack stands, with its wheels off. When I bought the Elan, I had almost forgotten. Repair is almost as much a part of British-car ownership as oil leaks and the smell of aging leather. I wish I could drive the Lotus this week, but somehow, I'm not that upset about it. I like looking at it in my garage. I enjoy working on it. I even kind of like cursing and moaning and bleeding when I hurt myself trying to fix something that shouldn't have broken and wasn't designed to be fixed quickly and would last a thousand times longer on a modern car and and and ...
It has occurred to me that this might be the point. 

Either way, the Elan is on the mend, and that copy of Practical Classics reminded me of something I had forgotten about British cars: To borrow an old phrase, getting there is half the fun. And also, sometimes, getting there involves a whole lot of standing still.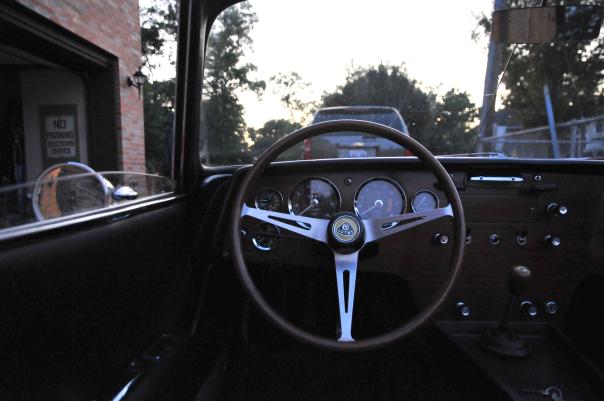 Images: The author's Lotus. It's prettier when it's in one piece, so that's how we're showing it. Mostly.


Sam Smith
is a journalist, a southerner, and a reformed Alfa Romeo mechanic who spends most of his time mooning over ancient racing cars and small-batch bourbon. A multiple International Automotive Media award-winner, he has written for Automobile Magazine, Car and Driver, and Esquire, among other publications. He once drove 4,000 miles in a weekend for a hamburger and has only been threatened by the German police twice.

Last week in May in the Northwest is called "wet" and that is why my classic British car is still in the garage. I've restored Healeys (wish I had them back) and now have a Triumph Spitfire - love the little go-cart. Thank God the entire front lifts on that thing - way easier (being a relative term here) to work on than the Healeys ever were. The oldy but a goody joke comes to mind - "Why haven't the Brits ever made a television set?" "Couldn't figure out how to make it leak oil". Having said that, I am not going to make the mistake of selling the Spit - ever. It goes to my son when I am done with it - hopefully that will be a long, smile filled while!
Back in the late 70's I owned a '76 TR-7.  I was very young and it was a very impulsive purchase.   It was fun to drive but the car frightened me from a "cost of ownership" stand point.  I sold it after having owned it for only about a month.  That has been my only foray into British car ownership. 
Are you sure you want to delete this comment?
EXPLORE NEW CARS
MORE ON MSN AUTOS
10 coolest cars of Fast & Furious
Our favorite Fast & Furious cars, from the ultra-obscure to the iconic.
ABOUT EXHAUST NOTES
Cars are cool, and here at MSN Autos we love everything about them, but we also know they're more than simply speed and style: a car is an essential tool, a much-needed accessory to help you get through your day-to-day life. What you drive is also one of the most important investments you can make, so we'll help you navigate your way through the car buying and ownership experiences. We strive to be your daily destination for news, notes, tips and tricks from across the automotive world. So whether it's through original content from our world-class journalists or the latest buzz from the far corners of the Web, Exhaust Notes helps you make sense of your automotive world.
Have a story idea? Tip us off at exhaustnotes@live.com.