Direct Injection: Why You Should Care
The minutae of igniting gasoline aren't exciting, except when they make your life better.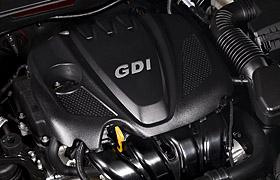 When the
Toyota Prius
debuted 11 years ago, it set the bar for ultralow fuel consumption on regular gasoline, but it did so with a highly complex and expensive hybrid powertrain. Today's compact
Prius c
, at just under $20,000 and 50 mpg combined, is a lot cheaper and more impressive. Along with its egg-shaped bigger brother, the Prius models are still the most fuel-efficient cars on sale in the U.S., diesels included.
But fuel efficiency, despite the government's insistence that automakers reach a 54.5-mpg fleet average by 2025, still isn't the prime reason we buy cars. Space, comfort, size, utility and fun all factor into our decisions. Thankfully, there's a fuel-saving feature on at least 77 new cars and trucks that not even the Prius has: direct injection. And it just happens to produce more horsepower, too.
With an engineering degree, you'll love knowing how these piezoelectric injectors make the stoichiometric gas-and-intake mixture denser and ignite the fuel closer to the spark plug, but I'll let ex-Car and Driver Editor-in-Chief Csaba Csere do that
here
and
here
. For the rest of you, including me, here's the short explanation: Instead of fuel being mixed with air above the intake, as with traditional fuel injection, the gas is sprayed at high pressure directly into each cylinder. The spray can be expertly fine-tuned by the engine's computer, allowing for faster, more complete combustion. The result is less fuel consumption, less pollution (General Motors says it
reduces cold-start emissions by 25 percent
) and greater power. If you see GDI, FSI, DFI, SIDI, Skyactiv or EcoBoost on a car's spec sheet or advertising, it's referring to direct injection.
Right now, the technology's premium -- estimated at
one point to be hundreds of dollars extra
-- is likely moot.
Hyundai
offers
direct injection on seven of its models
, including the
Sonata
and entry-level
Accent
.
Kia
does the same on five of its models, including its cheapest
Rio
.
Chevrolet
packs it on the V6
Camaro
and on the current
Impala
-- very strange in a car that advertises a CD player as its coup de grace.
Audi
offers it on every model, including the V10
R8
and 12-cylinder
A8
. (Diesel engines have used direct injection for many years, but only the people who've bought VW TDIs truly know about that.)
Here's why direct injection matters. Before the 3.5-liter V6 in the
Mercedes
E350 received direct injection, it was delivering 268 horsepower and a rather lousy EPA rating of 17 mpg city/24 mpg highway. Now, thanks in good part to direct injection, the E350 pumps out 302 horsepower and achieves a respectable 20/30 rating. 
Mazda
's transformation is even more remarkable. The
3
with Skyactiv direct injection and a 6-speed automatic transmission returns a whopping 40 mpg highway, while the 3 without direct injection (and one fewer gear) gets only 33 mpg. Both use the same 2.0-liter engine, although Mazda tacks on options and makes you pay $3,500 more for the Skyactiv model. The
Porsche 911
has been on direct injection since 2009, and the
yellow Carrera I just extolled
achieves a remarkable EPA 20/27 rating, nearly matching the Benz sedan.
Ford
's EcoBoost engines pair direct injection with turbocharging, so it's no longer strange that 4-cylinder
Explorers
or V6
F-150s
with 420 lb-ft of torque can exist. All
Buicks
have it. So does every
BMW
save for three models. Even
Bentley
has gotten into the act, by
adding direct injection to its new Continental V8
for (somewhat) better gas mileage.
However, direct injection isn't the only reason today's cars are getting substantially better mileage from one model year to the next. Advances in
automatic transmissions
, lighter vehicle weights, aerodynamic tweaks and
auto start-stop systems
all make an impact. But nothing else has made a more significant improvement within the engine itself.
Reliability has proven fine in the past few years, but a few automakers have experienced setbacks. Some Audi and
Volkswagen
engines with direct injection, as late as 2008, were
known to leave heavy carbon deposits
on the valves, which would degrade performance. The same problems were noted in
Lexus
models. In February,
Nissan
had to
recall 250,000 cars with direct injection
because of potential fuel leaks.
Toyota
,
Mitsubishi
,
Suzuki
,
Chrysler
,
Volvo
and
Subaru
have yet to embrace the technology. Mitsubishi was a
direct-injection pioneer in 1996
but doesn't offer it on any current U.S. models.
Honda
will offer direct injection for the first time on the 4-cylinder 2013 Accord.
Some automakers are also pursuing alternative injection strategies, such as Nissan's
Dual Injector System
, which places two conventional fuel injectors above each cylinder. Nissan says this system offers similar benefits at a 60 percent reduced cost. Lexus uses both regular and direct injection in some of its engines, which the company says improves midrange torque.
Fiat
and the upcoming
Dodge Dart
use
MultiAir
, a hydraulic system that micromanages engine valves to reduce fuel and increase power by an estimated 10 percent. An experimental technology called
Homogeneous Charge Compression Ignition
promises to make gasoline perform with diesellike efficiency by removing the spark plugs.
Keep all this in mind if you're shopping for a more expensive hybrid or electric car. Direct injection won't solve all of our fuel woes, but it proves one important thing: The internal combustion engine has a long life ahead of it.

@Annatar I have done my research, and the Prius is the most fuel-efficient car on sale here. EPA numbers are exactly what we should be measuring, as it is the only way to do direct comparisons from a standardized test. Diesels often get higher real-world highway mileage, while hybrids can often beat EPA city mileage by a handful as well.


Toyota uses direct injection on the Yaris, but markets it as TDI (Toyota Direct Injection) just to confuse it among other acronyms. AT the same time this strategy of calling a common feature by a different registered trademark name is common. Only Toyota has "TDI (Toyota Direct Injection" to provide improved performance and effeciency....

"Along with its egg-shaped bigger brother, the Prius models are still the most fuel-efficient cars on sale in the U.S., diesels included."
No, they are not. You are wrong:
http://www.autoblog.​com/2012/05/09/high-​mpg-taylors-drive-a-​volkswagen-passat-1-​626-miles-on-one-ta/​
If you are going to make a blanket statement like that, show us how a Prius is more fuel efficient than a diesel. I challenge you to prove it. EPA numbers are not admissible evidence.
You are supposed to be an automotive journalist, are you not? I for one hold you to a higher standard than just someone spewing unfounded propaganda, because when you write an article, you
a) are supposed to be a subject matter expert, meaning you know what you are writing about
and
b) have done done your research.
Finally, you have a social contract to educate. That is what a reporter, a journalist does. If you keep writing claims which are incorrect, you will lose credibility.
Are you sure you want to delete this comment?
EXPLORE NEW CARS
MORE ON MSN AUTOS
10 coolest cars of Fast & Furious
Our favorite Fast & Furious cars, from the ultra-obscure to the iconic.
ABOUT EXHAUST NOTES
Cars are cool, and here at MSN Autos we love everything about them, but we also know they're more than simply speed and style: a car is an essential tool, a much-needed accessory to help you get through your day-to-day life. What you drive is also one of the most important investments you can make, so we'll help you navigate your way through the car buying and ownership experiences. We strive to be your daily destination for news, notes, tips and tricks from across the automotive world. So whether it's through original content from our world-class journalists or the latest buzz from the far corners of the Web, Exhaust Notes helps you make sense of your automotive world.
Have a story idea? Tip us off at exhaustnotes@live.com.