Das Electric
Top 10 electric vehicles from the Frankfurt Motor Show
Our colleagues from across the pond are back: Once again, the team over at MSN Cars UK has put together a Best Of list from Frankfurt. This time they're stacking up the 10 best electric vehicles. Sit back and enjoy the battery-powered ride.

If the 2009 Frankfurt Motor Show has a theme, it is most certainly the rise of the electric car. In fact, we had trouble choosing 10 standouts from among the myriad battery-propelled beauties on display. And most are serious, high-quality concepts nearing production. From luxury hypercars to the humblest inner-city transport, it looks like a lot of us will be traveling by battery surprisingly soon. This doesn't mean that diesel is somehow beaten as the obvious everyday eco-choice, but our motoring future seems destined to be diverse ... you could say even say electrifying.
--CJ Hubbard, MSN Cars UK

Fisker Karma S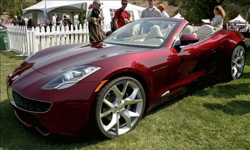 Electric power is everywhere at Frankfurt, be it in electric-only vehicles or in hybrids where the petrol engine is relegated to the role of generator. Regardless of type, few can match the slinky Fisker Karma when it comes to style, not least in its cabrio Sunset Concept form. Think of a cross between a Maserati GranTurismo and an Alfa 8C and you're on the way.

A pretty appealing combination in itself, but with 403 horsepower from two electric motors, 83g/km (133g/mile) carbon-dioxide emissions and 80.7 mpg, it's as green as it is glamorous. It'll even do 60 miles on electric power alone, with the gas-powered engine kicking in to extend that to 300 miles on one tank.

Peugeot BB1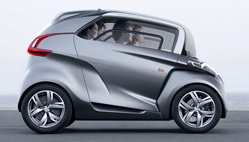 Is it a car? Is it a bike? Either way, lock up your children -- the Peugeot BB1 will give them a nasty fright. Looking like an insanely mutated smart fortwo, but able to accommodate four full-size adults despite being just 2.5 meters (8.2 feet) long, this is the future equivalent of a Toyota iQ.

Luggage capacity might be an issue. The BB1 doesn't even have any pedals, the interior packaging is so concise. But with a structure designed by Peugeot Motorcycles, handlebars instead of a steering wheel, carbon-fiber body panels and twin 20-horsepower electric motors, it may eventually come to a city near you.

Audi e-tron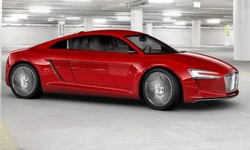 This is the e-Tron -- is that the coolest name for an electric car, ever? -- and Audi announced it as "the highlight" of the 2009 Frankfurt Motor Show. Bold claim. It looks kind of like an R8 -- so much so, in fact, that for a concept the styling is almost unimaginative (gaping maw of a grille excepted). So what's the fuss?

The four electric motors and a water-cooled battery give a 154-mile range and 313 horses. Nothing to write home about. But the torque -- holy smokes! Audi claims 3,319 lb-ft. You could pull the Statue of Liberty in the e-Tron (and we don't mean getting her telephone number).

Volkswagen E-Up!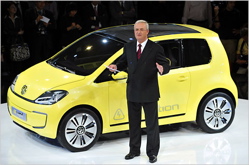 The future of the car is assured. Volkswagen hasn't gone for anything especially wacky with its Frankfurt electric-car concept. In fact, it's safe to say this previews almost exactly what the conventional petrol and diesel Up! city cars will look like when they debut next year.

But the name's amusing -- especially if you're familiar with the north of England [U.S. editor's note: Don't worry, we don't get this, either]. And just to spice things up a bit, VW has included an electric scooter in the boot ... ahem, trunk. With a solar-panel roof, 5-hour charging time and 84 mph top speed, the E-Up! is an electric solution we can believe in.

Citroen REVOLTe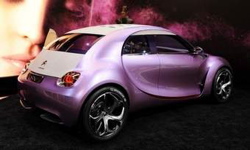 We totally understand what Citroen was thinking, but still can't help wondering if the name of this concept isn't a bit of a mistake. The REVOLTe is certainly striking to look at -- like a modern reinterpretation of the 2CV. But where the 2CV was utilitarian, the REVOLTe is high-tech, luxurious and sporty.

The unusual 3-seater layout is intended to add a lounge-room air to the interior, while the retractable roof's solar cells help recharge the batteries. In this instance the electric motors form part of a hybrid system, but the REVOLTe can run on the batteries alone. A contender for coolest looking in show.

Renault ... er, pick one ...


Renault isn't having any of this single, solitary electric-car concept nonsense. No. It has instead brought four of the things to Frankfurt, a total zero-emissions -- that's ZE -- solution. These range from the conventional Fluence saloon and Kangoo van ZEs to the wild Zoe ZE coupe, and culminate with the weird Twizy ZE Yes, Twizy. This is a 1+1, fully enclosed 4-wheeler that takes up about as much road space as a scooter and accelerates like a 125cc motorbike. It charges in four hours, has a 60 mile range and is intended for sale in 2011.

Toyota Auris HSD Full Hybrid Concept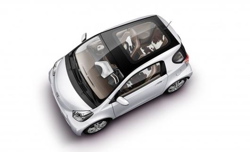 In most circumstances, a Toyota Auris has about as much chance of making a motor show top 10 list as we have of winning an Olympic gold medal in synchronized swimming. But this rather unassuming concept version previews a significant new model: Europe's first mainstream hybrid.

That's right. Toyota is taking is latest-generation Hybrid Synergy Drive directly from the Prius, and plugging it -- ha ha! -- into the ordinary Auris. This should result in a petrol-powered compact family hatchback with just 99g/km (159g/mile) CO2 emissions. Incredibly impressive. Built in the U.K., on sale next year.

Lexus LF-Ch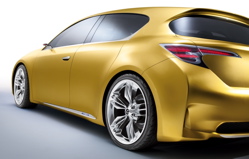 With the compact hatchback sector set for expansion, even the premium marque carmakers need to start taking it more seriously. Especially Lexus, which didn't actually have anything to offer to downsizing customers. At least, until now: This is the LF-Ch concept, and it's angry. Very, very angry. Oh, wow.

Nothing else in the segment looks as aggressive as this -- not the Audi A3, not the BMW 1 Series, and certainly not the Mercedes A-Class. Of course, this is a concept, so the sharky face may well get toned down. But the hybrid drivetrain is staying; every single LF-C will have one.

Brabus ULTIMATE HIGH VOLTAGE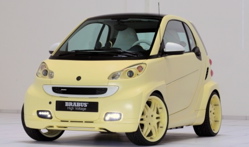 When famously nutball Mercedes tuner Brabus uses the words ULTIMATE HIGH VOLTAGE with the caps lock on, we sit up and pay attention. These guys don't kid around. And yes that is a picture of a smart fortwo. But it's a smart fortwo that's now probably desperately in need of a wheelie bar.

Since Brabus is also tuning the Tesla Roadster, we guess it was only a matter of time before it raided that company's parts warehouse: This fortwo is powered by one of Tesla's electric motors. Eighty-three horsepower might not sound like much, but trust us, 206 lb-ft of torque in a smart is flipping loads. Danger, danger ...

Peter Burgess picks:

Hyundai i10 Electric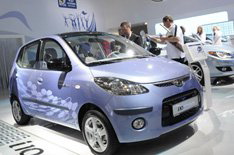 Hyundai's i10 Electric takes a different approach by using lithium-polymer battery technology. The advantage in this is that, as well as giving a theoretical range of 100 miles after a 5-hour charge at home, in just 15 minutes you can do a quick charge that replenishes 85 percent of the capacity and range.

The trick here is to find a 415-volt supply to do this, but Hyundai reckons they are readily available in petrol stations and garage workshops. Who knows, you might even find every Hyundai dealer provides pit-stop facilities as well as a coffee while you wait.

(Photo credits: MSN Autos; photo via carkeys.co.uk; MSN Autos; Torsten Silz/Agence France-Presse/Getty Images; Roger Hart for AutoWeek; Renault; photo via Gizmag; photo via Autoblog; Brabus; photo via whatcar.com)



EXPLORE NEW CARS
MORE ON MSN AUTOS
Plug-in hybrids for Porsche
Hybrid-electric push is part of a broader focus on fuel efficiency.
ABOUT EXHAUST NOTES
Cars are cool, and here at MSN Autos we love everything about them, but we also know they're more than simply speed and style: a car is an essential tool, a much-needed accessory to help you get through your day-to-day life. What you drive is also one of the most important investments you can make, so we'll help you navigate your way through the car buying and ownership experiences. We strive to be your daily destination for news, notes, tips and tricks from across the automotive world. So whether it's through original content from our world-class journalists or the latest buzz from the far corners of the Web, Exhaust Notes helps you make sense of your automotive world.
Have a story idea? Tip us off at exhaustnotes@live.com.