NHTSA's Proposed Brake Override System: A Good Idea?
Yes, but for all the wrong reasons.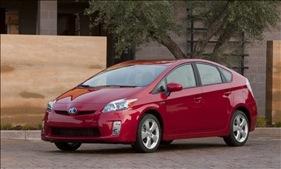 Let's get one thing straight: I want no one to die. I dislike bloodshed as much as anyone, I believe technology is a good thing, and I desperately want to continue living as long as possible.
But this is asinine. 
Perhaps you've seen the articles. The federal government, through the Transportation Department's National Highway Traffic Safety Administration, is proposing that automakers
design a brake-throttle override system into future vehicles
to reduce the risks of unintended acceleration. In other words, the government wants to legally mandate that all new cars disengage their throttles -- kill the engine -- after an extended application of both throttle and brake pedals. 
I am not against this, just as I am not against airbags, antilock brakes or electronic stability control. Like those other safety devices, an electronic brake-throttle interlock will probably save lives, and at relatively minor cost. But I am against the thinking behind it. I also worry about what it portends for the future, and what it says about the lessons learned from the recent
Toyota Prius
-related scandal. 
Here's why. 
The proposal by the Department of Transportation's National Highway Traffic Safety Administration is a result of a highly publicized 2009 crash of a Lexus ES 350 and a subsequent flood of complaints about incidents of unintended acceleration in Toyota and Lexus vehicles.

Investigators believe the Lexus crash occurred after a floor mat was improperly installed and may have trapped the accelerator pedal, causing the vehicle to race down California Highway 125 in suburban San Diego at more than 100 mph before crashing and bursting into flames, killing an off-duty California Highway Patrol officer and three members of his family.

That crash led to a recall of 3.8 million Toyota and Lexus vehicles to fix the floor-mat problem and, after a Los Angeles Times series of stories on sudden unintended acceleration, subsequent recalls of millions more of the automaker's car to fix sticking gas pedals. Lexus is a Toyota brand.

Safety officials believe brake-override systems -- in which the application of the brake pedal by the driver would instantly disengage a stuck throttle -- can prevent such crashes.  
As safety devices go, a brake-override system is the simplest kind of protection. It uses brake-pedal and throttle sensors -- already installed in every new car currently sold -- and is little more than a programming tweak, a few lines of code that tell an engine-management computer to cut the gas at the appropriate time. 
There are a handful of common arguments against brake overrides. Die-hard car enthusiasts, for example, gripe that these systems eliminate the possibility of left-foot braking, a racer's technique that can help balance the car in a corner. (Left-foot braking allows you to apply both gas and brake at the same time, adjusting the car's weight transfer far more minutely than would otherwise be possible when driving with just your right foot.) This is true but ultimately unimportant, as mass-produced technology must be designed to suit the needs of the masses, not a vocal minority. (If more than 0.001% of the population uses left-foot braking for speed and entertainment, I'll eat my hat.) This is not where my problem lies. 
The other, more relevant argument is that brake overrides are Band-Aids. They provide a safeguard against stupidity, not a fix for it. The
unintended-accelerat​ion
accidents that sparked the Toyota Prius scandal were proved (by NASA, of all places) to be the result of improperly installed floor mats and/or user error. What was initially thought to be a gross engineering fault was simply people screwing up. Floor mats got stuck under gas pedals. People stabbed the gas instead of the brake. Done.
Only that's apparently not the end of the story. Manufacturers such as
BMW
,
Chrysler
and
Audi
have installed brake-override systems as standard for years, but many carmakers still don't fit them. NHTSA believes widespread installation of such systems will save lives, despite the fact that a lot of industry analysts don't think it will change anything. To wit, from the LAT article: 
"America's drivers should feel confident that any time they get behind the wheel they can easily maintain control of their vehicles — especially in the event of an emergency," said Transportation Secretary Ray LaHood. "By updating our safety standards, we're helping give drivers peace of mind that their brakes will work even if the gas pedal is stuck down while the driver is trying to brake."

"This technology is typically raised as a solution to the issue of unintended acceleration. The problem is that the evidence shows this is usually a driver-error issue. In other words, the gas is being applied, not the brakes," said Jeremy Anwyl, vice chairman of auto information company Edmunds.com.

Let's pare this down to the basics: A while back, a few moving cars ran into stationary objects while their drivers were trying to slow them down. People were killed, which is nothing less than horrible. An international scandal ensued, and driver error was shown to be the cause.
Unintended-accelerat​ion
accidents, which were heretofore of little importance to the public (save the
Audi scandal of 1986
, also proved to have its roots in driver error), suddenly became a hot-button topic. The number of people who've died in confirmed
unintended-accelerat​ion
accidents over the past few decades is so small as to be statistically negligible. There are still people who believe Toyota screwed up and killed people. And through it all, no one has bothered to point out that there are a lot of things you can do to stop a speeding car -- at least if you're paying attention behind the wheel. 
What's that? Oh, you hadn't heard? Right: Let's say your throttle is stuck, through some glitch of floormat or programming or fate. You have options. Educate yourself. You can:
Shut the car off. Hold the start-stop button, turn the key, whatever. It will stop moving. This is how cars work. Even if the engine is in gear and the gas is floored, your car will stop running. You might lose power-assisted steering and brakes, but you will still have braking power, and you will still be able to steer the car, and you won't be speeding toward the horizon any more. 
Move the shift lever to neutral. Even if the throttle is floored, your car will shift from a drive gear into a position where the engine is no longer connected to the rear wheels. This applies to every car on the planet, no matter what type of transmission it uses.


Hit the brakes. Even if you don't have a throttle override, your car will stop. By and large, every car in production has more brake power than engine power. In other words, even a floored engine and a speeding car can be brought to a halt by a nailed brake pedal. This has been proven over and over again. It's not that difficult. 
NHTSA claims these things aren't enough to stop a speeding car -- or at least makes that claim indirectly by saying that brake-override systems will save lives. And perhaps they will, maybe, at some point. But what's wrong with education? With teaching people how to properly operate their multi-ton machinery instead of just assuming they don't know how? And chiefly, if NASA's conclusions were right, and most people in these types of accidents 
are hitting the gas instead of the brake
, then what good is a brake override anyway?
Don't get me wrong: Brake overrides are incredibly cost-effective and provide one more barrier between life and death in an automobile, so they're not a bad idea. But we're not discussing the more important issue: Drivers aren't educated. People aren't paying attention behind the wheel,
now more than ever
. And we're reinforcing the notion that it's OK to be uninformed, because the government will take care of everything with a law. Even if the law doesn't do anything.
"We should not design cars to suit the needs of idiots, and if idiots extinguish themselves through their own idiocy, then we should applaud this as evidence of the great symmetry of God's plan." 

-- David E. Davis, Jr., automotive journalist and founding editor, Automobile Magazine.

EXPLORE NEW CARS
MORE ON MSN AUTOS
10 coolest cars of Fast & Furious
Our favorite Fast & Furious cars, from the ultra-obscure to the iconic.
ABOUT EXHAUST NOTES
Cars are cool, and here at MSN Autos we love everything about them, but we also know they're more than simply speed and style: a car is an essential tool, a much-needed accessory to help you get through your day-to-day life. What you drive is also one of the most important investments you can make, so we'll help you navigate your way through the car buying and ownership experiences. We strive to be your daily destination for news, notes, tips and tricks from across the automotive world. So whether it's through original content from our world-class journalists or the latest buzz from the far corners of the Web, Exhaust Notes helps you make sense of your automotive world.
Have a story idea? Tip us off at exhaustnotes@live.com.