Internet Use While Driving a Bigger Problem Than We Admit
19 percent of Americans admit to using the Internet behind the wheel. For the umpteenth time: Stop it.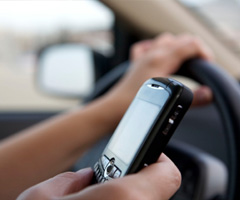 I spent most of yesterday driving through Ohio. A nice drive -- sort of like motoring through Monaco, but without the hills, royalty or Mediterranean Sea to look at. 

Wait, no. I was thinking of somewhere else. Traversing Ohio is painful, the kind of creeping, dead-eyed pain you get from a broken marriage or a reheated Big Mac.
The state itself is fine; it's the details that get you down. Traffic. Narrow highways. Lots of cops. Left-lane sitters out the gazoo. And more cell-phone abusers than you can fathom, all cruising in the left lane, where they're inevitably doing something like swerving around at 15 mph under the limit and begging to be mercy-killed with a hood-mounted flamethrower and pair of roof-deployed, Army-surplus Sidewinder missiles. 
Not that I've contemplated that or anything. Just sayin'.
Conveniently, I have a statistic to hang my frustration on. According to a recent State Farm survey, 19 percent of Americans admit to using the Internet while driving. Two things came to mind when I read this: First, this figure has to be absolute garbage. I'd bet dollars to donuts that the correct number -- i.e., the people who use the Internet on the road, not just admit to it -- is more like two or even three times that. 
Second, we are doing nothing -- and I mean nothing -- to fix the problem.
Like almost all published surveys, the State Farm poll is a sample. The insurance company polled 912 drivers in an admittedly unscientific survey in November. The 19 percent figure that resulted is strictly for Internet access through a cell phone; lump in text messaging and the number climbs to 35 percent. Bump it up to ordinary voice calling and you get a whopping 74 percent. Three out of four Americans, in other words, believe it's OK to operate a multiton killing machine while gabbing with Aunt Greta about the gossip from Gablesville. Or wherever. 
Everyone knows the story here: This is a stupid, stupid pastime. Distracted driving has been shown to be dangerous in more ways than one, but as a people, we don't really do anything about it. Internet usage and texting while driving carry a nasty social stigma, but we've yet to come up with a solution that eliminates both the danger and temptation. At the risk of sounding like a melodramatic 1950s driver's ed film ("Mary Lou should never have had that soda pop behind the wheel -- the caffeine drove her mad!") the only real penalty here is death. 
Not that there haven't been strides. The use of cell phones without a hands-free device while driving is illegal in more than a few states. Thanks to a decent amount of media coverage and a particularly weepy "Oprah" special, texting and Internet use while driving is generally frowned upon. But these are small advances. You get the feeling that most people view distracted driving like they view picking their nose or biting toenails -- disgusting habits, but if no one sees you or you don't start bleeding, there's no real downside.  Which means it's going to continue. 
Making matters worse, most of the media are fixated on the hows and whys of the issue. But the question isn't why people insist on putting their lives at risk. That answer is fairly obvious: It's easy; driving can be boring; and phone usage doesn't automatically equal an accident. The real question is why we haven't changed both the system and the technology to make these actions unfashionable and more difficult. 
American drivers, like almost all drivers, are inherently lazy. When something becomes difficult or annoying, we tend to avoid doing it -- even if we like it. Look at seat-belt usage: It rose a little when it was legally mandated, but didn't really become widespread until the advent of the annoying dash buzzer that dings until you buckle up. Ignition lockouts -- no belt, no engine start -- worked somewhat, but enterprising people just had their mechanics disconnect the system. We need a personal motivator. 
Phones are different. Mandating or regulating how we talk to others brings up serious personal privacy issues, and there isn't a simple fix. The technology is there -- many fleet drivers have phone lockouts while behind the wheel -- but the implementation is the problem. We're also limited in that we don't have an accurate view of the issue. Surveys like State Farm's rely on honesty, but it's been proven that people are tempted to fudge the truth on unfashionable answers even when polls are anonymous. Fatality rates don't count, either; unless there's a witness or a phone in a dead driver's hand, accidents rarely leave conclusive proof of distracted driving. 

In short, like most people, I don't have an answer. I do know that the "just say no" approach we have now works on a certain level, but it's only going to get us so far. We can't just keep talking about it. Too much chatter in the middle of a dangerous situation, after all, is the heart of the whole problem.

The penalty must be extreme enough to scare people out of ever trying it.

Well that's the problem with jailing them - chances are very high that they won't see a day behind bars. Probation, suspended sentences, early release/no incarceration because they're a non-violent offender, etc. etc.

Not to mention that for a substantial number of offenders - doing a week up at county, or 100 hours of community service isn't really a deterrent. Taking away their car permanently, hitting them solidly in their wallets - that will get people's attention pretty damn quick.

EDIT: HEY EXHAUST NOTES CRETINS - YOUR SPAM FILTER ISN'T WORKING


@Logic,
You are correct, and I am aware that the solution I presented below will never happen.  It what I wrote sounded extreme, it is only because I feel so strongly that drunk driving (and driving while on a cell phone for that matter) is dangerous and is a serious problem we need to take care of.
The penalty must be extreme enough to scare people out of ever trying it.
I've said for years - if you want to REALLY stop drunk driving - don't take the licenses. That does nothing to change the problem. SEIZE THE @#%$ING CARS! 1st offense your car is impounded for 6 months - and you pay impound costs. 2nd offense - state takes your car permanently and auctions it off. Hard to drink and drive if you got no wheels. And before anyone says "what if it's not their car that they were driving when they got pulled over?" - would YOU lend your car to someone who has the potential to get pulled over for a DUI if you knew it would get seized?

Same thing here - same level of danger involved. Make the penalties the same.


Are you sure you want to delete this comment?
EXPLORE NEW CARS
MORE ON MSN AUTOS
'Eleanor' Mustang sells for $1M
'Gone in 60 Seconds' movie car driven by Nicolas Cage has a new home.
ABOUT EXHAUST NOTES
Cars are cool, and here at MSN Autos we love everything about them, but we also know they're more than simply speed and style: a car is an essential tool, a much-needed accessory to help you get through your day-to-day life. What you drive is also one of the most important investments you can make, so we'll help you navigate your way through the car buying and ownership experiences. We strive to be your daily destination for news, notes, tips and tricks from across the automotive world. So whether it's through original content from our world-class journalists or the latest buzz from the far corners of the Web, Exhaust Notes helps you make sense of your automotive world.
Have a story idea? Tip us off at exhaustnotes@live.com.