5 Things An Old Car Can Teach You About Life
It's been an interesting winter. Thanks to a 1960s Lotus, I'm now a little wiser. Maybe.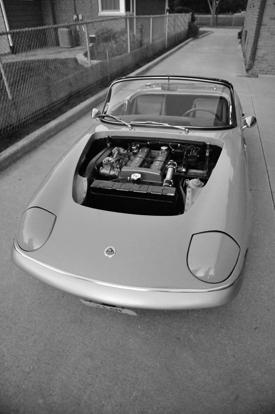 This is the week of the annual
New York International Auto Show
, which means most of the industry is preoccupied with all things automotive and Big Apple. Me, I'm not attending the show for the first time in years; a combination of deadlines and family commitments kept me at home with my wife, dog and garage. 
About that garage. Sometimes it's a sanctuary. Other times it feels like a prison, an endless stack of to-do lists and machinery in need of repair. Because I'm at home -- a rare occurrence this time of year -- and currently blessed with a glut of free time, I decided to spend a bit of time wrapping up a winter project: the partial rebuild of my 1965
Lotus
Elan. 
The Elan is an old car. Like most old cars, it has needs; some are predictable, some not. What started out last September as simple maintenance -- fixing an oil leak and adjusting a door fit -- evolved into a full-blown dismantling, half the car spread out across the garage floor. Fixing one problem revealed another, which led to another, and so on. Before I knew it, it was March, and the car was still apart. These things happen.
This is not my first classic car, nor will it be my last. But you know what? This silly little 1960s flyweight is still teaching me things.
Above: The author's 1965 Lotus Elan. See how it's not surrounded by a puddle of oil? The car is British, so this is temporary. Wait. It'll change. 
Lesson 1: Things are rarely what they first seem. 
This should be obvious, but it's not. At some point, you have probably bought a used car. It was probably not what the seller said it was. "Yes," you thought, "but I've looked at it inside and out, and there are no problems he hasn't mentioned." And then you got it home, and you drove it for a bit, and there were a zillion problems the seller didn't mention. Or maybe didn't even know about. 

Every old car is a used car. I have never bought a vehicle that didn't need something within the first 100 miles, no matter how much I've aimed for the opposite. Life cannot be planned. 'Nuff said.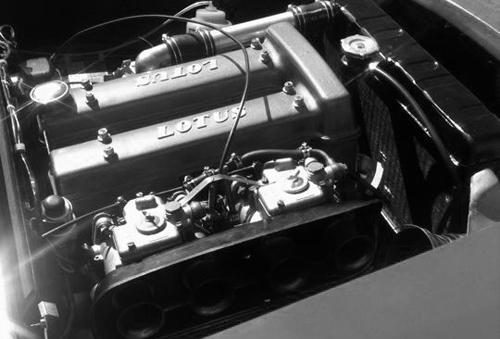 Above: The engine! See how it's not surrounded by a pile of wrenches and used, broken parts? The car is British, so this is temporary. Etc.
Lesson 2: Hard work almost always pays off. Just not how you might think.
In the 15 years since I turned 16, I've owned upwards of 30 cars. Most of them were not nice. None were new when I bought them. I have, as a result, spent a lot of time fixing old iron, usually in preparation for some event -- a car show, a race, a hill climb, something. 

Some of these cars made the events they were scheduled for. Most did not. The thought process usually went like this: 
"Look! I can build/fix/assemble this in time to go do something fun with it!"
"Look! It's late at night, I'm still wrenching, and I might actually make this deadline!"
"Look! It's five hours past the deadline and I still haven't made it, but I'm trying anyway!"
"Wait, it's two days later. The car's done! This was great, just a great time! Where was I going again?"
Some problems are never solved in the way you think they'll be solved. The journey is usually more entertaining than the destination. And sometimes, what seems like preparation is actually the main event.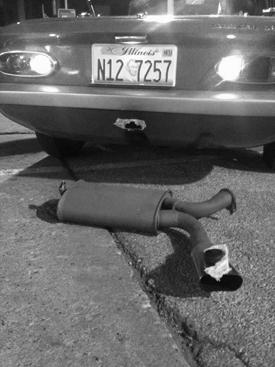 Lesson 3: You must occasionally eject from reality in order to stay sane.
Like that time the Elan's exhaust fell off on the way to a dinner reservation, which made my wife and me stop a terrible and long-brewing argument because we could no longer hear each other over the noise. When we got to the restaurant everything WAS HAPPY AND LOUD AND THE OPEN-PIPED LOTUS SOUNDED LIKE A RACE CAR AND I DIDN'T EVEN REMEMBER WHAT THE **** WE WERE ARGUING ABOUT AND ALSO I WAS KIND OF DEAF.
So that was a good evening. 
Right: Exhaust, meet ground. Ground, exhaust. I believe you know each other already.
Lesson 4: Safety is great, but you have to hang it out a little if you want to feel alive.
Old cars, built largely free of regulation and safety concerns, were cheap, thin and fragile in a hundred ways that modern cars are not. They were also incredibly dangerous; the Lotus, which weighs around 1,600 pounds, would kill me in a relatively minor collision. And yet the cars from the fastest and most dangerous part of this era -- say, 1948 to 1968 or so -- are arguably some of the most appealing machines ever built. 
There is only one conclusion: Risk is appealing. Eliminate it, and you might as well be dead (or driving a new Toyota Venza). 
Did I mention how I want to die in a Plymouth 440-6-Pack Road Runner? Did I also mention that I'd be perfectly happy if it was the car itself that killed me?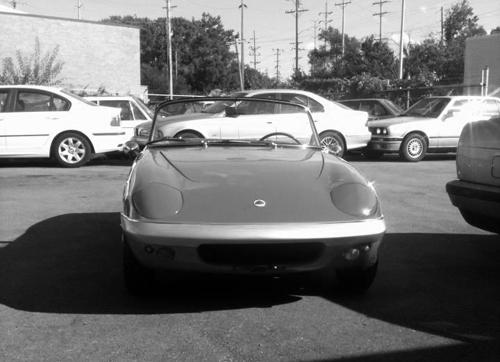 Above: Yes, it's as small as it looks. (OK, that's a lie. It's actually smaller.)
Lesson 5: Everything in life is a trade-off. The prettiest flowers are almost always the most delicate. 

With one or two exceptions (hello, Mercedes-Benz 300 SL Gullwing), sturdy cars are not pretty, at least not in the traditional sense. And pretty cars are not sturdy. This also applies somewhat to art, the human form and that whole bit above about automotive safety. (I could make another Toyota Venza joke, but that's just shooting fish in a barrel.) Everything worth having comes at a price.
For the record, I find the Elan pretty. Also for the record, given how it's built, I'm surprised it doesn't collapse in a stiff breeze. Make of that what you will.
Thus endeth the lesson. On a related note, I'm trying to get the Lotus back together for a hill-climb race in southwestern Wisconsin in the beginning of May. Wish me luck. If I don't make it, it doesn't really matter. (See #2, above.) 

Sam Smith is a journalist, a southerner, and a reformed Alfa Romeo mechanic who spends most of his time mooning over ancient racing cars and small-batch bourbon. A multiple International Automotive Media award-winner, he has written for Automobile Magazine, Car and Driver, and Esquire, among other publications. He once drove 4,000 miles in a weekend for a hamburger and has only been threatened by the German police twice.


Thoroughly enjoyed and related to this article!!!! Gotta love a guy who has a Lotus but wants to die in a muscle car - I can relate. In my garage right now a 76 Triumph Spitfire (I'm the 2nd owner) and a firebreathing 1965 El Camino that my 11 year son calls "The Yellow Scorpion". many hours on both and many, many more smiles!

Just makes one wonder... when you see the driver shifting and pulling away... at one time American manufacturers made real cars that were fun to drive... how could it ever happen that they took away all the fun with paddle shifters and automatic transmissions? As a former Pontiac GTO driver, I know first hand that a V8 + a manual transmission is a match made in heaven...
Are you sure you want to delete this comment?
EXPLORE NEW CARS
MORE ON MSN AUTOS
'Eleanor' Mustang sells for $1M
'Gone in 60 Seconds' movie car driven by Nicolas Cage has a new home.
ABOUT EXHAUST NOTES
Cars are cool, and here at MSN Autos we love everything about them, but we also know they're more than simply speed and style: a car is an essential tool, a much-needed accessory to help you get through your day-to-day life. What you drive is also one of the most important investments you can make, so we'll help you navigate your way through the car buying and ownership experiences. We strive to be your daily destination for news, notes, tips and tricks from across the automotive world. So whether it's through original content from our world-class journalists or the latest buzz from the far corners of the Web, Exhaust Notes helps you make sense of your automotive world.
Have a story idea? Tip us off at exhaustnotes@live.com.