Tips to Make the Roads Safer for Cars and Motorcycles
By Jeff Bartlett of Consumer Reports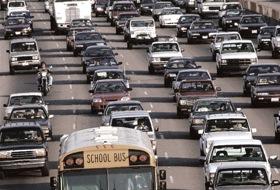 Spring is in the air, as signaled by the greening landscape, sneezing hay fever sufferers, and reappearance of motorcycles. Whether you're a car driver or cycle rider, reviewing a few tips can make the roads safer for all.

Tips for drivers
Motorcycles are not cars. Beyond being on two wheels, they are less visible, accelerate quicker, brake harder, can split lanes, and their riders are much more exposed. While motorcyclists must obey the same laws, the machines are quite different from cars.

Smart lane changes. Check all mirrors and windows before changing lanes, and maneuver only after signaling. A motorcycle can pass through a blind spot and be easily missed by a casual check.

Don't follow close to a motorcycle. Bikes can brake more rapidly than a car, likewise, they can also run into trouble braking or avoiding a road hazard.

Hang up and drive. Far too many drivers, young and old, are using a cell phone for calls or texting when behind the wheel. The message is simple: Don't. (Learn more about distracted driving.)
Don't pass a motorcycle if its directionals are on. It is easy for a rider to overlook leaving a turn signal on. Don't assume intentions. Drive cautiously and make sure the rider is aware of your intentions.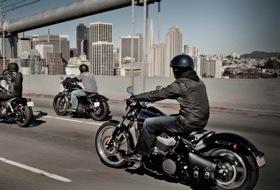 Tips for motorcyclists
Be as visible as possible. Wear brightly colored, reflective clothing and helmet, always have your lights on, use your directional signals, and avoid cars' blind spots. When choosing a bike, consider a colorful one and think about adding lights and/or reflective tape.

Don't make assumptions. Make sure cars can see you at all times and be predictable with your riding. Signal intentions, be courteous, and exercise the appropriate caution for a mode of transportation that has 25 times greater risk of death than being in a car.

Watch for debris. In a turn, sand, wet leaves, or pebbles can cause the bike to slide quickly and unexpectedly. And many slides result in a crash.
Watch the road surface. Pavement irregularities that might be only an uncomfortable bump in a car can upset the balance of an unprepared bike rider. Try to maneuver around broken pavement and potholes, and approach railroad tracks at a right angle.
Avoid riding in bad weather. But if you can't do that, be especially gentle with the brakes, throttle, and steering to avoid losing control on a slippery surface.
Protective gear. Without the benefit of a car's steel cage around you, you'll have to rely on your riding gear as your only source of accident protection. Your comfort and even survival can depend on having the right gear, including a DOT-approved helmet, leather or other reinforced jacket, non-slip boots, and gloves.

Wear a helmet, even if your state doesn't mandate it. Wind in the hair may be refreshing, even exhilarating, but government studies show that riders without a helmet are three times more likely to suffer brain injuries in an accident than helmeted riders. For optimum protection, the helmet should be a full-face design that's approved by the Department of Transportation.

Don't dress for summer. T-shirts, shorts, and any footwear besides non-skid boots without laces are not appropriate for riding.

Protect your eyes. Flying insects and road debris kicked up by other vehicles can cause a lot of distraction and possible eye injury. Wear a full-face helmet with a visor.
May is annual Motorcycle Safety Awareness Month, a reminder to all who share the roads to do so wisely. 
See our motorcycle and scooter buying advice to learn more about rider safety.
Read more at Consumer Reports:


See Dick.
See Dick ride a motorcycle.
Ride Dick ride.
See Dick do something dumb around my 18 wheeler.
See Dick get squished.
Don't be a Dick.
Sorry kids,but if you're going to ride like a retard do NOT blame me for getting dead. YOU accept that as a possibility every time you swing your leg over a motorcycle,same as I do every time I ride.
And to the gentleman who I stopped two FEET from running over while you were laying in the middle of I-10 in Texas after your stunt riding went south: Good thing you were already bleeding or I would have beat the crap out of you for scaring the sh!t out of me. Dick.

I've noticed that the Harley riders tend to be the one's who don't wear proper protection, especially the helmet.
The worst I have ever seen was a gentleman on some miscellaneous cruiser (Yamaha, H-D, Kawasaki, Honda, etc, I can't really tell them apart anymore) wearing only shorts, sunglasses, and flip-flop sandals.  No, I didn't forget t-shirt, he wasn't wearing one.


I've noticed that the Harley riders tend to be the one's who don't wear proper protection, especially the helmet.  However, they are typically the ones who ride respectfully and don't put themselves in danger. 
On the flip side, the crotch rocket riders tend to be fully protected in terms of clothing and helmets, but ride like idiots between lanes of heavy traffic.  The weekly motorcycle fatalities we hear about on the news almost always come from the crotch rocket riders.
I do my best to watch for motorcycles, but I feel NO obligation to watch for someone going over 100 mph in a 60 mph zone during rush hour traffic and weaving in and out of lanes like he is the only one on the road.
I agree with the first three postings below.  The above advice for riders sounds exactly like what is taught in the Motorcycle Safety Administration's rider's course which I took before beginning to ride in earnest.  I have been riding for nearly 20 years.  I would say what I learned from that course has helped keep me alive.  The course is optional in the state where I live but I think it should be mandatory for anyone wanting a motorcycle license (I understand it actually is mandatory in CA).  One interesting statistic is the overwhelming majority of riders involved in accidents were taught to ride either by a family member or friend or self-taught.  That can be a fatal mistake! 
Where I live we have a term to describe the riders of crotch rockets who run them up to the redline in 1st gear, do not wear safety equipment, and generally throw all caution to the wind--we call them future organ donors...

You are right Mike,  I have been riding all kinds of motorcycles for most of my life and the guys disobeying the laws and driving recklessly are annoying and do not make motorists want to drive more cautiously around motorcycles. They are also the guys responsible for most motorcycle fatalities. Number two would be the riders not wearing helmets. I'm not going to say that I have not cruised a little without my helmet but those that dress themselves up in leather to protect themselves and then pass on wearing a helmet look pretty foolish. Why bother to wear the leather when your melon is gonna get caved in if you go down???
  If you are going to ride, the key to survival is paying attention and being much more of a defensive driver than you would be in a car. Too many riders get their license without ever taking a defensive riding course, what a shame and a foolish mistake that could very well kill them.



My biggest problem is the crotch rockets zipping in and out of traffic riding on the white line in between two semis. Going 90 when traffic is 50 because there is just so much of it. Just stupid stuff, at least 3 to 4 die a week here on our roads in SoCal. The Harley riders die also but, not as many as crotch riders.
There older so maybe that has something to do with it.

" Bikes can brake more rapidly than a car"
You bet they can, but I believe if a survey were taken it would discover that automobile drivers think the exact opposite.
"Don't make assumptions."
When I ride, I always assume that automobile and truck drivers are trying to kill me!  It's an assumption which has kept me alive.
Are you sure you want to delete this comment?
EXPLORE NEW CARS
MORE ON MSN AUTOS
10 coolest cars of Fast & Furious
Our favorite Fast & Furious cars, from the ultra-obscure to the iconic.
ABOUT EXHAUST NOTES
Cars are cool, and here at MSN Autos we love everything about them, but we also know they're more than simply speed and style: a car is an essential tool, a much-needed accessory to help you get through your day-to-day life. What you drive is also one of the most important investments you can make, so we'll help you navigate your way through the car buying and ownership experiences. We strive to be your daily destination for news, notes, tips and tricks from across the automotive world. So whether it's through original content from our world-class journalists or the latest buzz from the far corners of the Web, Exhaust Notes helps you make sense of your automotive world.
Have a story idea? Tip us off at exhaustnotes@live.com.