Chinese Media: Lamborghini SUV to Be Named Urus
No, it doesn't mean what you think it does.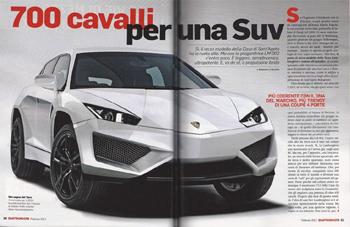 The China Car Times
is reporting that Chinese outlets have discovered the name of
Lamborghini's
upcoming SUV. The vehicle, which is set to be revealed at the Beijing auto show next week, is said to be named Urus.
I know. It's not a great name. I read it, I immediately thought gastrointestinal disease. (As in, "Stand back, Bertha, that boy's got a bad case of urus.") It sounds like a bodily affliction, not a high-performance Italian
SUV-truck-supercar-t​hing.
It's certainly nowhere as evocative as the model's previous rumored name -- Deimos -- which also happened to be the Greek name for a
deity that represented the personification of terror
. A urus is apparently
an extinct type of ox
. 
Lamborghini has traditionally named its models after famous fighting bulls. Pardon me if the idea of a long-dead ox doesn't raise my blood pressure, even if the name is just borrowed from some feisty dead bull. Maybe we'll get lucky and the Chinese media will be wrong. Maybe this thing will actually be named something appropriate, like
ItalianDeathSpeakerD​oomface
SpeedBlood 5000.
I doubt we will be that lucky.
Still, the Lamborghini SUV is happening. And what I find interesting here is that -- unlike with the upcoming
Bentley
SUV or the gestation of
Porsche's
truck, the
Cayenne
, both of which broke ground for their respective brands -- few people are protesting the Lambo SUV's arrival. Why is that? 
Easy: It makes sense for the brand. It's also pretty dang cool.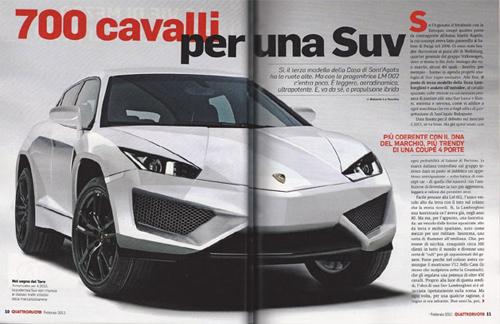 Think about it -- there are no longer any small, far-reaching car companies. Once-tiny manufacturers like Lamborghini,
Lotus
,
Ferrari
, and Bugatti are now owned by corporate giants (
VW
, Proton,
Fiat
, and
VW
again, respectively), largely because that's the only way they can stay profitable, meet restrictive government regulations, and still build decent vehicles. Similarly, there are few single-focus major car companies, few firms that make just one type of vehicle for mass distribution. 
Lamborghini is one of those companies. It's one of the few brands still doing what it did on its first day. With the sole exception of
this short-lived thing
, a Lamborghini is an exotic sports car. The brand's simplicity has always been both its greatest strength and its Achilles heel; until recently, Lambos were loud, obnoxious, and fundamentally simple cars that weren't very durable. They existed to make a statement, and the Lambos that sold the best -- cars like the Countach, Diablo, and Miura -- always made the greatest statement. This is what you call a simple product strategy. If you were to reduce the entire Lamborghini brand to an elevator pitch, it would be, "We build fast, in-your-face cars, and we don't sweat the details. Even when our junk falls apart, trashes sales, and pitches us into red ink."
Then, in 1998, 
Audi bought Lamborghini
. The German company brought its considerable resources to bear on the Italian firm, all but eliminating the brand's quality problems and broadening its reach. Lambos were suddenly real, complex cars, built without compromise or apology. But here's the key: The brand's simple image and strong focus didn't change. Sant' Agata still only built sports cars, still only screwed around with obnoxious, in-your-face designs. 
This is important. Note what I said above: Audi is German. The Germans have a history of buying complex, beloved, struggling, culture-centric brands and dragging them back from the brink. The "new"
Mini's
early years (the brand is owned by
BMW
) are a good example of this; so is the revitalization of Bentley (now owned by Volkswagen). Only there's also a history of German companies buying those kinds of brands and running them even further into the ground. (The ill-fated
Chrysler
and Daimler match-up, BMW's acquisition of Rover, etc.)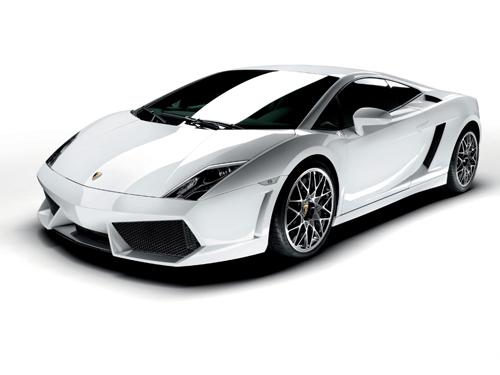 What's important is what happens after the first flush of success, assuming it happens at all. Call it the teutonic-ownership sophomore slump. The first new
Mini Cooper
, launched in 2001, was a decent reboot of the brand's ideals, but now, many claim Mini is losing its way, its cars straying too far from Mini father 
Alec Issigonis's

efficiency-above-all​

ideal
. Volkswagen's revitalization of Bentley hung on the hugely profitable
Continental GT
and
Flying Spur
models -- Audi- and VW-based cars that were and are relatively cheap to produce -- but the next step, the reimagining of the brand's big car (
Mulsanne
) and birth of an SUV (
this funky-faced thing
), has not been as smooth. The former car was and is sneered at by traditional Bentley clientele for its odd looks; the latter, at least in concept form, has been widely panned for its ridiculous, caricatured styling. 

I'm not quite sure why the slump comes about, but I think it's because reinventing someone else's complex idea is not easy. The first shot out of the gate, you can just tweak the original idea. The second time around, you have to dig deeper and revamp more, which is decidedly more difficult. 

Lamborghini is now two model cycles into its Audi ownership, and it shows no signs of slowing down. Profits are up, customers are generally happy, and the cars have never been better. And now there's an SUV on the horizon. When Porsche announced its Cayenne -- the iconic brand's first departure from sports cars -- enthusiasts and pundits complained. Why aren't people howling about Lambo's move away from exotic two-seaters? (Yes, I know the
LM002 existed
. It was an anomaly and so low-production it barely matters for this argument.) What was done right? What did the Germans key in on?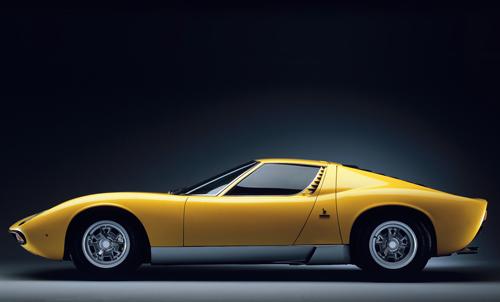 The answer lies in Lamborghini's relative simplicity as a brand and a cultural idea. A Porsche sports car is a nuanced, complex machine, something easily appreciated but not always easily understood. (Same goes for a Mini or Bentley or
Land Rover
, incidentally. Also Ferraris.) There's history there, a breadth of capability and reference not always understood by the doctors and lawyers who just want a nice sports car. By the same token, Porsches are rarely flashy, and there's not much visual difference between an $80,000 911 and a $200,000
911
. You could describe the appeal of a 911 to someone in a phone call, but that doesn't mean they'd be able understand it without driving it.
A Lamborghini, on the other hand, is outrageous both visually and dynamically. It's blissfully, happily simple. The more you spend, the more outrageous it gets. Unlike with a Ferrari or Porsche, there's very little competition heritage to get worked up over, no secret handshake to learn, no second level of appreciation. People buying Lambos usually only care about the fact that they bought A Freaking Italian Supercar. The cars scream that statement, and you can pretty much telegraph the appeal to anyone: violent, sexual technology, no subtext. (Every Lamborghini I've ever driven has been abusive on some level, and better for it.) 
This is a relatively simple formula; it centers around something that's somewhat easy to hone in on. That's why Audi engineers and executives were able to identify it and reproduce it without diluting it, even though they didn't create it. And as you've probably guessed, the formula lends itself to an SUV -- not the
much-rumored sedan
, not
a retro sports car
, but a big, fast SUV, the kind of car that works better when loud and proud. 

To my mind, the people who buy Lamborghini sports cars are the same type of people who would want to buy a Lamborghini SUV. I hope I'm proven right, mostly because the thing is probably going to look pretty awesome, and awesome things deserve to live. Even if they're named after an extinct ox.
Are you sure you want to delete this comment?
EXPLORE NEW CARS
MORE ON MSN AUTOS
10 coolest cars of Fast & Furious
Our favorite Fast & Furious cars, from the ultra-obscure to the iconic.
ABOUT EXHAUST NOTES
Cars are cool, and here at MSN Autos we love everything about them, but we also know they're more than simply speed and style: a car is an essential tool, a much-needed accessory to help you get through your day-to-day life. What you drive is also one of the most important investments you can make, so we'll help you navigate your way through the car buying and ownership experiences. We strive to be your daily destination for news, notes, tips and tricks from across the automotive world. So whether it's through original content from our world-class journalists or the latest buzz from the far corners of the Web, Exhaust Notes helps you make sense of your automotive world.
Have a story idea? Tip us off at exhaustnotes@live.com.