5 Cars You'll Never See in a Rap Video Again
Maybachs and Bentleys are hip-hop cliches. How about a Volvo S80?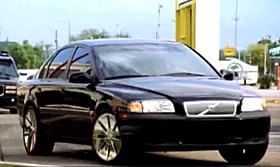 Hip-hop and automobiles have come a long way since Dr. Dre bounced on low-rider Impala convertibles in the early 1990s. It's now industry standard -- if not a boring cliché -- for a rapper to talk about and be seen in a Bentley, Maybach, Bugatti or Rolls-Royce.

A few artists, such as Common and Q-Tip, choose to rap about more meaningful, sometimes enlightened subjects, but most of hip-hop -- and the pop culture that copies it -- is still studded with self-centered materialism. Tracks from Lil' Wayne, who owns and brags about owning a Veyron, or Kanye West -- whose latest No. 1 single, "Mercy," gives a nod to the discontinued Lamborghini Murcielago -- are what stick to the Billboard charts. If it's expensive, hot and generally unobtainable, it's going to be flaunted in a music video.

But what about when mainstream rap artists use different cars, truly unique vehicles or cars that counter the general stereotype of the hip-hop lifestyle? We've gathered -- and analyzed, if you can believe that -- five surprise cars that have appeared in the past few years of music videos. 
(Note: We've posted the clean, radio-friendly version of each song, so while profanity shouldn't be an issue, certain videos here should be considered "safe for work" only if your workplace allows random snippets of bikini-clad women dancing.)

Trick Daddy and the Volvo S80
Miami native Trick Daddy released his third studio album, "Book of Thugs: Chapter AK, Verse 47" in 2000, a year after Volvo debuted its S80 sedan -- a shocking and successful departure from the company's heritage of boxy-looking cars. What's weird, though, is Volvo's only mention in a rap song. "Ridin' around in my brand-new '99 fo' do' Volvo" is the first verse of Trick Daddy's "Shut Up," and his black S80 with chrome rims appears at the start of the music video --- also the only time you'll ever see a Volvo in a rap video. For someone who claims to be a hard thug -- he named his previous album "www.thug.com" -- a conservative, safety-conscious Volvo is the last choice we'd expect to find in Trick Daddy's garage.
Wiz Khalifa and the Dodge Challenger
For a rap superstar, Wiz Khalifa has a less-than-obvious taste in cars -- particularly a yellow, stock
Dodge Challenger SRT8
, which shows up in many of his early music videos and the famous "Black and Yellow" in 2010, which racked up an uncanny 132 million YouTube views. Older muscle cars show up in music videos quite a bit -- even
Justin Bieber does doughnuts
in a
Mustang
 -- but the Challenger is so old-school as to be comical. It's an enormous, high-powered car that doesn't steer very well, hence all of Wiz's heavy-handed driving in this video.
Jay-Z and the Maybach Exelero
This one-off Maybach coupe, if it had ever gone into production, was the type of car that might have saved the hyperluxury brand from its final run this year. Maybach never tried to distance itself too far from being a very expensive Mercedes S-Class, which is why it sold only a few hundred per year, compared with the thousands of Bentleys and Rolls-Royces to roll off dealer lots during the same period. With the concept Exelero, introduced in 2005, Maybach looked as if were truly serious about becoming the exotic coachbuilder it long claimed it was. That never happened. However, in 2006, Jay-Z was lucky enough to drive it in his video "Lost Ones," an introspective, soul-searching track that's actually not about money or cars. The car was recently sold last year to hip-hop impresario Birdman, who owns one of the rare Maybach Landaulets, for the reported sum of $8 million.
Rick Ross and the Aston Martin V8 Volante
Rick Ross is so obsessed with luxury cars that he named his record label "Maybach Music." Clearly, he's one of the most egregious name-droppers in the game. Take the 2010 track "Aston Martin Music," which looks and sounds like a glorified commercial for the British automaker. But the really impressive car in the video -- forgetting the DBS convertible he's driving while smoking a cigar, or the Rapide sedan next to Drake -- is a classic V8 Volante built between 1969 and 1989. Watch the video and see if you have a better eye for the exact year. All I know is that it's tan and gorgeous. (As for Maybach's demise, Ross said to MTV that it "makes the brand even more exclusive now.")
Birdman and the Mercedes R-Class


The R-Class never caught on in the U.S. because it looked and drove just like a minivan, although Mercedes would never call it that. That didn't stop Birdman from planting a fiery red R-Class next to a red Rolls-Royce Phantom in his video with Lil' Wayne called "Stuntin' Like My Daddy" in 2006. This was before Birdman bought a red Bugatti and put it on the cover of his 2009 album "Pricele$$," so maybe he wasn't as aware of which cars were actually cool. (Even with an AMG V8 engine, the R-Class just isn't.) The rest of the video, featuring an oversteering Buick Park Avenue chasing motorcycles, is pretty good.
EXPLORE NEW CARS
MORE ON MSN AUTOS
10 Cheapest Cars to Maintain
Why are smaller cars so much cheaper to own?
ABOUT EXHAUST NOTES
Cars are cool, and we here at MSN Autos love everything about them, but we also know they're more than simply speed and style: a car is an essential tool, a much-needed accessory to help you get through your day-to-day life. What you drive is also one of the most important investments you can make, so we'll help you navigate your way through the car buying and ownership experiences. We strive to be your daily destination for news, notes, tips and tricks from across the automotive world. So whether it's through original content from our world-class journalists or the latest buzz from the far corners of the Web, Exhaust Notes helps you make sense of your automotive world. Contact us at autosblog@live.com.