NASCAR's Electronic Fuel Injection Breaks Cover at SEMA 2011
The art of mixing air and hydrocarbons goes digital, for good.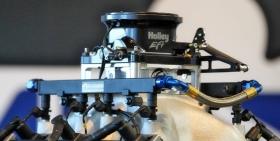 With the 2012 season opener at Daytona less than four months away, NASCAR has finally started to release some details about the electronic fuel injection systems that Sprint Cup teams with be running next year. Sixty years after its inception, NASCAR's premier racing series ditches Bernoulli's principle for high-pressure injection. "Exhaust Notes" spoke about this polarizing decision with Mike Fisher, NASCAR's managing director of research and development, via phone from the floor of the 2011 SEMA show in Las Vegas.
Exhaust Notes: Seriously, aside from the slow and steady trickle of official -- and unofficial -- press releases and the not-so-secret test sessions at Charlotte, Martinsville and a few other tracks, how long has NASCAR been plotting the demise of the carburetor?
Fisher: We waited for the all of the manufacturers to finish with the latest updates of their engines. Toyota was first and Ford the last. Overall it's been about two years.
EN: NASCAR is obviously the most American of all the big-time racing series. How was the decision made to select McLaren, a British company, as the developer/supplier of the fuel-injection program?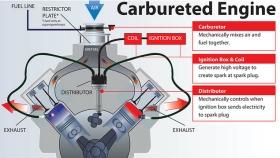 MF: Well, we had a pretty widespread response to announcement of NASCAR's search for an [electronic control unit] supplier. I can't remember the exact number, but nine or 10 manufacturers from all over the globe, [including] the United Sates, responded to our bid request. When we narrowed them down to a few finalists, we made the decision to go with a company with tremendous technical resources as well as a very strong track record with hardware and software in motorsports. McLaren is the spec-ECU supplier for Formula 1 and [Indy Racing League]. They really understand what it takes to perform that role in the motorsports environment.
The other thing that a lot of people don't realize is that McLaren's partner in this venture is Freescale Electronics, one of the largest semiconductor chip-set makers in the world, and they're located ... in Austin, Texas. They supply all the internal hardware for the McLaren ECU.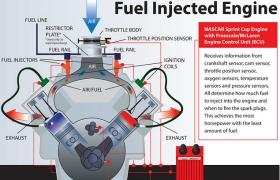 EN: I noticed a very prominently displayed Holley EFI logo on the throttle body of one of the new EFI-equipped NASCAR engines. Is this just for testing purposes or will the Holley part make the show?
MF: Yes. Holley is a spec supplier for the throttle-body unit. Holley continues to be a very valued supplier in our sport. Obviously a big chunk of their business was carburetors, and in making this change we wanted to make sure they were involved in it.
EN: Would it have made sense for marketing purposes to brand the entire system with a more traditional parts manufacturer's name? The trickle-down effect on their consumer products could be quite profitable. It seems a crafty aftermarket brand would jump at the chance, even if they were purchasing the technology from someone else.
MF: The similarity to a consumer hot rod system is there, but I don't know if our purpose-built pieces would be applicable in that arena. But the future is open; we'll have to see how consumers react.
EN: Speaking of brand names, I see Bosch has been named the official supplier of oxygen sensors for NASCAR. How many sensors will each car have?
MF: Two -- one in each exhaust bank. The cars will be running a closed loop system, providing feedback on the air/fuel ration and allowing the ECU to correct for that.
EN: Mileage and emissions: Any significant data yet?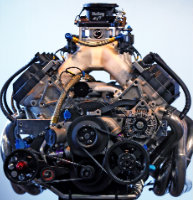 MF: Right now, the teams are still going through their tuning process and checking out the various boundaries within the ranges of adjustment that NASCAR is allowing, and we're not making any real bold predictions until they finish that process out. Obviously, we think that over the course of time we'll seem improvements in both, but it's tough to put any specifics on it at this point in time.
EN: What kind of [pounds per square inch] are these fuel systems going to be running at?
MF: Five bar, or about 75 psi.
EN: Is there a fuel return line?
MF: I believe three of the four manufacturers are running a return line; one is not. We call that a deadhead setup, in fuel architecture terms.
Let me stress that the driver will not be able to make adjustments to fuel pressure, fuel mapping or any of the hardware, for that matter. Drivers will have to live with the setup they load in before the race for the entire day.
EN: That brings up the issue of tampering. Hacking is practically a national pastime. Is NASCAR going to distribute the ECUs, with the turbo-pressure blow-off valves, or will teams be on the honor system here?
MF: NASCAR is not going to keep or distribute the ECUs. The teams will purchase them from McLaren. Each ECU will be serialized, the case will be sealed and a radio frequency ID chip will be mounted on the box. That RFID chip will be read when teams arrive at the racetrack, and NASCAR will plug into the ECU to ensure the correct software is loaded and hasn't been tampered with. We basically set the sizes of the fuel and ignition maps and the ranges of adjustment, and have them pre-programmed into the devices by McLaren.
During the event itself, the teams and NASCAR will have the ability to log engine parameters and data onto the ECU and download it later for officiating purposes. The teams will also be allowed to download select data for the purpose of improving their state of engine tune.
There's no telemetry, like we had in sports cars and Indy Car and Formula 1, and no plugging in during pit stops.
We've leaned on McClaren for guidance in this process, and we've given them a bit of input to acclimate them to our style of racing and how we like to officiate things. It's been quite an evolved project.
EN: There's a phenomenon in that occurs on high-speed ovals -- and pardon my lack of proper terminology here, Mike -- where, due to centrifugal force, more fuel finds its way to the outside cylinders of an engine, forcing the carburetor man to make a compromise and make adjustments to dump more fuel in the intake than regularly needed to keep the inside bank of cylinders from starving out. How will the injection systems deal with this?
MF: A lot of engine manufacturers have become quite adept at dealing with this in the current carbureted cars, and I think it will become easier with the EFI cars due largely to the high pressure of the fuel delivery.
EN: Will the introduction of EFI require teams to add employees specifically for EFI-tuning purposes?
MF: I know some teams have bolstered their resources in the EFI arena, but others have simply re-educated their existing engine tuners. Many of the top engine builders also produce engines for Grand-Am and other racing series that currently use EFI, so it's more a matter of learning the little nuances of the setup on the Cup cars.
EN: What are the ECUs going to cost?
MF: We haven't made an official announcement on the price point for these units at this time.
EN: Are you worried about the reliability of the ECUs under the heat and stress of the racing environment?
MF: No, that's one of the reasons we chose McLaren. Since McLaren has supplied the spec ECU to the F1 teams, they have never had a failure.
EN: Does the switch EFI make the possibility of running E85 -- a fuel as closely associated with America's heartland as NASCAR itself -- any more imminent?
MF: I don't know that those two are strongly tied together. Fuel injection opens up a window of fine tuning and adjustment, obviously, that would make transitions like that a bit easier, but at this point the decision to implement fuel injection is completely independent of the decision whether to increase the ethanol content of the fuel or not.
EN: One last question for you. Is going to be another 60 years until we see the push rods disappear?
MF (seemingly bemused): I can't make any bold predictions in regards to that. The system we have in place is very developed and refined. Some might say it's the ultimate rendition of the push-rod design. But, obviously, one of the main reasons for going to EFI was an attempt to remain relevant with current passenger-car design and technology, and add that degree of relevancy to our sport.
EXPLORE NEW CARS
MORE ON MSN AUTOS
Fuel economy dips on new Mustang
2015 Ford Mustang mileage drops slightly, per EPA estimates.
ABOUT EXHAUST NOTES
Cars are cool, and here at MSN Autos we love everything about them, but we also know they're more than simply speed and style: a car is an essential tool, a much-needed accessory to help you get through your day-to-day life. What you drive is also one of the most important investments you can make, so we'll help you navigate your way through the car buying and ownership experiences. We strive to be your daily destination for news, notes, tips and tricks from across the automotive world. So whether it's through original content from our world-class journalists or the latest buzz from the far corners of the Web, Exhaust Notes helps you make sense of your automotive world.
Have a story idea? Tip us off at exhaustnotes@live.com.